Summer 2022
Letter from the Executive Director
Susan White, North Carolina Sea Grant
Coastal Currents
News about the 2022 NC Coastal Conference, a Titanic expedition, and much more.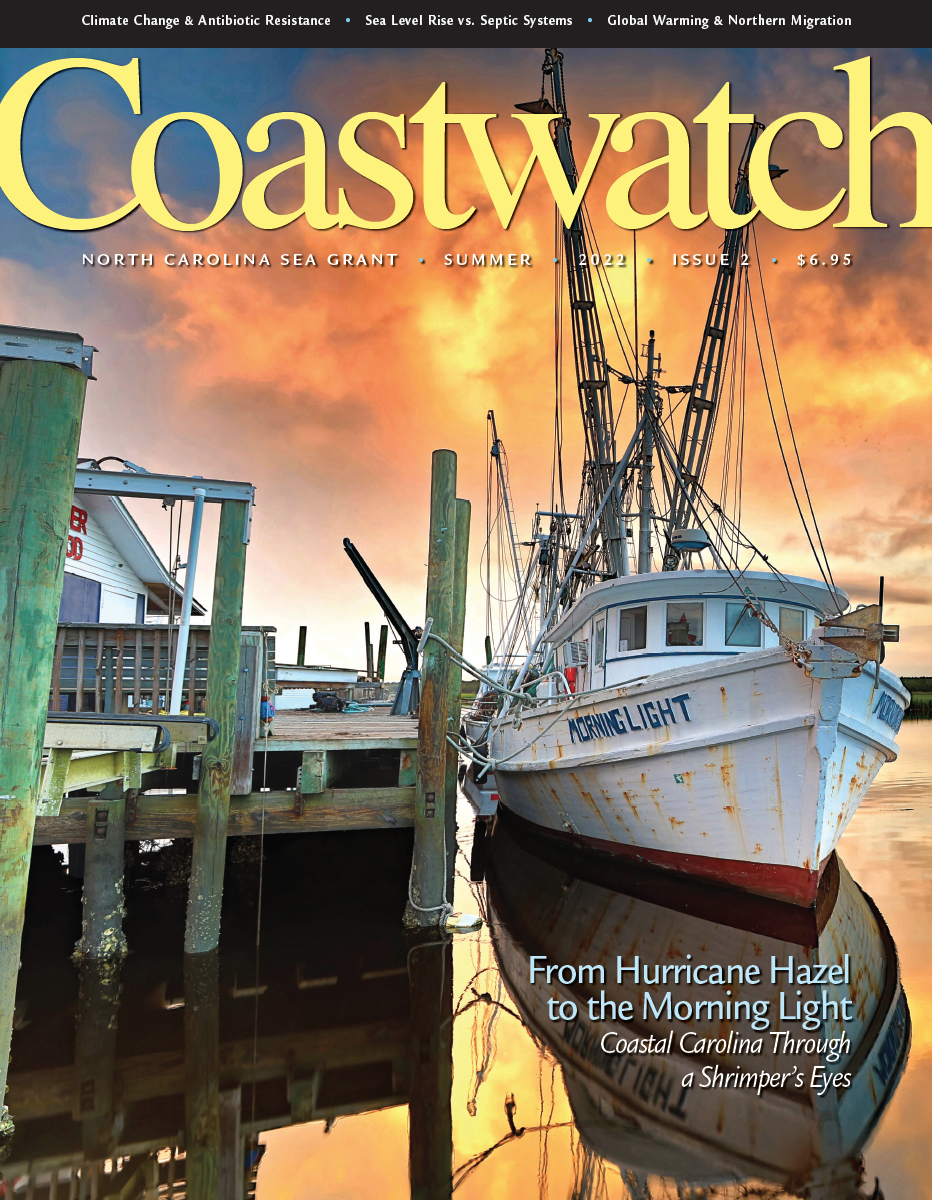 From Hurricane Hazel to the Morning Light
Coastal Carolina Through a Shrimper's Eyes
After using scrap metal to build his own boat, Harry Bryant escaped waterspouts and a lightning strike and earned a living on the open water for 32 years.
The New Pioneers
Planning for Wastewater Treatment During Climate Change
Communities along the coast are taking steps to ensure homeowners have functioning septic systems and other types of onsite wastewater treatment — as groundwater rises and storms intensify.
Climate Change and Resistance to Antibiotics
Hotter Waters, Heavy Metals, and a Growing Public Health Concern
The significant associations of high temperature and salinity with antibiotic resistance is troubling, because climate change continues to exacerbate each of these factors.
Hook, Line & Science
Shark Thievery, American Shad in the Albemarle Sound, and How We Fished 12,000 Years Ago
A new study reveals that avid anglers are no strangers to opportunistic sharks — and this could impact shark conservation.
Sea Science
Climate Change and the Northern Migration
Warming waters mean that more animals — including sea turtles, manatees, and sharks — will be on the move.
Stream Science
The Effects of Antibiotics on Urban Stream Ecology
A new study looked at the potential impacts of three common antibiotics.
Ecofriendly Solutions
The Top 10 Most Common Types of Trash on the North Carolina Coast —
And How You Can Join the International Coastal Cleanup
Last year's coastal trash included a garter belt and a windshield.
Mariner's Menu
Crab Imperial, Grilled Striped Bass, and More
Enjoy these summertime treats.

Lead photo by Bob Talbot/NOAA. Front cover photograph by Terrah Hewett.
download a printable PDF of the entire issue
view the issue in 2-page spreads