Sustainable Fisheries and Aquaculture
North Carolina Sea Grant provides expert assistance to the state's diverse seafood and fishing industries, with staff members serving on advisory panels and connecting researchers to people who work in commercial and recreational fishing, aquaculture, and seafood. For decades, Coastwatch has chronicled how such projects help coastal communities sustain livelihoods, coastal culture, and the long-term health of our fisheries.
Life on a 'Finger between Two Bays'
in the Winter 2020 issue
As North Carolina's shellfish aquaculture industry booms, new and established growers alike turn to Jimmy Morris for sage advice.

Sharks, Shrimp, and Computerized Fish IDs
in the Autumn 2020 issue
Are we catching more shrimp offshore during the winter and spring?
Blood Draw at the Horseshoe Corral
in the Autumn 2020 issue
An essential medical safety test used around the world depends on horseshoe crab blood, and scientists may have discovered the key to a sustainable supply.
Blacktip Sharks, Historic Dock Photos, and Hand-Crank Electrofishing
in the Summer 2020 issue
What will historic dock photos reveal about fisheries?
Zoom In on Aquaculture
in Spring 2020
A blue crab starts life as a microscopic larva that drifts through the water eating zooplankton and plant materials.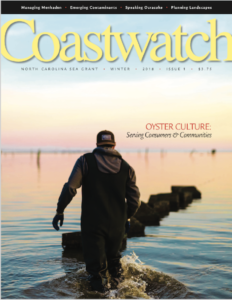 New NC Shellfish Initiative Aids in Florence Damage Assessments
in the Autumn 2018 issue
Spreading the Word about Southern Oysters
in the Spring 2017 issue
Growing Better Bivalves: Science, Local Knowledge Enhance N.C. Business
in the Summer 2017 issue
Restoring Our Oysters: Dealing with the Sponge Problem
in the Summer 2017 issue
Growing Oysters at Home in Coastal North Carolina
in the Holiday 2016 issue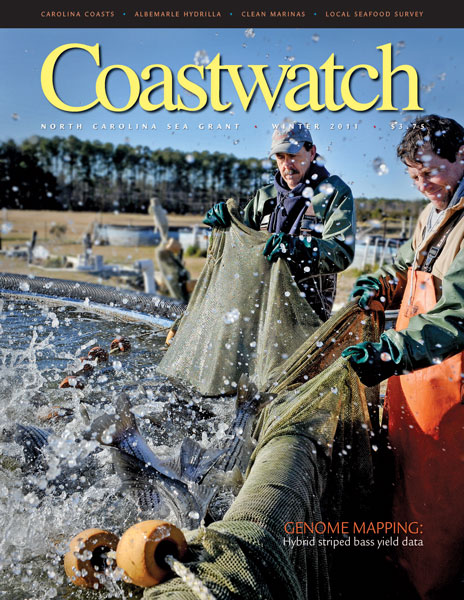 Planting the Seeds for a Common Wealth
in the Autumn 2015 issue
Does it Really Start at Home?
How North Carolina Marine Habitats Influence Black Sea Bass Growth and Maturity
in the Holiday 2015 issue
Home in a Oyster Shell:
New Oyster Aquaculture Operations Grow Seed, Take Root
in the Winter 2014 issue
Coastal Science Serves North Carolina:
Sea Grant Funds New Research Projects
in the Spring 2014 issue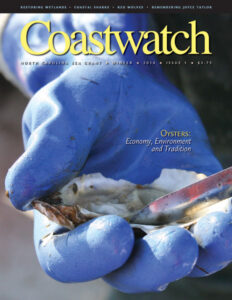 The Seafood Safety Squad:
Ensuring Quality of Coastal Delicacies
in the Spring 2014 issue
Gene Groups Key to Embryo Development
in the Summer 2014 issue
Taming the Trout: Burgers Go Fishing
in the Autumn 2014 issue
Moving Fish:
Supply and Demand in North Carolina's Seafood Industry
in the Holiday 2014 issue
A Center for Growing Seafood, Testing Ideas
in the Winter 2013 issue
Marine Debris, Oyster Health among New BCSRP Projects
in the Summer 2013 issue
Sailing Through Stormy Seas:
Fish Houses Change to Stay Afloat
in the Autumn 2013 issue
Sea Grass Sustains Fisheries
in the Autumn 2013 issue
Size Matters: Testing a New Mesh Size for Black Sea Bass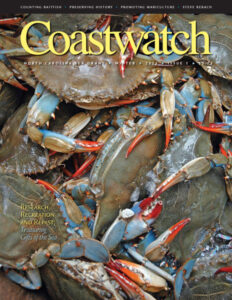 in the Holiday 2013 issue
Hooks in the Gulf Stream: Captains and Scientists Reel in Data
in the Winter 2012 issue
Aquaculture: Science Working for the Economy
in the Holiday 2012 issue
In Search of a Better Way: Adjusting Shrimp Trawl Gear
in the Holiday 2012 issue
Reworking Turtle Excluder Devices on Summer Flounder Trawls
in the Holiday 2012 issue
Citizen Science Bolsters Oyster Restoration Efforts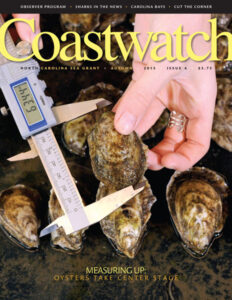 in the Holiday 2012 issue
Fins to the Left, Fins to the Right: Netting Sharks to Snare Data for Fisheries Management
in the Spring 2011 issue
Counting Kings:Text Reporting Catches On
in the Summer 2011 issue
Winds of Change: Shrimpers Plan for the Futureta
in the Holiday 2011 issue
Sustainability Series: Local Governments In Action
in the Winter 2010 issue
Harvests of Perseverance: Sea Grant-Funded Innovations Showcased at State Aquaculture Conference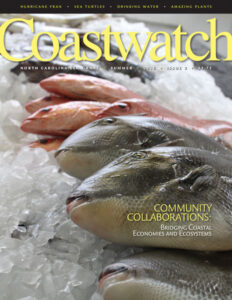 in the Spring 2010 issue
2010 Fishery Resource Grants: Ushering Benefits, Rewards for Coastal Communities, Ecosystems
in the Summer 2010 issue
Science Serving the Coast: Specter of Oil Spurs Research Response
in the Autumn 2010 issue
Species on the Brink: Latest Challenges for River Herring Research
in the Winter 2009 issue
Win-Win Research: Pilot Studies Help Fishermen, Species
in the Summer 2009 issue
Return of the Bay Scallops
in the Holiday 2009 issue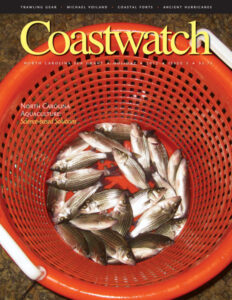 A Pound of Prevention
in the Holiday 2009 issue
Finding Fish in Lots of Water
in the Winter 2008 issue
Research Examines Impacts and Options for Fish Farming
in the Spring 2008 issue
Keeping Local Seafood Afloat: Workshop Explores Consumer Trends and Marketing Strategies
in the Early Summer 2008 issue
Recognizing Quality at Your Local Seafood Counter
in the Autumn 2008 issue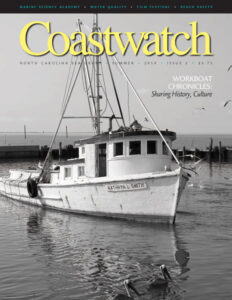 Wild Caught: The Life and Struggles of an American Fishing Town
in the Winter 2007 issue
Curbing the Import Appetite: Selling American Shrimp in the U.S. Market
in the Winter 2007 issue
No One Ring: Testing the Effects of Cull Rings on Crab Landings
in the Winter 2007 issue
Drifting Along: Sea Grant Scientists Study Oyster Larvae
in the Spring 2007 issue
Finding Flounder: Testing Low-Profile Gill Nets
in the Spring 2007 issue
Sea Bass Pots: Bigger Mesh May Yield Larger Fish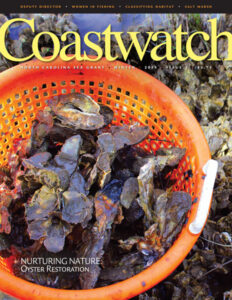 in the Early Summer 2007 issue
Oral History: Documenting Down East Fishing Traditions
in the High Season 2007 issue
Fish House Study Quantifies Decline
in the High Season 2007 issue
Dog Days: Estimating Spiny Dogfish Populations
in the High Season 2007 issue
Local Catch: Watermen Save Ocracoke Fish House
in the Holiday 2007 issue
lead photo by Baxter Miller