Recreational Fishing (and Other Fun)
Our state ranks first among Atlantic states for the number of people who fish recreationally in saltwater off the East Coast. We've gathered our favorite articles on fishing below, and you also can read about boating, beach combing, crabbing, and other fun.
Hook, Line, & Science
Will You Find More Big Fish During the Day or Night?
in the Summer 2023 issue
New research reveals when different-sized fish visit oyster reefs— and more science and news for anglers.
Poster: Rip Current Safety
Know Your Options
in the Spring 2023 issue
Share this poster — or print it out and put it up — and save a life.
Hook, Line, & Science
Where Dolphinfish Roam, What Fish Remains Tell Us, and Where Red Drum Go When They Escape
in the Spring 2023 issue
Where red drum hide depends on whether they're hatchery-raised.
Healthy Ecosystems
How Much Ocean Floor Do Natural Reefs Occupy?
in the Spring 2023 issue
And how much more territory belongs to natural reefs than to artificial reefs?
Safety Alert
Danger in the Air
in the Spring 2023 issue
Do carbon monoxide levels during boating exceed guidelines?
An Angler-Inspired Approach:
How Descending Devices Can Save North Carolina's Reef Fish
with footage of a red snapper as it descends and with how-to videos
in the Winter 2022 issue
Our Coast, Our Future:
The 2022 North Carolina Coastal Conference
videos, photos, resources
in the Winter 2022 issue
They came to Raleigh from across North Carolina, discussed urgent and emerging issues affecting our coast, forged new ties, and literally devoured new research for lunch — and you can watch it here.
Hook, Line & Science
What Lionfish Eat, Big Seafood Lovers, and Incredible Shrinking Dead Fish
in the Winter 2022 issue
Three videos from the award-winning series answer three questions with the latest science for anglers.
Hook, Line, & Science
Shark Thievery, American Shad in the Albemarle Sound, and How We Fished 12,000 Years Ago
in the Summer 2022 issue
A new study reveals that avid anglers are no strangers to opportunistic sharks — and this could impact shark conservation.
Hook, Line, & Science
Deepwater Fish and Shipwrecks, Lionfish DNA, and Ancient Sheepshead Bones
in the Spring 2022 issue
Video and laser imaging identified fish by species — and revealed where on shipwrecks fish like to hang out.
Fishing for Food and Finding Connection
in the Spring 2022 issue
"Not everyone with a rod and reel is just fishing for fun. For some people, the stakes can be much higher."
Hook, Line, & Science
Hurricane Noise, Live Weigh-Ins, and Wind Farms
in the Winter 2021 issue
Hook, Line, & Science 
Oyster Reefs, Self-Releasing Hooks, and theMysterious Wanderings of Southern Flounder
in the Fall 2021 issue
Southern flounder move offshore to spawn, but their migration patterns might be more mysterious than we thought.
The Anglers Who Are Best at What They Do — And More
in the Summer 2021 issue
In this study most anglers were locals, and most ended the day empty- handed.
Illegal Angling, Measuring the Megalodon, and More
in the Spring 2021 issue
Video footage revealed that illegal fishing occurred regularly within the areas under observation.
Sharks, Shrimp, and Computerized Fish IDs
in the Autumn 2020 issue
New regulations went into effect requiring use of a descending device in South Atlantic federal waters to help improve survival of released deepwater fish. But can shark appetites undermine this conservation strategy?
Blacktip Sharks, Historic Dock Photos, and Hand-Crank Electrofishing
in the Summer 2020 issue
For those who would rather not mess with catching a shark – and who would rather keep their bait – here are some factors that could influence the probability of encountering one.
The Surf Zone, Summer Spawning, and Seafood Sleuths
in the Spring 2020 issue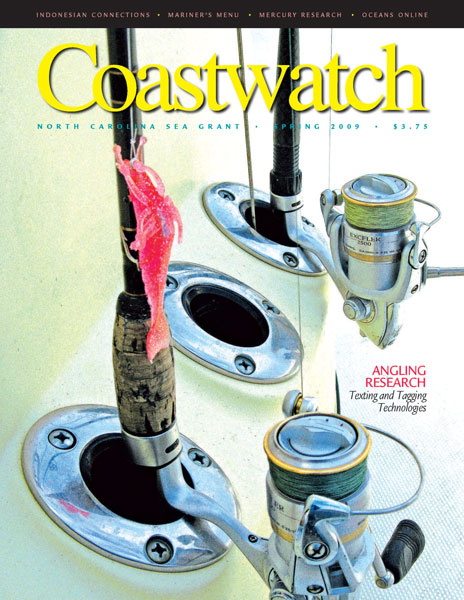 The Money, the Catch, and the Cape Fear
in the Winter 2019 issue
Life and Death for Dolphinfish, Roaming Red Drum,
Triggering Triggerfish, and Summer Vacation for Striped Bass
in the Autumn 2019 issue
Tuna, Toadfish and More
in the Summer 2019 issue
Gone Crabbin'
in the Summer 2019 issue
J Hooks, Warming Waters, and Favorite Reefs (pages 36-39)
in the Spring 2019 issue
Last Word:
Combing Corolla
in the Spring 2018 issue
Bundle Up and Explore: Coastal Winter Adventures
in the Winter 2018 issue
Gaining an Education on the Water: Appreciating the Forces of Nature
in the Holiday 2017 issue
Discovering Down East on the Outer Banks National Scenic Byway
in the Summer 2017 issue
Fishing for Feedback
in the Spring 2017 issue
Discover Innovative N.C. Tourism in ACCESS
in the Spring 2017 issue
Running with the Blues
in the Holiday 2016 issue
It Runs In The Blood
How Sea Turtles Respond to Interactions with Fishermen
in the Summer 2016 issue
Building a Better Reef Takes a Team
in the Winter 2015 issue
Business as Usual: Fishing for a Living
in the Winter 2015 issue
Fresh From the Farm
in the Winter 2015 issue
A Sturgeon Primer
in the Spring 2015 issue
Music in the Marsh: The Summer Soundscapes of the Rachel Carson Reserve
in the Summer 2015 issue
The Power of Observation
in the Autumn 2015 issue
In Their Own Words: Sea Grant Fellows Share Research Snapshots
in the Autumn 2015 issue
Building a Partnership for Success
in the Holiday 2015 issue
Does It Really Start at Home? How North Carolina Marine Habitats Influence Black Sea Bass Growth and Maturity
in the Holiday 2015 issue
Dog(Fish) Days of Winter
in the Holiday 2015 issue
Fishing for Funding
in the Holiday 2015 issue
Improving Survival: New Gear May Help Catch-and-Release Fish
in the Holiday 2015 issue
Local Catch: Trapping and Tasting an Invader
in the Holiday 2015 issue
Local Catch: Traditional Working Boats of the Outer Banks
in the Winter 2013 issue
Save Fuel, Money: Running Your Boat by the Numbers
in the Summer 2013 issue
Local Catch: Hunting Lions
in the Autumn 2013 issue
The Pamlico Sound: Fishing Gem of North Carolina
in the Summer 2012 issue
No Discharge Zone: Southeastern Waters Designated
in the Spring 2011 issue
How to Nab a Crab
in the Spring 2010 issue
For-Hire Fishing: Rich in Coastal History; Enriching Coastal Economies
in the Summer 2010 issue
Texting Your Catch: New Technology for Recreational Fishing Data
in the Spring 2009 issue
More than Sport: Research Targets Speckled Trout
in the Spring 2009 issue
Mapping the Overlap: Terrapins and Crab Pots in the Lower Cape Fear Region
in the Summer 2009 issue
Finding Fish in Lots of Water
in the Winter 2008 issue
Picking up the Paddle: Fuel-Free Fishing in North Carolina
in the Holiday 2008 issue
VIPS: Friendly Fishing Competition
in the Spring 2005 issue
Fishing the Deep Blue Sea: New Federal Permit Required for Highly Migratory Species
in the Early Summer 2004 issue
Fall Prime Fishing Season in North Carolina
in the Autumn 2000 issue
The Red Drum:
First in Fish for NC Recreational Anglers
in the High Season 2000 issue
lead photo by Jared Kay/Visitnc.com