Seafood
Recipes, news, and all the ins and outs of the local seafood scene…
Here, you can read about what North Carolinians have been telling people for years. The best seafood on the Atlantic Seaboard comes from our own coast.
Mariner's Menu: Fall Favorites
in the Autumn 2020 issue
One of the fastest growing websites for seafood recipes provides us with savory fall delights.
Mariner's Menu: Summertime Sumptuousness
in the Summer 2020 issue
Mahi-mahi bisque, walnut-encrusted snapper, and honey-glazed shrimp: easy to make, even easier to eat.
How to Freeze Your Fresh North Carolina Seafood
in the Summer 2020 issue
If you're limiting your shopping trips right now, you can freeze your seafood to enjoy later.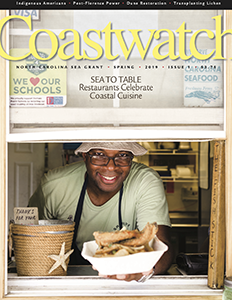 Springtime Sensations
in the Spring 2020 issue
The Surf Zone, Summer Spawning, and Seafood Sleuths
in the Spring 2020 issue
A Fish for All Occasions: A Quest for the Heart of the Local Seafood Lover
in the Autumn 2019 issue
Seasonal Specialties
in the Winter 2019 issue
The "Best Chef in the Triangle" Talks Carolina Cooking
in the Winter 2019 issue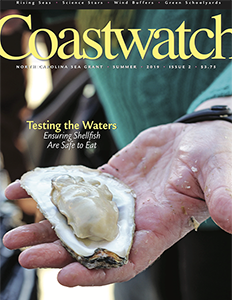 Testing the Waters
in the Summer 2019 issue
From Sea to Table to You
in the Spring 2019 issue
Bon Voyage!
in the Winter 2018 issue
Summer's Spread
in theSummer 2018 issue
Autumn Flavors That Bring Heat
in the Autumn 2017 issue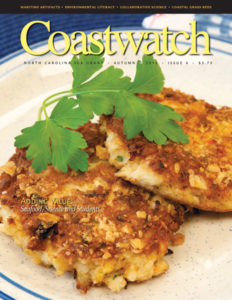 Developing New Seafood Products
in the Spring 2017 issue
Spreading the Word about Southern Oysters
in the Spring 2017 issue
Tastes from the Past Worth Repeating
in the Spring 2017 issue
Where There's Smoke, There's Grilled Seafood
in the Summer 2017 issue
As American as Southern Seafood
in the Winter 2017 issue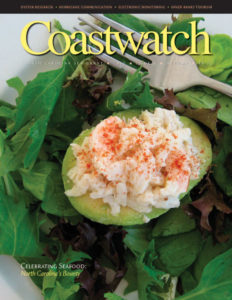 Developing Recipes, Nourishing the Community
in the Winter 2017 issue
Peek into Coastal North Carolina Research
in the Winter 2017 issue
Working Together: Communities Collaborate, Engage with Researchers
in the Holiday 2017 issue
Falling for Oysters
in the Holiday 2017 issue
A Little of This, A Little of That: Variety is the Spice of Seafood
in the Autumn 2016 issue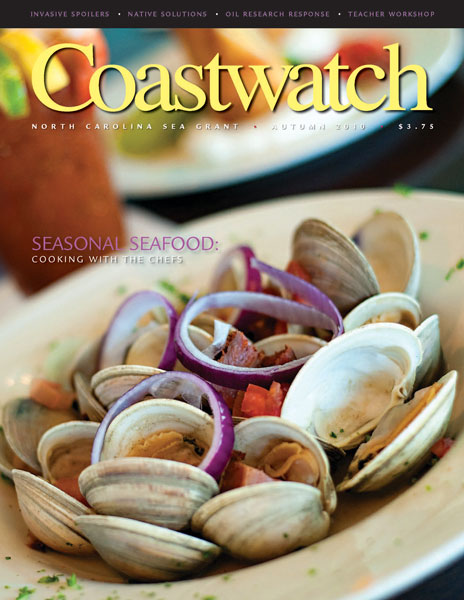 All Flavor, No Sweat
in the Summer 2016 issue
Flora of the Coastal Plain
in the Summer 2016 issue
Researchers Reach Into Communities
in the Summer 2016 issue
Ride the Currents
in the Summer 2016 issue
Expanding Consumer Palates
in the Spring 2016 issue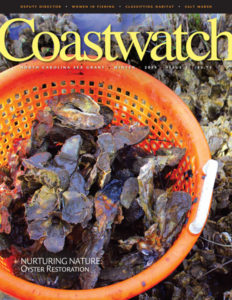 Blue Holiday, Flavor Included
in the Holiday 2016 issue
Growing Oysters at Home in Coastal North Carolina
in the Holiday 2016 issue
Making North Carolina Oysters Safer
in the Holiday 2016 issue
Spicing it Up
in the Holiday 2016 issue
Trapping and Tasting an Invader
in the Holiday 2015 issue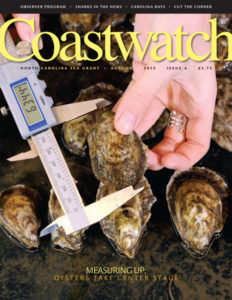 Fresh From the Farm
in the Winter 2015 issue
Food Fish, Good Fish
in theAutumn 2015 issue
A Sturgeon Primer
in the Spring 2015 issue
Resurrecting Sturgeon: Infusing New Flavors Into Old Favorite
in the Spring 2015 issue
Sturgeon Recipes
in the Spring 2015 issue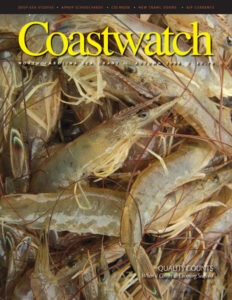 Throwback Tasting
in the Spring 2015 issue
Shining the Spotlight on Flounder
in the Autumn 2014 issue
Taming the Trout: Burgers Go Fishing
in the Autumn 2014 issue
Bring Your Own Knives:
Shucking at the Varnamtown Oyster Roast
in the Winter 2014 issue
All Wrapped Up
in the Holiday 2014 issue
Gifts From The Sea
in the Holiday 2014 issue
In From the Cold: Fresh vs. Frozen Seafood
in the Holiday 2014 issue
Moving Fish: Supply and Demand in North Carolina's Seafood Industry
in the Holiday 2014 issue
A Center for Growing Seafood, Testing Ideas
in the Winter 2013 issue
Broiled Oysters
in the Winter 2013 issue
From Sheepshead to Softshells: North Carolina's James Beard Award Contenders Talk Local Seafood
in the Spring 2013 issue
Ingesting Invaders: Serving Up Lionfish
in the Autumn 2013 issue
How to Dress and Fillet Lion Fish
in the Autumn 2013 issue
Hunting for Quicksilver: Testing Local Seafood for Mercury
in the Summer 2012 issue
Healthy Seafood Choices
in the Summer 2012 issue
Fish Ashore
in the Autumn 2012 issue
Wrapped Up for the Holidays
in the Holiday 2012 issue
Audience Judges Select Winning Shrimp and Grits
in the Holiday 2012 issue
And the Survey Says: Local Seafood Reigns
in the Winter 2011 issue
Coastal Wild Edibles: Stalking the Wild Sea Lettuce
in the Summer 2011 issue
Tar Heel Blue Crabs: Still the State's Most Valuable Seafood
in the Autumn 2011 issue
Start Your Appetites: Fall for Food, Fun and Festivities
in the Autumn 2011 issue
Enjoy Autumn's Bounty
in the Autumn 2011 issue
Serve Up Seasonal Offerings
in the Holiday 2011 issue
Education on a Plate Served with a Dash of Local Pride
in the Autumn 2010 issue
Fresh Seafood Ideas: Autumn Catch
in the Autumn 2010 issue
Celebrating Local Seafood
in the Holiday 2010 issue
Seafood Soups: A Fine Kettle of Fish & Shellfish
in the Winter 2009 issue
Scrumptious Snapper: Steamed, Poached, Fried or Marinated
in the Spring 2009 issue
Seafood: Fresh & Local
in the Summer 2009 issue
New Blog Features Fresh Seafood Ideas and More
in the Holiday 2009 issue
Take a Crab to Lunch or Dinner
in the Early Summer 2008 issue
Recognizing Quality At Your Local Seafood Counter
in the Autumn 2008 issue
Curbing the Import Appetite: Selling American Shrimp in the U.S. Market
in the Winter 2007 issue
Russian "Fish Yard" Boasts Seafood Bounty
in the Winter 2006 issue
Microwaving: Fast Results for Surimi Testing
in the High Season 2006 issue
Flounder Feast
in the Holiday 2006 issue
Onboard Handling Techniques Key to Safer Seafood
in the Early Summer 2005 issue
Carteret Catch: New Marketing Project Promotes Local Seafood
in the Holiday 2005 issue
Maritime Morsels: Shellfish Expo Features Clam, Oyster Dishes
in the Holiday 2005 issue
Value-Added Products Boost Sales at Seafood Companies
in the Spring 2004 issue
Shrimp: A Favorite Catch
in the High Season 2004 issue
Seafood Appetizers: Fresh from the Start
in the Autumn 2003 issue
Maritime Morsels: Shucking Oysters, Clams Like a Pro
in the Winter 2002 issue
Catch It and Cook It
in the Early Summer 2002 issue
North Carolina Seafood Processors Go Global
in the Autumn 2002 issue
Sea Science: Quality Key to International Seafood Standards
in the Autumn 2002 issue
Seafood Dishes are Tasty Holiday Fare
in the Holiday 2002 issue
Maritime Morsels: Seafood is Heart Food
in the Winter 2001 issue
Maritime Marinades: Chemistry in the Kitchen
in the Holiday 2001 issue
lead photo courtesy of Jared Kay, VisitNC.com