Communities throughout the country are connecting with the great outdoors during the 7th annual Latino Conservation Week, July 18 through July 26. We celebrate the occasion here with Melinda Martinez, recipient of last year's North Carolina Sea Grant — North Carolina Space Grant Graduate Research Fellowship.
What does conservation mean to you?
Melinda Martinez: Restoring or preserving habitats that help maintain biodiversity. Conservation also allows those habitat spaces to thrive under minimal human impact.
What advice do you have for students to prepare for or even  jumpstart their careers?
Melinda Martinez: Look into many different career paths and find something that drives your passion. Ask for advice or opportunities from people you would like to work with and try to develop a mentorship with someone in a similar career path.
What impact can this celebratory week make?
Melinda Martinez: Growing up I didn't have many opportunities to explore career possibilities and the few that I did know about I could never see myself doing because I never thought that someone with my background could thrive in academia. I think this week has the opportunity to highlight many latinos working in conservation careers. Latino representation still remains underrepresented in higher education and even more so in post-secondary education. I have had to work hard to get to the education level I have achieved with limited financial support from my family. Being a first-generation American and college student is part of my identity, and what mainly fuels my ambition to become successful as a graduate student.
Read more about Melinda Martinez and her fascinating work, below, in "The Ghost Hunters," from Coastwatch magazine.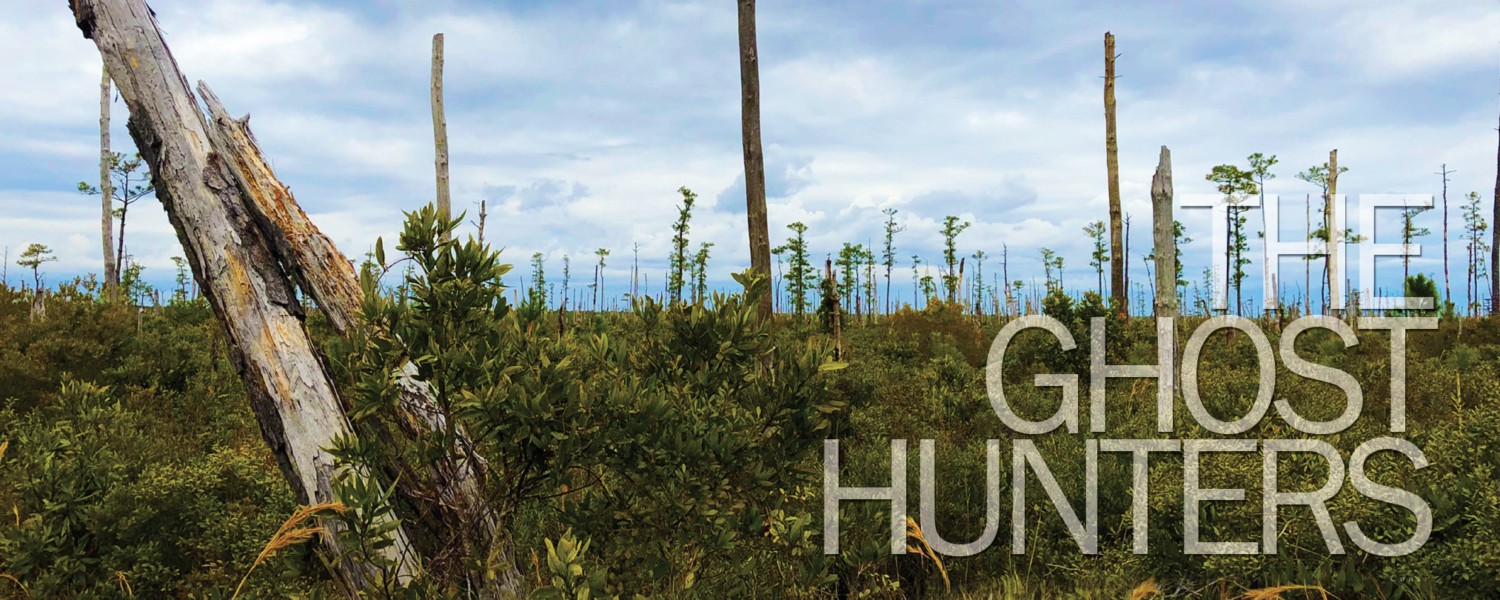 BY LEE CANNON
Using Remote Sensing Technology, Melinda Martinez and Emily Ury are investigating the mysteries underlying coastal ghost forests.
What happened?
"When you're driving to the coast or the Outer Banks, you'll see dead trunks and stumps that have no branches and leaves," says Emily Ury, a Ph.D. student at Duke University. "When you're seeing not one but hundreds of dead trees, it's alarming. It raises the question, 'What happened here?'"
North Carolina's coastal region is home to many healthy, thriving, forested wetlands. In the past, only the occasional severe weather event could threaten these ecosystems with saltwater pushed inland. In more recent years, however, the soil in many of these wetlands is becoming saltier, killing plants and leaving stands of skeletal trees. Eventually these forests turn over into brackish marshland, driving out the plant and animal species that had called them home.
"There is this unique system of forested wetlands close to the coast," Ury explains, "but in some areas, we're seeing that ecosystem turning over in fewer than 10 years. That's jarring."
The resulting marsh eventually will become a sanctuary for myriad other plant and animal species. However, less is known about what happens during the transition, this ghost forest phase, or about the long-term impacts of wetland turnover.
Ury and NC State University's Melinda Martinez, also a Ph.D. student, are North Carolina Sea Grant-Space Grant graduate research fellows who are looking at how and why wetlands are turning into ghost forests. To do so, Ury and Martinez — along with their advisors, lab mates and a small but growing cadre of other labs and researchers — are using remote sensing data from several sources, including NASA, which funds Space Grant. Ultimately, they hope to understand how ecosystem turnover impacts the coastal region of North Carolina and beyond. . . read more