Broiled Soft-Shell Crabs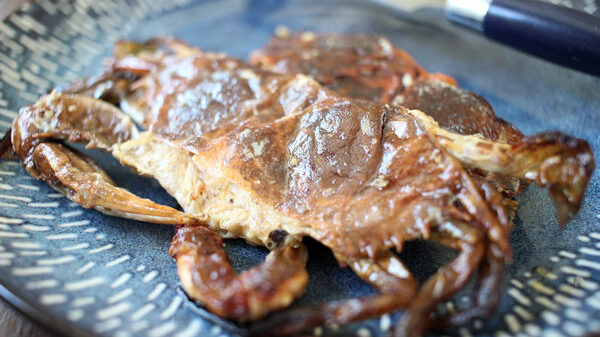 Recipe
8 soft-shell crabs, cleaned
4 tablespoons canola oil
4 tablespoons butter
2 tablespoons fresh lemon juice
¼ teaspoon salt
½ teaspoon black pepper, freshly ground
1 teaspoon garlic, minced
¼ teaspoon Tabasco sauce
Place the rack in the top third of the oven and preheat the oven broiler to high.
Heat oil in a large saucepan or skillet. Add butter and melt. Add lemon juice, salt, pepper, garlic and Tabasco, mix well. Keep warm.
Place crabs on a broiler pan, top sides down. Baste with butter mixture. Broil about 4 inches from heat until reddish-brown, about 4-5 minutes. Use tongs or spatula to turn crabs. Baste and cook until done, about 4-5 more minutes.
Contributed by Joyce Taylor MM2