Broiled Triggerfish with Basil-Parmesan Butter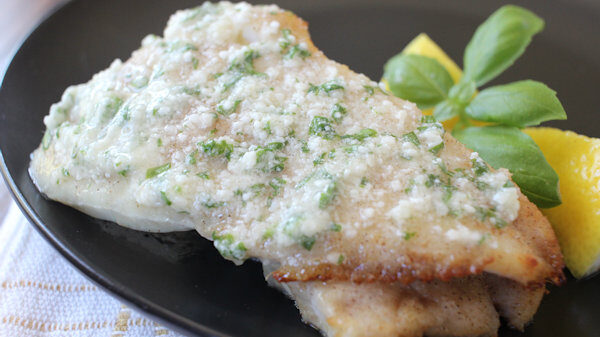 Recipe
1 ½ pounds triggerfish fillets, skinless
3 tablespoons butter, melted
salt
white pepper, freshly ground
Prepare Basil-Parmesan Butter and set aside.
Place the rack in the top third of the oven and preheat the broiler.
Place fillets on a lightly greased broiler pan. Brush with melted butter. Lightly salt and pepper. Broil until done, about 8 to 10 minutes.
Place on serving dish and spread with Basil-Parmesan Butter.
Basil-Parmesan Butter
3 tablespoons butter, softened
3 tablespoons fresh basil, chopped
1 tablespoon fresh lemon juice
4 tablespoons Parmesan cheese, grated
⅛ teaspoon white pepper, freshly ground
⅛ teaspoon salt
In a small bowl, combine butter, basil, lemon juice, Parmesan, salt and pepper. Spread over hot fish.
Contributed by Joyce Taylor MM2