Deviled Clams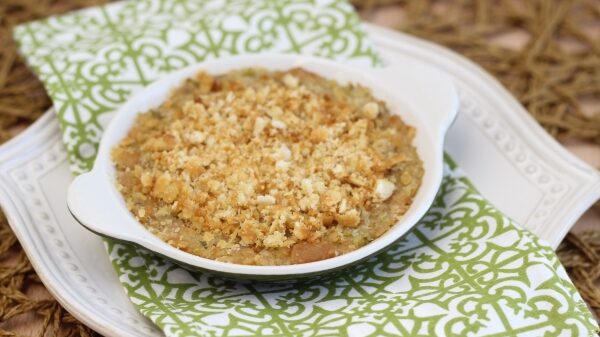 Recipe
Southern seafood cooking developed naturally. A diversity of waters — bayous, bays, streams, sounds and the Atlantic Ocean — produced a diversity of foods such as finfish, oysters, blue crabs, shrimp, clams and scallops. Over time, a diversity of cuisines followed.
2 cups finely chopped clams
1/2 cup clam liquor
4 tablespoons margarine or butter
2 tablespoons minced onion
2 tablespoons minced green pepper
2 tablespoons minced celery leaves
1/4 cup chopped celery
1/8 teaspoon freshly ground black pepper
1/2 teaspoon prepared mustard
3/4 cup fresh cracker crumbs
Place clams and liquor in medium saucepan and simmer 5 minutes. Melt margarine in small saucepan over medium heat. Add onion, green pepper, celery leaves, celery, pepper and mustard. Cook until vegetables are tender. Add to clam mixture. Stir in crumbs and mix well. Place in individual serving cups or imitation shells. Bake at 350° F for 20 minutes or until crumbs are nicely browned and mixture is bubbly.
Contributed by Joyce Taylor From: Mariner's Menu: 30 Years of Fresh Seafood Ideas