Carolina Baked Flounder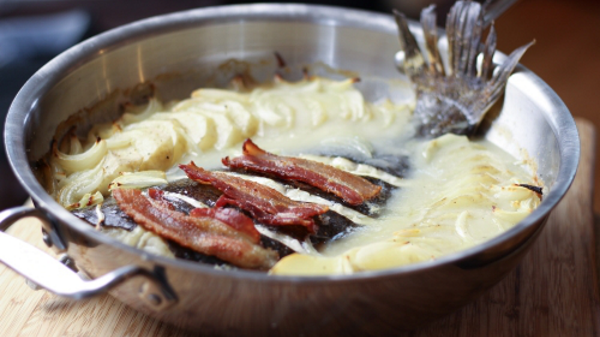 Recipe
Southerners can claim a proud heritage of good foods and superior cooking. We remain famous for plantation fare as well as our city hospitality, and are known worldwide for our flair for entertaining and culinary skills.
1 3/4 pounds flounder, dressed
4 cups potatoes, sliced crosswise in 1/8-inch slices
1 cup sliced onion
4 tablespoons margarine or butter, melted
salt
freshly ground black pepper
3 slices bacon
3 tablespoons flour
1 cup water
Score by making three diagonal slashes on top of the fish. Place potatoes and onion around fish. Brush fish with melted margarine. Sprinkle fish, potatoes and onion lightly with salt and pepper. Lay bacon over fish. Bake at 400 F for 15 minutes. Lower heat to 350 F. Continue to bake until potatoes are tender and fish flakes easily with a fork, about 30 to 45 minutes. About 15 minutes before fish is done, mix flour and water. Pour around fish. This will thicken.
Contributed by Joyce Taylor  From: Mariner's Menu: 30 Years of Fresh Seafood Ideas