Fresh Smoked Bluefish Salad with Almonds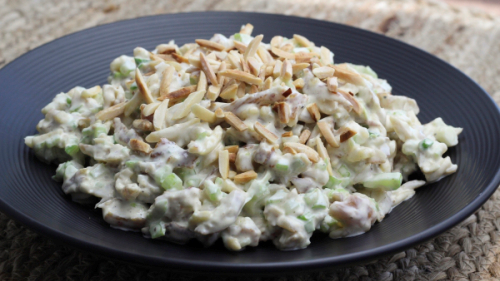 Recipe
2 cups smoked bluefish
1/2 cup mayonnaise
1 tablespoon Dijon mustard
1/2 cup finely chopped celery
1/4 cup thinly sliced green onions, including tops
1/3 cup slivered almonds
1 tablespoon fresh lemon juice
salt to taste
1/4 teaspoon freshly ground white pepper
lettuce leaves
tomato wedges
Poach fish in lightly salted water. Remove from water and flake with fork.
Place mayonnaise in medium bowl. Stir in mustard. Add celery, onions, almonds, lemon juice, salt and pepper. Gently blend in flaked fish, being careful not to break flakes apart.
Chill well, overnight if possible. Serve on lettuce. Garnish with tomato wedges.
Contributed by Joyce Taylor