Grilled Tuna with Lemon Mayonnaise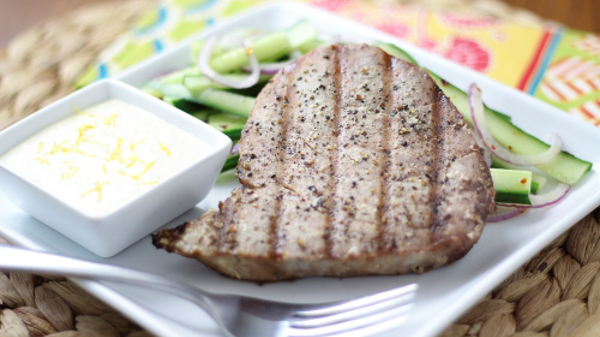 Recipe
Seafood tastes great when cooked on a grill, whether charcoal or gas. Gas is more convenient, and the fire will always be about the same temperature as the setting. But gas grills don't sear or brown as well as charcoal. Charcoal has the advantage of adding smoke and wood flavor, too, even though you have to light the fire and keep it going.
You can baste seafood with oil or melted butter or margarine when grilling. Some people use a favorite salad dressing or mayonnaise. Remember that oily fish such as salmon and mackerel retain moisture and need little or no basting.
4 tuna steaks, about 1-inch thick
1/4 cup vegetable oil
salt
freshly ground black pepper
Prepare Lemon Mayonnaise and set aside.
Brush steaks with oil and sprinkle with salt and pepper. Grill about 4 inches from coals until done on one side, about 6 to 7 minutes. Turn and repeat on other side. Spread with Lemon Mayonnaise. Serves 4.
Lemon Mayonnaise
1 cup mayonnaise
3 tablespoons fresh lemon juice
1/8 teaspoon cayenne pepper
1/8 teaspoon salt
3 tablespoons lemon zest
In small bowl, combine mayonnaise, juice, cayenne, salt and zest. Set aside for flavors to blend. Serve over cooked steaks.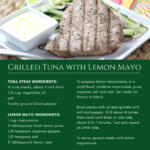 Download the recipe poster here.
Contributed by Joyce Taylor From: Mariner's Menu: 30 Years of Fresh Seafood Ideas