Individual Shrimp Casseroles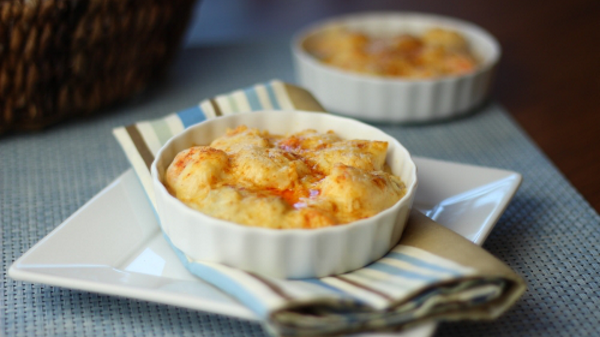 Recipe
Use smaller shrimp for casseroles, salads, sandwiches and in spreads and dips. Medium shrimp make good additions in soups and some entrees such as shrimp creole. They also can be steamed or grilled. Use large shrimp for grilling, steaming and other entrees where size matters.
Fresh shrimp smell like sea water. There should be no off-odors, mustiness or chemical smells. Occasionally shrimp will smell and taste like iodine. This is not related to spoilage and is not harmful, but makes them unacceptable for eating. Certain organisms on which shrimp sometimes feed can cause this iodine effect. If you buy shrimp that smell this way, return them to your market for a refund or replacement.
1 pound cooked small shrimp, peeled
1/4 cup margarine or butter
1/2 cup sliced fresh mushrooms
1/4 cup flour
1/4 teaspoon salt
1/2 teaspoon dry mustard
1/16 teaspoon cayenne pepper
3/4 cup milk
1/2 cup freshly grated Parmesan cheese
paprika
Cook shrimp in salted or seasoned water.
Melt margarine in medium saucepan over medium heat. Sauté mushrooms until tender. Blend in flour, salt, mustard and cayenne. Add milk gradually and cook until thick, stirring constantly. Stir in shrimp. Place in 4 greased individual shells or ramekins. Sprinkle with Parmesan and paprika. Bake at 400° F for 10 minutes, or until cheese is lightly browned.
Contributed by Joyce Taylor From: Mariner's Menu: 30 Years of Fresh Seafood Ideas