Manhattan-Style Clam Chowder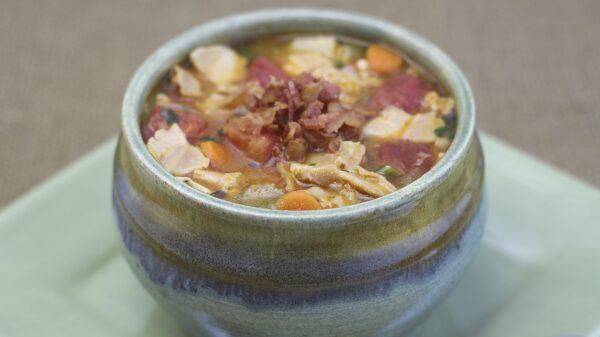 Recipe
It's often a good idea to follow a recipe the first time you make a dish, then modify it to your tastes the next time. Use the ingredients that you enjoy.
1 quart coarsely chopped chowder clams
4 bacon strips
2 cups chopped carrots
1 1/2 cups chopped celery
2 cups chopped onion
1/2 cup finely chopped green pepper
1 tablespoon minced garlic
1 teaspoon salt
1/4 teaspoon freshly ground black pepper
1/8 teaspoon cayenne pepper
1 teaspoon thyme leaves
1 bay leaf
1 quart water
1 14 1/2-ounce can chopped tomatoes, undrained
4 cups diced potatoes
1 cup finely chopped fresh parsley
Fry bacon in large pot over medium heat. Remove bacon and reserve. Add carrots, celery, onion, green pepper and garlic and sauté lightly. Add salt, black pepper, cayenne, thyme and bay leaf. Add water, tomatoes and clams. Bring to boil. Reduce heat and cook slowly until clams are tender, about 1 1/2 hours. Add potatoes and cook until done, about 20 minutes. Stir in parsley. Pour in individual serving bowls. Sprinkle with reserved bacon.
Contributed by Joyce Taylor From: Mariner's Menu: 30 Years of Fresh Seafood Ideas