Parmesan-Encrusted Striped Bass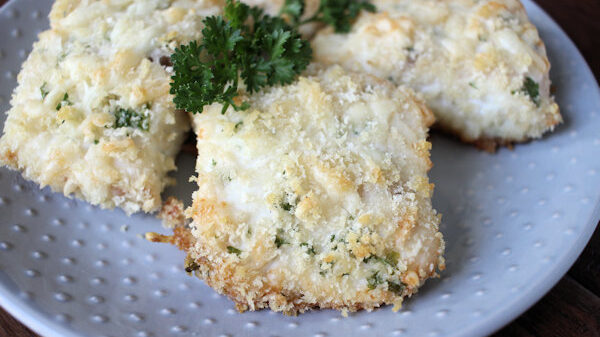 Recipe
1 ½ pound striped bass fillets, skinless, cut into serving-size pieces
¼ cup vegetable oil
½ teaspoon salt
½ teaspoon white pepper, freshly ground
¼ teaspoon garlic powder
1 tablespoon parsley, minced
¾ cup Parmesan cheese, freshly grated
½ cup panko bread crumbs
Preheat the oven to 400° F.
Combine oil, salt, pepper, garlic and parsley in a shallow dish. Place fillets in the mixture and marinate for 10 minutes, turning once.
Remove fish from marinade and dredge in cheese and in breadcrumbs.
Arrange fish on a baking sheet lined with parchment paper. Bake at 400° F until the center is fully cooked, which should take around 20-25 minutes.
Contributed by Joyce Taylor MM2