Sautéed Flounder Amandine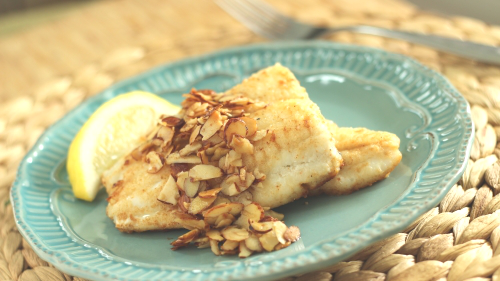 Recipe
The term "sauté" is often used interchangeably with "pan-fry." There is a distinction, though. Sautéing is much quicker. The term comes from the French word meaning "to jump." To sauté indicates cooking quickly — into the pan, fast cook, out of the pan.
Sautéing uses just enough oil to cover the bottom of the pan, and it almost always calls for butter. You can use clarified butter, oil and butter, or oil. If you use both oil and butter, heat the oil, then add the butter. If you want the best possible flavor from sautéing, use clarified butter. You'll be glad you did.
4 small flounder fillets
1/2 cup flour
3/4 teaspoon salt
1/4 teaspoon fresh ground black pepper
1/16 teaspoon cayenne pepper
3 tablespoons vegetable oil
3 tablespoons margarine or butter
1/3 cup sliced almonds
1 tablespoon fresh lemon juice
Dry fillets thoroughly by patting gently with paper towels.
In shallow bowl, combine flour, salt pepper and cayenne. Dredge fillets in mixture.
Heat oil in large skillet. Add 3 tablespoons margarine. Melt margarine and heat. Sauté fillets until golden brown on one side, about 4 to 5 minutes. Turn and repeat on other side. Remove fish to warm platter.
Wipe pan clean. Melt remaining tablespoon of margarine. When it begins to brown, add almonds. Cook until browned, about 2 to 3 minutes. Add lemon juice, mix thoroughly and return to heat for 1 minute. Spread over warm fillets.
Contributed by Joyce Taylor  From: Mariner's Menu: 30 Years of Fresh Seafood Ideas