Sautéed Flounder with Dill Sauce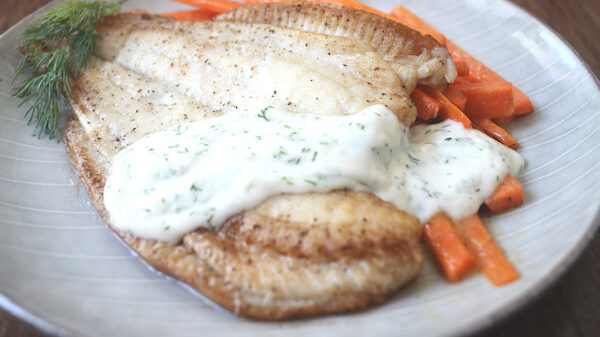 Recipe
1 ½ pounds flounder fillets
2 tablespoons canola oil
2 tablespoons butter
salt
black pepper, freshly ground
Heat oil in a skillet to 375° F. Add butter and melt. Lightly salt and pepper fish. Sauté fish, flesh sides down, until lightly browned, about 4 to 5 minutes. Turn and repeat. Remove to platter. Serve with Dill Sauce.
While fish is cooking, prepare Dill Sauce.
Dill Sauce
2 tablespoons butter
¼ cup dry white wine
½ cup heavy cream
¼ teaspoon salt
2 tablespoons water
⅛ teaspoon white pepper, freshly ground
2 tablespoons fresh dill, chopped
1 tablespoon cornstarch
In a small saucepan, melt butter. Add wine and cream and bring to a boil. In another small bowl or cup, mix 1 tablespoon cornstarch with 2 tablespoons of water. Add to the hot mixture until it thickens, stirring constantly over medium heat. Add salt, pepper, and dill. Serve over hot fish.
Contributed by Joyce Taylor MM2