Striped Bass Tacos with Creamy Guacamole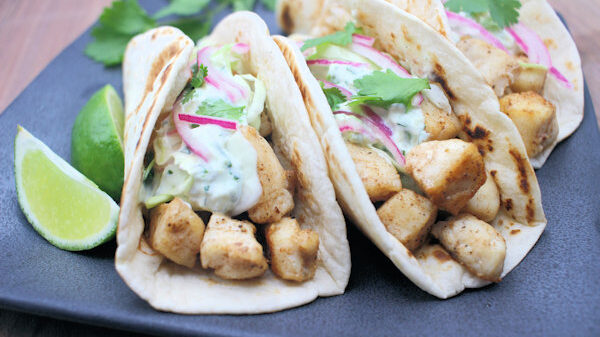 Recipe
1 ½ pounds striped bass fillets, skinless, cut into 1-inch chunks
salt
black pepper, freshly ground
2 tablespoons canola oil
2 tablespoons butter
1 cup cabbage, finely shredded
corn or flour tortillas
cilantro, garnish
Prepare creamy guacamole and chill.
Lightly salt fish. Sprinkle generously with pepper.
Heat oil in a large skillet to 375° F. Add butter and melt. Add fish and cook until golden brown, about 3 to 4 minutes. Turn fish chunks over and repeat. Drain on paper towels.
Place serving of fish in a tortilla. Sprinkle on a light amount of cabbage. Spoon on guacamole and garnish with cilantro.
Creamy Guacamole
1 cup sour cream
¼ cup red onion, thinly sliced
1 tablespoon jalapeño, finely chopped
1 tablespoon fresh lime juice
2 tablespoons cilantro, chopped
½ teaspoon salt
½ teaspoon garlic, minced
1 avocado, chopped
In a small bowl, combine sour cream, onion, jalapeño, lime juice, cilantro, salt and garlic. Mix well. Gently mix in avocado. Cover and chill.
Contributed by Joyce Taylor MM2