Stuffed Clams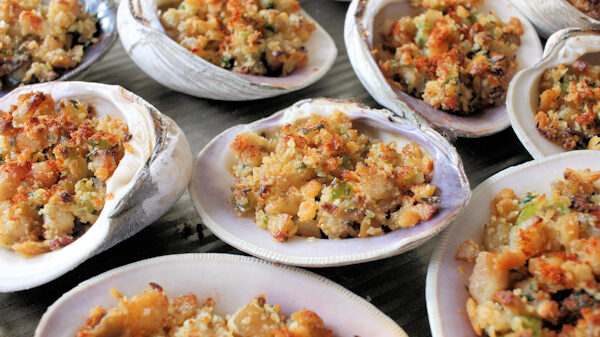 Recipe
2 cups chopped clams
½ cup clam liquid
4 tablespoons butter
2 tablespoons onion, minced
2 tablespoons green pepper, minced
2 tablespoons celery leaves, minced
¼ cup celery, chopped
⅛ teaspoon black pepper, freshly ground
¼ teaspoon salt
½ teaspoon prepared mustard
¾ cup fresh cracker crumbs
paprika
Preheat the oven to 450° F.
Place clams and liquid in a medium saucepan and simmer for 5 minutes.
Melt butter in a small saucepan over medium heat. Add onion, green pepper, celery leaves, celery, pepper, salt and mustard. Cook until vegetables are tender-crisp. Add to clam mixture. Stir in crumbs and mix well.
Place mixture in shells or ramekins. Sprinkle lightly with paprika. Bake at 450° F until nicely browned and bubbly, about 15-20 minutes.
Contributed by Joyce Taylor MM2