Walnut-Encrusted Grouper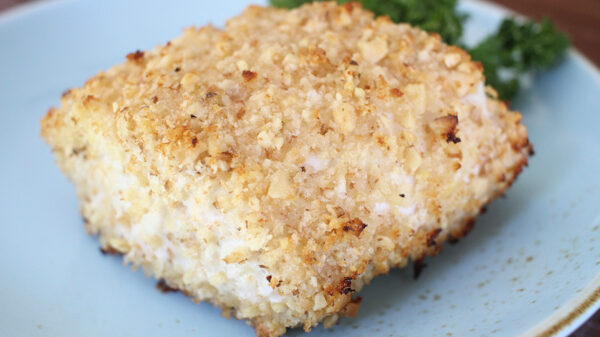 Recipe
1 ½ pounds grouper fillet, cut into 4 serving-size pieces
1 cup toasted bread crumbs
¾ cup walnuts, finely chopped
½ cup milk
½ cup flour
¾ teaspoon salt
¼ teaspoon black pepper, freshly ground
2 tablespoons butter, melted
Preheat the oven to 450° F.
Combine crumbs and walnuts in a shallow dish. Pour milk in another shallow dish and flour, salt and pepper in a third dish.
Dredge fish lightly in flour, then dip in milk. Dredge in the crumb-walnut mixture.
Place fish in a lightly greased baking dish and drizzle with butter.
Bake at 450° F until outside is lightly browned and crispy, about 10 to 15 minutes or until done.
Contributed by Joyce Taylor MM2