New Community Research Projects Launch
Four new projects are launching this year as part of the Community Collaborative Research Grant Program (CCRG). Projects will support youth education, tribal knowledge, air and water quality, and an exploration of plastic contaminants in headwaters.
North Carolina Sea Grant and the N.C. Water Resources Research Institute (WRRI) administer the CCRG Program in partnership with the William R. Kenan Jr. Institute for Engineering, Technology, and Science (KIETS).
"The CCRG program continues statewide engagement with this latest round of projects," says John Fear, deputy director of North Carolina Sea Grant and WRRI. "The ongoing focus on local needs and use of local knowledge sets up these projects for success."
KIETS associate director Raj Narayan says the CCRG Program provides researchers and community leaders with opportunities to work together to address compelling topics and challenges.
"The new projects continue to focus on issues of importance across our state," Narayan says. "From the mountains to the coast."
Jerry Miller of Western Carolina University and Christine O'Brien of Haywood Waterways Association will study plastic particles in small headwater basins of the Southern Appalachians. The project will provide hands-on learning experiences for high school students and community members, demonstrating the significance of plastic contamination and the need for sound management.
In Mecklenberg County, Olya Keen of the University of North Carolina at Charlotte and Ebone Lockett of Harvesting Humanity LLC will recruit high school students for hands-on research that includes elements of laboratory research and field sampling. The students will discover, explore, and work to mitigate issues related to water cycling throughout homes, schools, businesses, and neighborhoods.
In the southeastern part of the state, Ashley Patrick Lomboy, Waccamaw Siouan Tribe member and founder of Waccamaw Siouan STEM Studio, and Eric Britt Moore of the University of North Carolina Wilmington will combine academic and Traditional Ecological Knowledge practices to evaluate soil and water health in Waccamaw Siouan communities. With data from the project, the Tribe can assess soil and water contamination.
In northeastern N.C., Hans Paerl of the University of North Carolina at Chapel Hill's Institute of Marine Sciences and Colleen Karl of the Chowan Edenton Environmental Group will work with multiple communities to investigate associations between harmful algal blooms and air and water quality. Findings will benefit local high-school science classrooms, the Albemarle Regional Health Services system, state agencies, academic institutions, and the general public.
— Lauren D. Pharr
Community Collaborative Research Grants
Register Now for the NC Coastal Conference
Registration for the 2022 North Carolina Coastal Conference is now open. On November 7 and 8, the hybrid conference will take place online and in person at NC State University in Raleigh.
"We are looking forward to gathering researchers, agency and business experts, community leaders, students, and all who are interested in coastal topics for these engaging presentations and discussions," says Susan White, executive director of North Carolina Sea Grant, which hosts the conference.
The event will offer presentations on a range of current issues relevant to our coast and the watersheds that feed our estuaries and ocean. Topics will focus on research and outreach, across disciplines that include STEM fields, arts, education, and the humanities.

This year's NC STEM Policy Fellows (left to right): Joshua Reding, Anastasia Dulskiy, Nitesh Kasera, Maya Hoon, Aditya Keskar, and Rachel Johnson.
NC STEM Policy Fellows Begin State Assignments
Six STEM Policy Fellows recently began service in North Carolina state government. The yearlong assignments provide graduate students with opportunities to explore careers outside academia.
"We look forward to highlighting the successes of these new fellows as they work to tackle key science policy issues across the state," says Susan White, North Carolina Sea Grant's executive director."
Anastasia Dulskiy, a master's student at the University of North Carolina at Chapel Hill, studies the microbial ecology of corals. She is serving the North Carolina Office of Recovery and Resiliency."I look forward to applying my skills as an ecologist to the field of environmental policy, helping to support more resilient coastal communities here in North Carolina," says Dulskiy.
Maya Hoon serves with the N.C. Department of Transportation. Hoon, a former joint fellow with North Carolina Sea Grant and the NC Water Resources Research Institute, earned her master's in environmental sciences and engineering from UNC-Chapel Hill, where she worked with the NC Environmental Justice Network."I am incredibly grateful and excited that I will get to join the NCDOT team in tackling today's complex and daunting climate change issues and ensure equitable changes for all N.C. communities," Hoon says.
Rachel Johnson, a doctoral candidate at UNC-Chapel Hill, studies antibiotic activity and resistance. She serves in the North Carolina Department of Environmental Quality's State Energy Office."I am looking forward to learning more about North Carolina's green energy initiatives and finding ways to assure equity in our state's energy structure," says Johnson.
Nitesh Kasera, a doctoral candidate at NC State University, studies the conversion of agricultural wastes into high-performance adsorbents."I am excited to join NC Biotechnology Center as a STEM Policy Fellow and look forward to learning about how public policies, scientific research, and industrial endeavors are coming together in developing North Carolina's biotech economy," Kasera says.
Aditya Keskar, a doctoral candidate at NC State, is lead student researcher on a project investigating various short-term and long-term impacts on energy efficiency measures.Keskar is serving the State Energy Office and hopes to tackle "the pressing energy transition challenges of our time."
Joshua Reding, a doctoral candidate at UNC-Chapel Hill, studies white dwarf stars. He serves the N.C. Department of Commerce's Office of Science, Technology, and Innovation."I look forward to supporting and promoting the great innovators of North Carolina as a STEM Policy Fellow," Reding says.
North Carolina Sea Grant administers the NC STEM Policy Fellowships, with a generous matching grant from the Burroughs Wellcome Fund and support from the host offices.
— Carrie Clower
Coastal Research Fellows Study Seagrass and Dredge Plumes
North Carolina Sea Grant and the N.C. Coastal Reserve and National Estuarine Research Reserve have awarded Coastal Research Fellowships to Madison Lytle and Andrew McMains.
"Support for these fellowships allows us to address important site management topics facing North Carolina's coast," says Rebecca Ellin, program manager of the Coastal Reserve.
Madison Lytle, a doctoral student in integrative, comparative, and marine biology at the University of North Carolina Wilmington, will research how water clarity affects Halodule wrightii — a light-dependent type of seagrass. This declining species plays an important role in aquatic ecosystems.
"Seagrass is a critical habitat for a multitude of species in our estuarine systems," says John Fear, North Carolina Sea Grant's deputy director. "Understanding the factors impacting its ability to thrive is vitally important."
Andrew McMains, a doctoral student in East Carolina University's program in biology, biomedicine, and chemistry, will record the numbers and types of fish found in an inlet and an estuarine channel, with a focus on how they respond to dredge plumes.
"Studies like this," Fear says, "could help identify better management strategies, enhancing our ability to maintain critical channels as well as our natural fisheries resources."
— Carrie Clower
NC Fish Forum Marks Three Years of Collaboration
In 2019, the University of North Carolina at Chapel Hill, Duke University, and North Carolina State University organized the NC Fish Forum to help people understand what fish are safe to eat and in what quantities. The partnership continues to reveal new insights about contaminants in fish, increase collaboration between health departments and researchers, inform more health-protective advisories, and communicate risks.
For many people, fishing is a source of affordable food, but some types of fish can contain potentially harmful contaminants. Findings from the forum have highlighted key challenges, including limited awareness of advisories and lack of collaboration between health departments and researchers.
To increase awareness about advisories, the researchers developed outreach materials about safely catching and preparing fish. Collaborators also are creating resources on how to collect fish samples that health departments can use to inform new advisories and how to confidently communicate health risks to affected populations.
In addition, research from Duke University on the Cape Fear River informed a state regulator's decision to update consumption advisories for several species and locations along the river.
The National Institute of Environmental Health Sciences Superfund Research Program supports the project.
— Mali Velasco
NIEHS podcast about the outreach campaign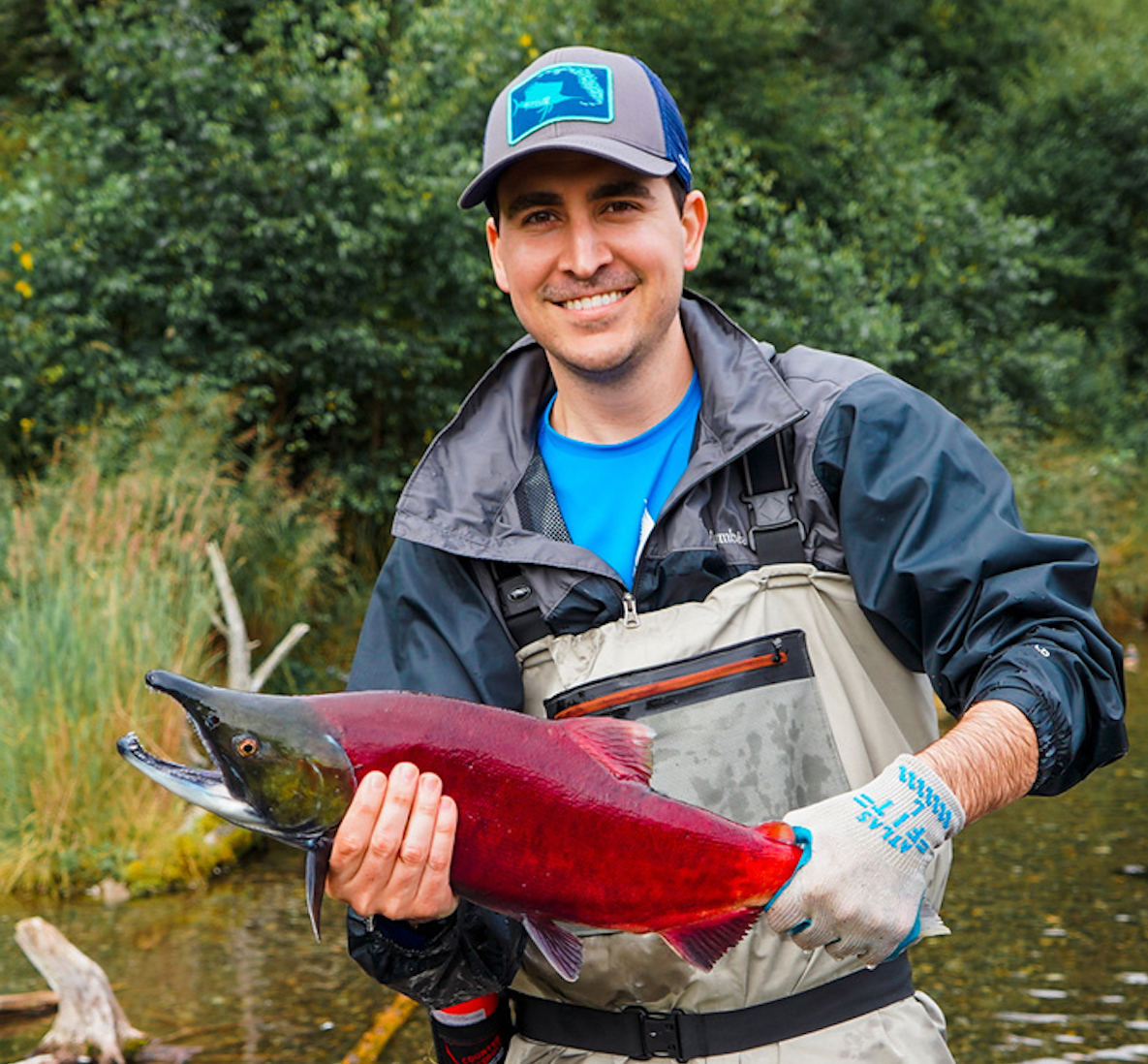 Dan DiNicola Joins Sea Grant
After a national search, North Carolina Sea Grant welcomed Dan DiNicola (right) aboard in July as science writer and digital content producer, a role that includes serving as science editor for Coastwatch. DiNicola began his career in marine policy and species conservation before transitioning to science communication, with an emphasis on visual storytelling.
"I am passionate about being in the field and making complex topics resonate with audiences," says DiNicola, who comes to North Carolina by way of the Pacific Northwest, where he was the communications manager for the University of Washington School of Aquatic and Fishery Sciences and for the marine biology program for four years.
In that role, he transformed communications for one of the nation's preeminent fisheries institutions, while also ushering in a new era of marine science at the university by developing recruitment strategies for its nascent undergraduate marine biology program.
Prior to his time at the University of Washington, he was the communications specialist at the University of Miami for RECOVER, which investigated the impacts of the 2010 Deepwater Horizon oil spill.
"We are pleased to have Dan bring his skills and expertise to our team," says Susan White, North Carolina Sea Grant's executive director.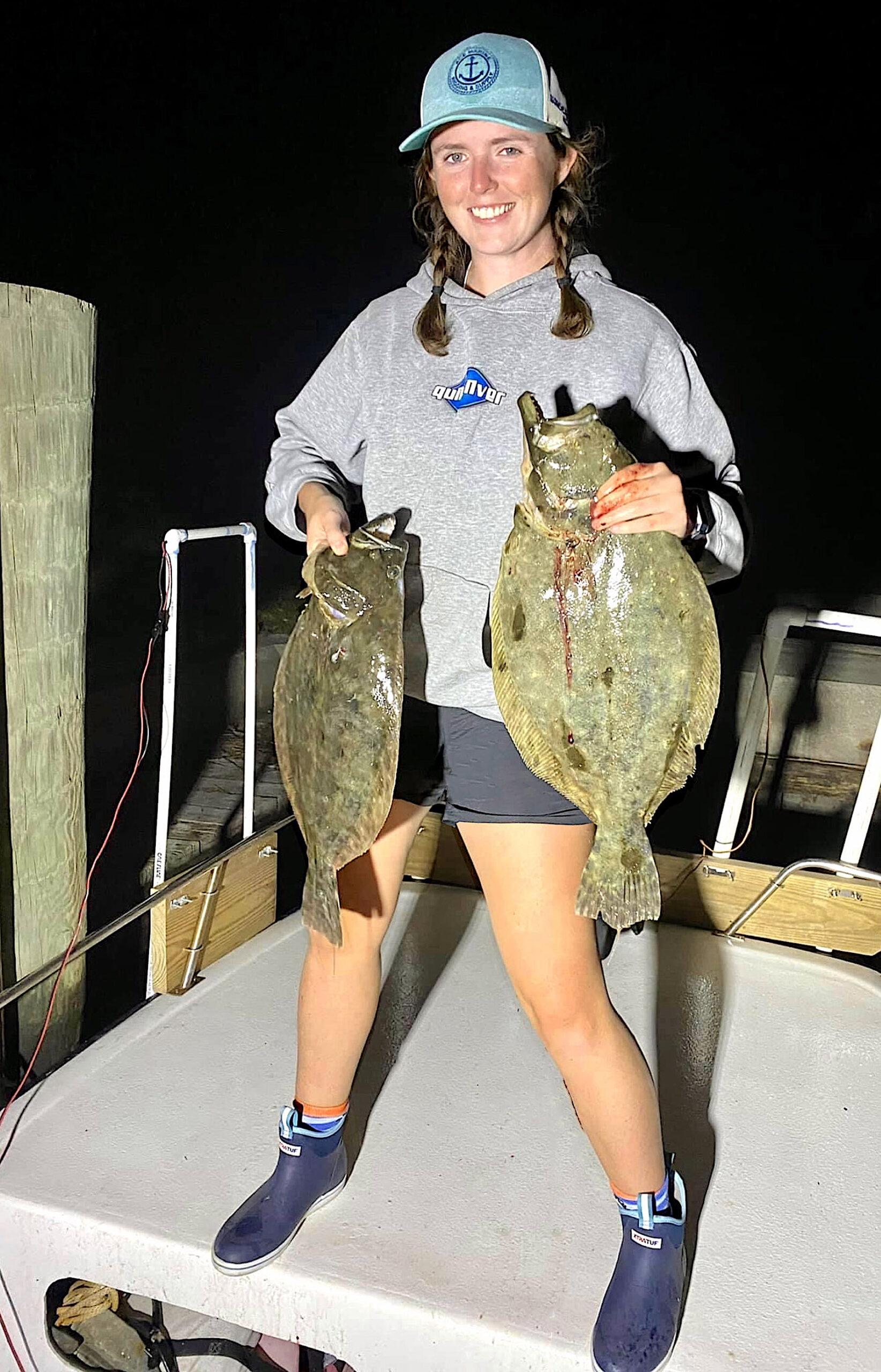 NC's Johnna Brooks Nets National Fellowship
Johnna Brooks of North Carolina State University has received a joint fellowship with the 2022 National Marine Fisheries Service and Sea Grant.
"Through the NMFS-Sea Grant Fellowship Program, this year's class of talented fellows will advance their scientific and technical skills while informing current sustainable fisheries and environmental management challenges," said Jonathan Pennock, director of the National Sea Grant College Program.
Since 1999, the NMFS-Sea Grant Joint Fellowship program has trained the next generation of specialized experts in fisheries management. The program addresses the critical need for future fisheries scientists by supporting students pursuing doctoral degrees in related fields.
Brooks (right) is one of seven fellows in "population and ecosystem dynamics," a field vital to high quality fishery stock assessments. She will serve at the Southeast Fisheries Science Center, looking at the development of a seasonal size-structured, tag-integrated, stock assessment model of estuarine fish.
NC State applied ecologists Jeffrey A. Buckel and Jie Cao will provide guidance as faculty advisors, and Kyle Shertzer, the center's stock assessment team leader, will serve as the NOAA mentor for Brooks.
In addition to NC State, this year's fellows attend universities in Alaska, California, Florida, Michigan, Massachusetts, New York, and Washington.
Sea-Space Fellows Study Sparrows and Prescribed Burns
North Carolina Sea Grant and NC Space Grant have awarded joint graduate research fellowships to Allie Best of the University of North Carolina Wilmington and Nicholas Corak of Wake Forest University.
The fellowships support graduate students studying high-priority needs within North Carolina watersheds, coastal areas, and nearshore environments. Their research projects can make use of data from NOAA and NASA's vast archives, as well as the agencies' remote-sensing data.
"Technological innovations have expanded how researchers can study our state's coastal region," says Susan White, executive director of North Carolina Sea Grant and NC Space Grant. "And this partnership has expanded the scope of research topics and techniques for students with interests in coastal issues, aerospace, or both."
Allie Best will model specific habitat needs of the wintering swamp sparrow, a species almost exclusively restricted to brackish marshes along the Atlantic coast — areas that are experiencing sea level rise. Her work will help inform conservation goals and management strategies for the species.
Through partnerships with coastal agencies, including The Nature Conservancy and the Audubon Society, Nick Corak will identify coastal study sites where prescribed burns occur regularly using satellite remote sensing from NASA and on-site measurements.
— Katie Mosher & Lauren D. Pharr
Coastwatch Sweeps NC Science Journalism Awards
The Science Communicators of North Carolina have awarded all three of the organization's top 2022 honors for journalism to Coastwatch cover stories.
Lauren D. Pharr took third place for "Wings of Change: The Impacts of a Warming Climate on Birds of North Carolina." Pharr is a contributing editor for Coastwatch, a Ph.D. student at NC State University, and a former Global Change Fellow with the Southeast Climate Adaptation Science Center.
"Lauren's expertise as an avian ecologist radiates through 'Wings of Change,'" says Coastwatch editor Dave Shaw. "Her writing makes it an elite story."
Julie Leibach, former science editor of Coastwatch, split first place honors with Shaw for the year's best science journalism. Leibach's "Model Behavior" describes how researchers draw on lifeguard expertise — and artificial intelligence — to improve rip current forecasting.
"Julie's articles never fall below exceptional," says Shaw, adding that during Leibach's four-year stint with Coastwatch, her features picked up seven honors and awards.
Shaw's "Magic at 64.4 Degrees" tells how diligence and expertise contributed to a breakthrough that positioned farmed striped bass for commercial success — and how the scientists behind the innovation also credited another key ingredient: luck. According to one judge, the story "went way beyond this particular result and made it into a piece about science as a whole."