Letter from the Executive Director
"We prepared this issue of Coastwatch before responses to COVID-19 quickly escalated. Many of the stories here will be much more relevant and meaningful when our lives return to 'normal.'" 
THE GREATEST SHOW ON THE EAST COAST
New Journeys into the Heart of North Carolina's Darkness
The Outer Albemarle Peninsula offers some of the darkest skies on the U.S. Atlantic seaboard and a nightscape full of wildlife.  
CAPTURING THE CULPRIT
Carbon Sequestration and the Battle Against Climate Change
We can take advantage of nature's own tools for capturing carbon from the atmosphere — and help to slow down global warming.
AT THE DAWN OF FLIGHT
The Earthscape and Climate of the Outer Banks
Torrential winds, wild ponies, marauding pigs, and an ever-shifting coast all made a perfect lab for learning how to fly.
CURRICULUM CONNECTIONS
Zoom In on Aquaculture
A blue crab starts life as a microscopic larva that drifts through the water eating zooplankton and plant materials.
HOOK, LINE & SCIENCE
The Surf Zone, Summer Spawning, and Seafood Sleuths
Citizen scientists collected seafood samples to help determine seafood mislabeling — and they did it as well as the experts.
NORTH CAROLINA' S BLUE ECONOMY
Coastal Landscaping: The Next Blue Economy Sector?
In the Southeast, the use of native plants by landscape architects and contractors has increased — as has consumer interest.
MARINER' S MENU
Springtime Sensations
These delightful dishes work for warmer weather.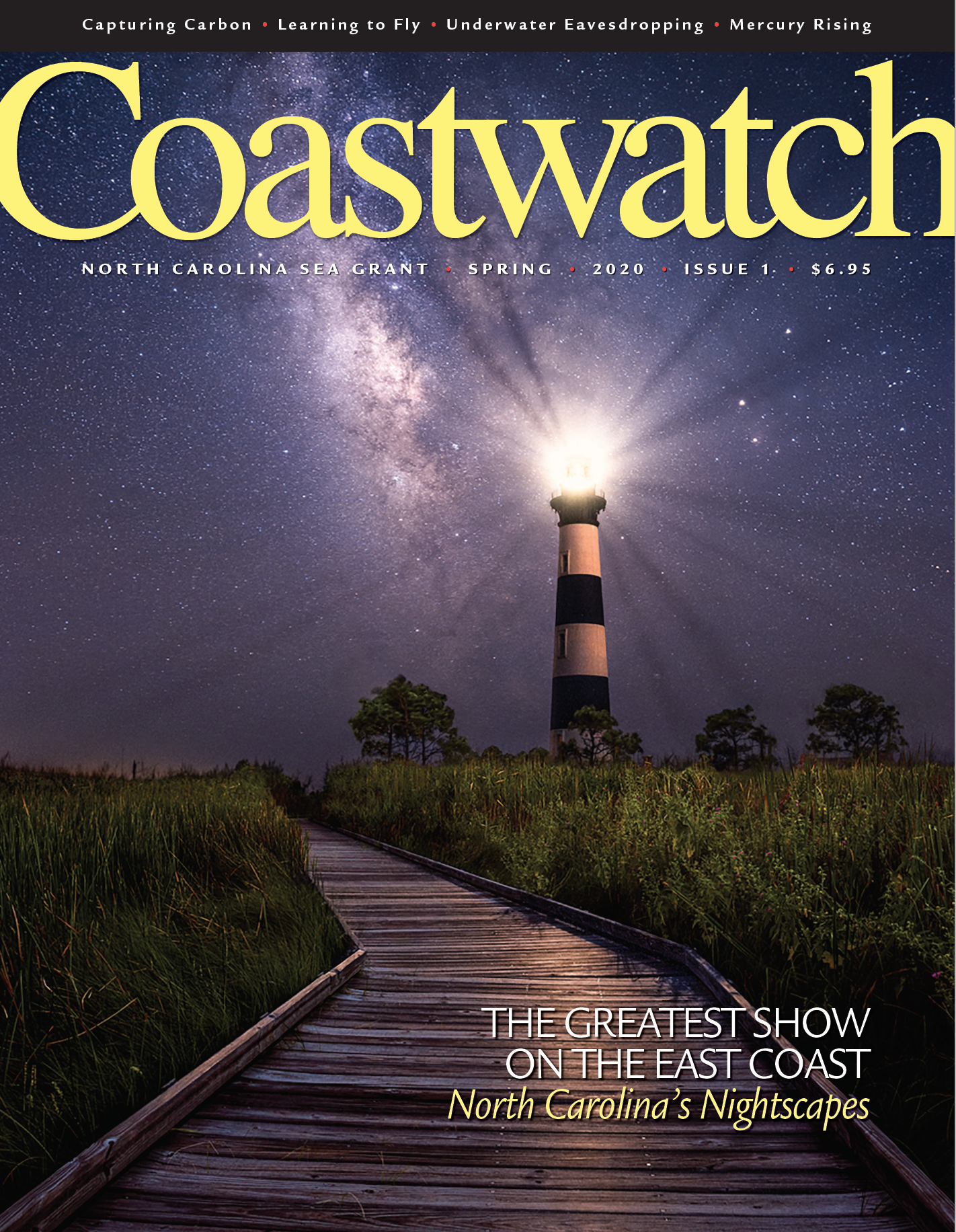 SEA SCIENCE
An Underwater Soundscape Is Worth a Thousand Words
What can we learn by eavesdropping on the underwater conversations of fish?
COASTAL CURRENTS
Mercury on the Rise
As Hurricane Dorian made its way to the coast, one scientist collected samples in the field while local towns were evacuating.
Download the full issue (2-page spreads) 
Download the full issue (single pages) 
front cover: Like a searchlight on premiere night, Bodie Island Lighthouse shines outside our state's amazing theater of the dark. Photo by JamieZink/CC-BY-SA 4.0 International.