Spring 2023
Contents
THE MYSTERY SHIP OFF PAPPY LANE
How Science and Sleuthing Uncovered the History of a 58-Year-Old Shipwreck
Weeks of diving and mapping revealed a ship that had found its way from the turbulence of the Pacific Ocean to its final resting place at the bottom of the shallow, murky Pamlico Sound.
RESILIENCE AND REDEVELOPMENT IN DUFFYFIELD
Revisualizing the Future of an Underserved Neighborhood in New Bern, NC
After Hurricane Florence flooded an African American neighborhood with a long history of strength after adversity, a team of community leaders, researchers, and students has been working to restore housing and preserve community history.
"STOP THE SPREAD" AND "DON'T PLANT A PEST"
from Plant This Instead!
Eco-friendly Alternatives to Harmful Ornamental Plants
Here's what not to plant — and what to plant instead.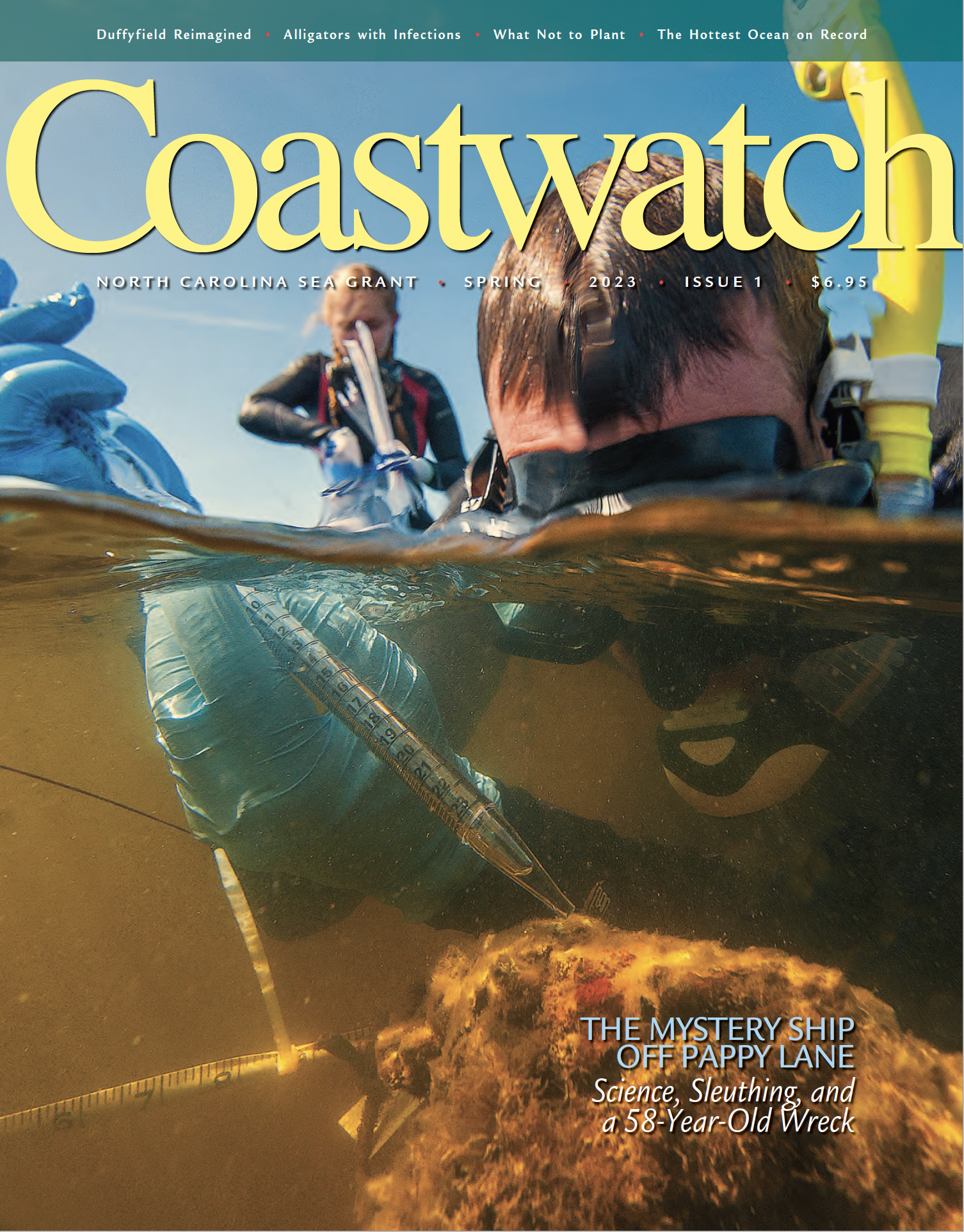 MARINER'S MENU
Lights, Camera, Crab Cakes:
Cooking North Carolina Seafood with Chef Ricky Moore
These three new videos feature Chef Moore preparing baked grouper with fresh herbs, crispy flounder fillets, and one of the chef's own recipes, "My Crab Cakes."
HOOK, LINE & SCIENCE
Where Dolphinfish Roam, What Fish Remains Tell Us, and Where Red Drum Go When They Escape
Where red drum hide depends on whether they're hatchery-raised.
EMERGING CONTAMINANTS
The Autoimmune Effects of Exposure to PFAS
Why Do These Alligators Have Infections?
SCIENCE & SOCIAL MEDIA
Twitter and the Red Tides
Can social media provide a real-time map of red tide events?
VITAL SIGNS
The Hottest Ocean in Recorded History
NOAA and NASA track dramatic global changes.
ECONOMIC IMPACT
Wildlife Management Areas Support Local Businesses
Hunters, anglers, and boaters help fuel the economy.  
3D RESEARCH
Who Wants to Look at a Dead Whale?
New tech can access animal remains in remote areas.
CULTIVATING COASTAL WATERS
North Carolina's ShellCast App Goes Regional
A digital tool for North Carolina's shellfish growers soon will forecast last-minute lease closures in Florida and South Carolina, too.
NEWS IN ARCHEOLOGY
Neanderthals Cooked and Ate Crabs 90,000 Years Ago
Even cave dwellers loved seafood.
NATURALIST'S NOTEBOOK
Hurricanes, People, and Piping Plovers
A new study looked at the long-term mating habits of these birds before and after protective measures went into effect.
HEALTHY ECOSYSTEMS
How Much Ocean Floor Do Natural Reefs Occupy?
And how much more territory belongs to natural reefs than to artificial reefs?
SAFETY ALERT
Danger in the Air
Do carbon monoxide levels during boating exceed guidelines?
POSTER: RIP CURRENTS SAFETY
Know Your Options
Share this poster — or print it out and put it up — and save a life.
COASTAL CURRENTS
News briefs and research.
lead photo credit: Dan Graovac/Parker River National Wildlife Refuge.
cover photo by John McCord/Coastal Studies Institute.