A Sumptuous Summer

Letter from the Executive Director
The Road to Resilience
A large transportation study on flooding in eastern North Carolina suggests that thoughtful planning and targeted route improvements are key.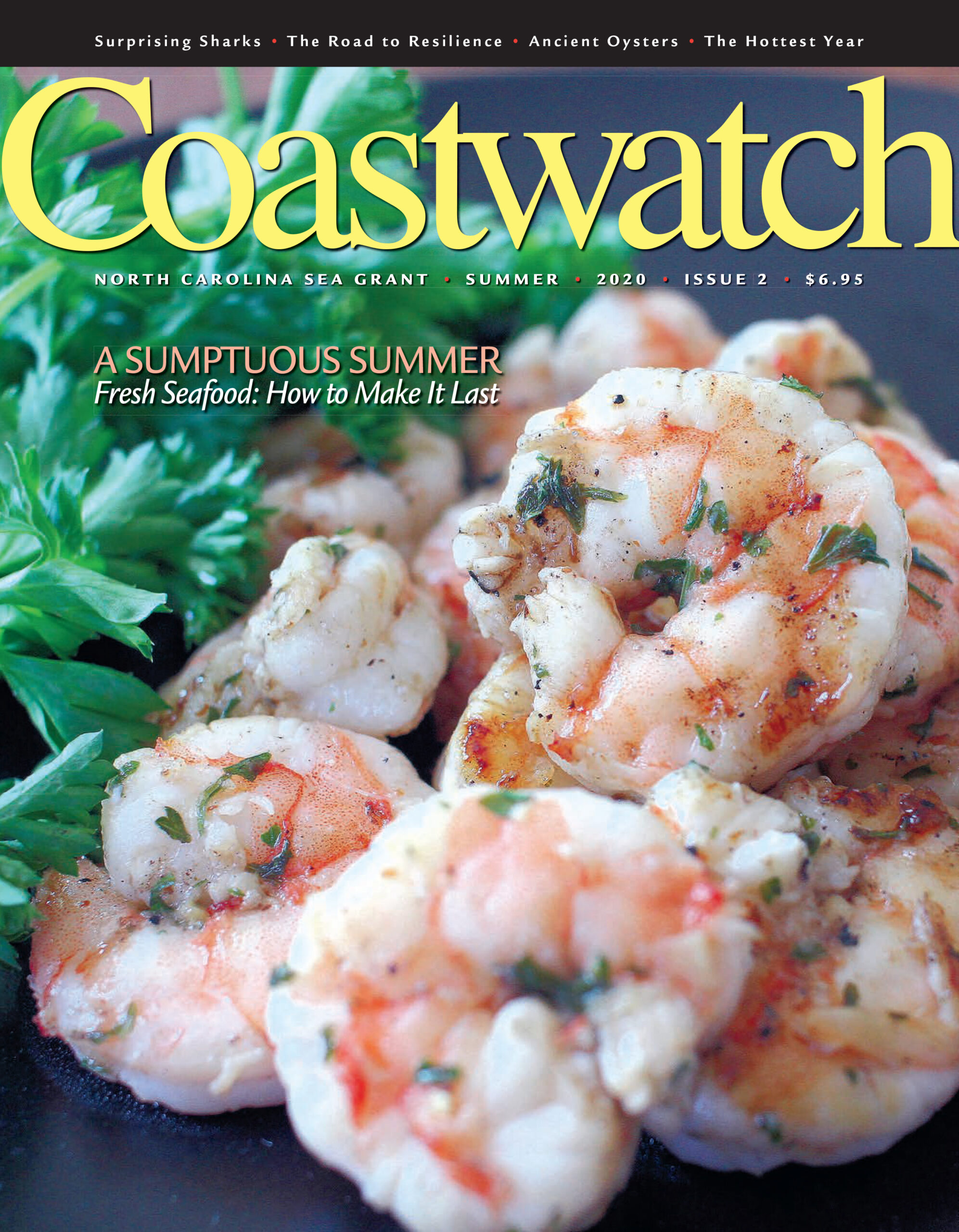 What's in Your Water?
Predicting Contaminated Drinking Supplies
A new model predicts the characteristics of households and locations with a higher chance of lead contamination.
Inside the Greenhouse
North Carolina's Hottest Year on Record
Will 2020 surpass last year's unprecedented heat with even higher temperatures in North Carolina?
Sea Science
Shark Facts that Might Surprise You
The first sharks swam the ocean 455 million years ago — and 11 more interesting tidbits about the ancient species.
Coastal Connections
Hatteras Island Students Tackle Coastal Change
Ninety-five percent of Hatteras Island students believe in climate change, and most plan to leave the island.
Currents
How to Freeze Your Fresh North Carolina Seafood
If you're limiting your shopping trips right now, you can freeze your seafood to enjoy later.
Mariner's Menu
Summertime Sumptuousness
Mahi-mahi bisque, walnut-encrusted snapper, and honey-glazed shrimp: easy to make, even easier to eat.
Naturalist's Notebook
In Search of Ancient Oysters
Can the fossil record suggest how to protect a modern-day species?
Hook, Line & Science
Blacktip Sharks, Historic Dock Photos, and Hand-Crank Electrofishing
Our state is the only one to allow "hand-crank electrofishing" as a method to deal with the catfish invasion.
Coastal Tidings
The news in brief.
The Back Cover
Coastwatch opens the vault.
Your Free Rip Currents Safety Poster
Print it. Share it. Save a life.
Download the full issue (2-page spreads)