Mariner's Menu
Sumptuous Summertime
BY VANDA LEWIS AND JOYCE TAYLOR
Mariner's Menu, one of the fastest growing sites for seafood recipes on the web, features blogger and photographer Vanda Lewis's posts of recipes that the late Joyce Taylor developed. Lewis selected these summertime favorites.
MarinersMenu.org
WALNUT-ENCRUSTED SNAPPER
1 1/2 pound snapper fillets
1/2 cup flour
3/4 teaspoon salt
1/4 teaspoon freshly ground black pepper
1/2 cup milk
1 cup toasted French bread crumbs
1 cup walnuts, finely chopped
2 tablespoons butter, melted
Place flour, salt and pepper in shallow dish (or on wax paper). Place milk in shallow dish. Combine crumbs and walnuts in another dish.
Dredge fish lightly in flour, then dip in milk. Dredge in crumbwalnut mixture.
Place fish in a lightly greased baking dish and brush lightly with butter, so that nuts are not moved.
Bake at 450˚F until outside is lightly browned and crispy, about 15 minutes.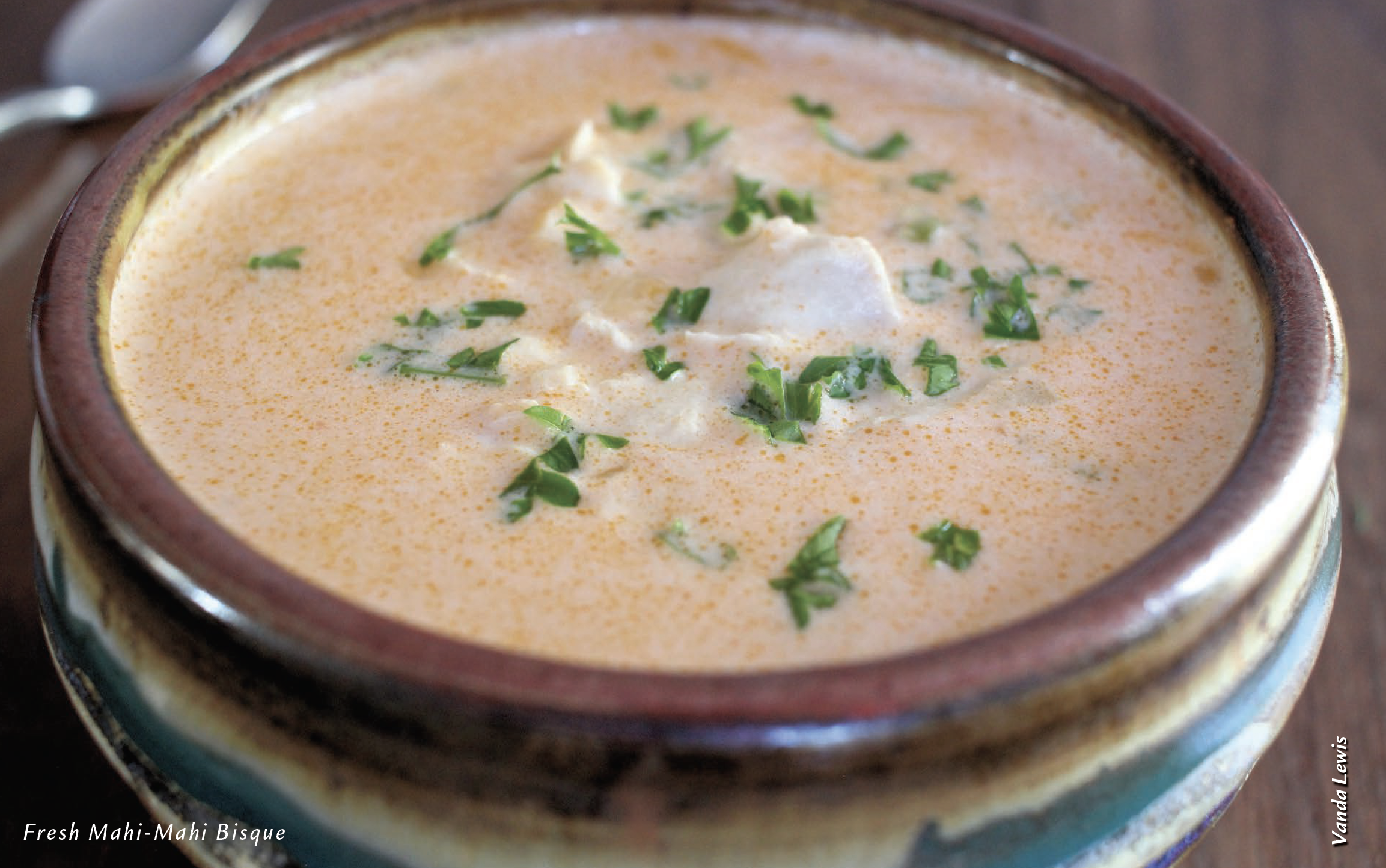 FRESH MAHI-MAHI BISQUE
1 pound flaked mahi-mahi (begin with 1 1/2 pounds raw)
3 tablespoons butter
2 tablespoons onion, finely chopped
2 tablespoons celery, finely chopped
3 tablespoons flour
1 teaspoon salt
1/2 teaspoon freshly ground white pepper
1 tablespoon tomato paste
2 1/2 cups whole milk
1 cup heavy whipping cream
2 tablespoons sherry wine
3 tablespoons fresh parsley, finely chopped
Poach fish in lightly salted water. Flake and set aside. In medium saucepan, melt butter. Add onion and celery and sauté lightly. Blend in flour, salt, pepper, and tomato paste and cook for 2 minutes. Gradually whisk in milk and cook, stirring constantly, until it thickens. Add heavy cream, sherry wine, and flaked fish, and heat thoroughly.
Do not boil and do not overcook fish. Garnish with fresh parsley.

HONEY-GLAZED SHRIMP
1 pound large shrimp, peeled and deveined
3 tablespoons honey
1/4 cup vegetable oil
1/2 tablespoon Dijon mustard
1 teaspoon pressed garlic
1/4 teaspoon red pepper flakes
1/4 teaspoon salt
2 tablespoons fresh parsley, chopped
1 tablespoon fresh ginger root, minced
1 tablespoon fresh lemon juice
In a small bowl, combine honey, oil, mustard, garlic, pepper flakes, salt, parsley, and ginger root. Place shrimp in mixture and marinate in refrigerator 10 minutes. Broil or grill about 4 inches from heat until done, about 5 to 6 minutes, turning once.