Mariner's Menu

Savory Summertime
BY VANDA LEWIS AND JOYCE TAYLOR
Mariner's Menu, North Carolina Sea Grants popular online seafood guide, features blogger and photographer Vanda Lewis's pictures with recipes the late Joyce Taylor developed. Enjoy these special treats this summer.
ASIAN CURRIED SHRIMP
1 pound large shrimp, peeled and deveined
4 tablespoons soy sauce
1 tablespoon dry sherry
1/3 cup chopped shallots
2 teaspoons curry powder
1/2 teaspoon dark brown sugar
3 tablespoons canola oil
In a small bowl, toss shrimp with soy sauce and sherry. Marinate 20 minutes, stirring occasionally.
Heat oil in a medium skillet or wok. Add shallots and sauté. Mix in curry powder and sugar.
On high heat and using a slotted spoon, add shrimp and stir-fry until done (about 6-8 minutes).
MAHI-MAHI WITH TROPICAL GLAZE
1 1/2 pounds mahi-mahi fillets, cut into serving-size pieces
1/2 cup pineapple juice
1 1/2 tablespoons butter, melted
1 tablespoon fresh lime juice
1/4 teaspoon lime zest
1/2 teaspoon Tabasco sauce
1/4 teaspoon fresh ginger, finely chopped
1/4 teaspoon garlic, minced
1/2 tablespoon fresh basil, finely chopped
1/4 teaspoon salt
1/4 teaspoon black pepper, freshly ground
2 tablespoons dark rum
1 tablespoon cornstarch
Place the rack in the top third of the oven and preheat the broiler.
In a small saucepan, combine pineapple juice, butter, lime juice, lime zest, Tabasco, ginger, garlic, basil, salt, and pepper. Heat, and simmer for 4 minutes. Stir in rum, and heat for 2 minutes.
Remove 2 tablespoons of sauce to a small bowl. Blend in cornstarch, and add back to the sauce. Cook over low heat, stirring constantly, until thickened enough to spread.
Place fish on a lightly greased broiler pan, skin sides down. Brush with sauce mixture. Cook about 8 to 10 minutes or until done. Brush again with glaze about halfway through cooking time. Keep remaining sauce hot.
Remove to a serving dish. Spoon remaining sauce over fish.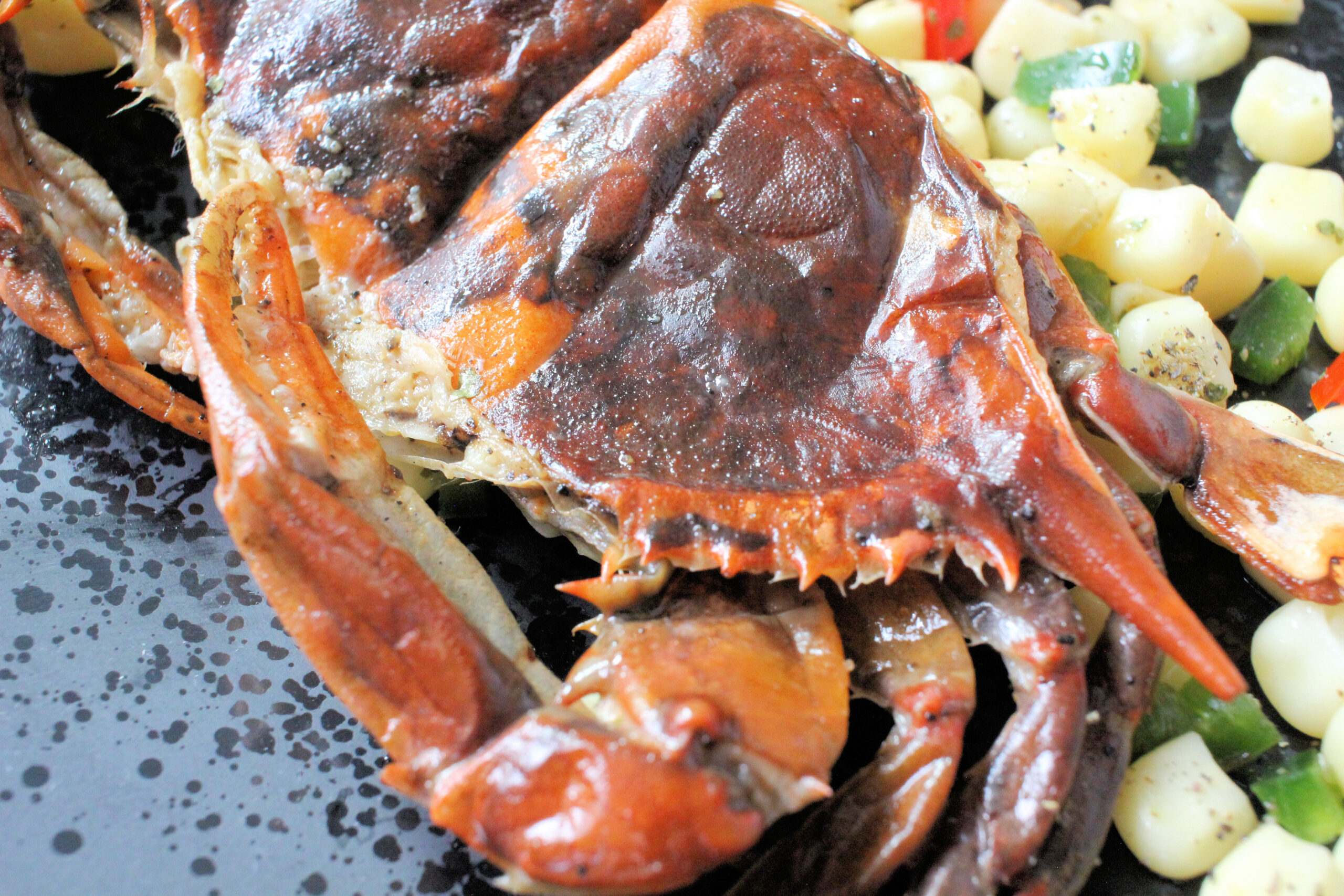 EASY GRILLED SOFT-SHELL CRABS
8 soft-shell crabs, cleaned
1/2 cup butter, melted
1/2 teaspoon salt
1/2 teaspoon black pepper, freshly ground
1/2 teaspoon Tabasco sauce
Preheat the grill to medium high.
Combine butter, salt, pepper, and Tabasco. Cool. Brush both sides of crabs with the mixture.
Place crabs, topsides down, over hot coals.
Close grill and cook until shell turns bright red, about 2 1/2 to 3 minutes. Turn and repeat on the other sides.
Serve with tartar sauce, if desired.
Check your local fish markets for softshells, especially around the full moon!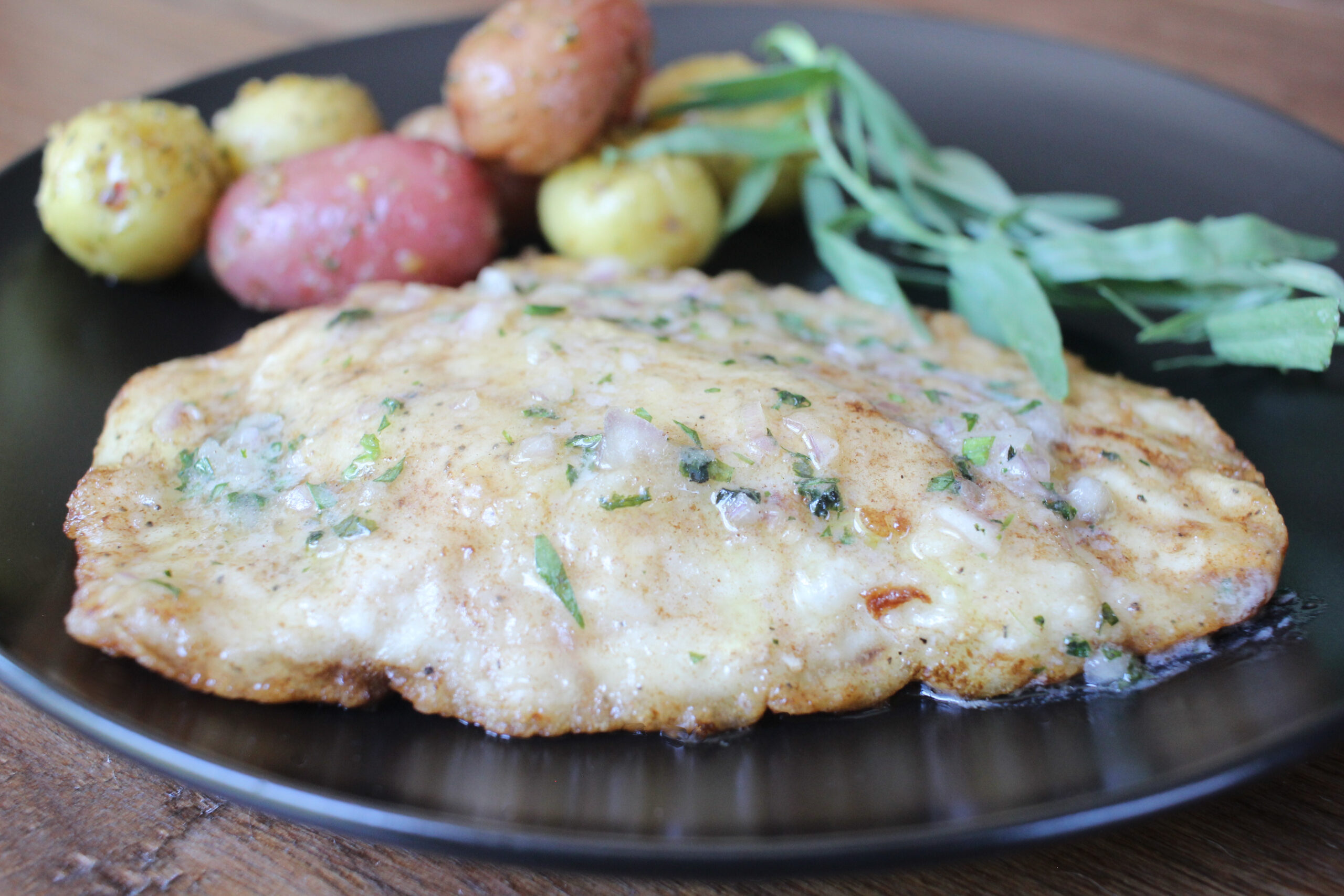 TRIGGERFISH WITH SHALLOT BUTTER
1 1/2 pounds triggerfish fillets, skinless
2 tablespoons canola oil
2 tablespoons butter
salt
black pepper, freshly ground
flour
Prepare shallot butter (see below) and set aside.
Heat oil in a skillet to 375° F. Add butter and melt. Lightly salt and pepper fish, then dredge lightly in flour. Place in skillet, and sauté until lightly browned (about 4 to 5 minutes). Turn the fish over and repeat, cooking until done. Serve with shallot butter.
Shallot Butter
1/2 cup butter, softened
2 tablespoons shallots, finely chopped
1 teaspoon fresh tarragon, chopped
1 teaspoon fresh basil, chopped
1/4 teaspoon salt
1/4 teaspoon white pepper, freshly ground
In a small bowl, combine butter, shallots, tarragon, basil, salt, and pepper. Spread over warm fish.
Visit the Mariner's Menu online seafood guide: MarinersMenu.org.
All photos by Vanda Lewis.