The Winter Issue
Letter from the Executive Director
COASTAL TIDINGS
News and research nuggets.
PLAN, RESPOND, RECOVER, ADAPT
Building Resilience in Coastal NC
North Carolina Sea Grant's new coastal resilience specialist tells why resilience means much more than merely "bouncing back."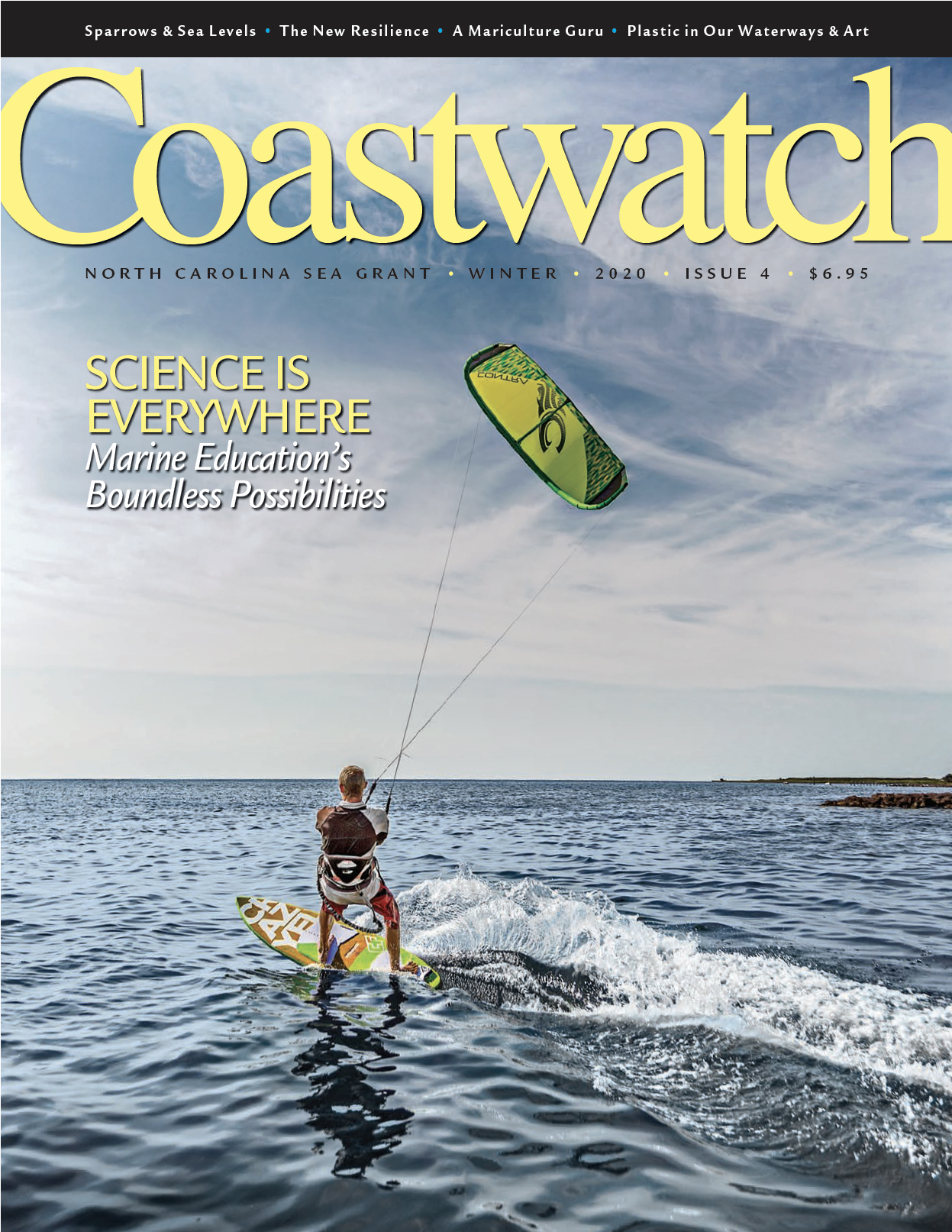 LIFE ON A 'FINGER BETWEEN TWO BAYS'
As North Carolina's shellfish aquaculture industry booms, new and established growers alike turn to Jimmy Morris for sage advice.
THE WINDING PATH OF RESEARCH
Flood Risk, Recognition, and the Latino and Latina Community in Wilmington, NC
When nobody showed up for her study, Olivia Vilá changed course — and her work shed new light on environmental justice.
PLASTIC, PLASTIC, EVERYWHERE
Plastic pollution globally taints land, air, and water, but new efforts are tackling the problem in North Carolina's aquatic ecosystems.
HOOK, LINE & SCIENCE
The Moon, Mystery Fish, and More
Does the moon affect offshore tournament catch rates — and what's that mystery fish on your plate?
MARINER'S MENU
Winter Wonders
Follow these easy recipes for delights you can enjoy this holiday season and beyond.
NATURALIST'S NOTEBOOK
Sparrows and Rising Seas
Two coastal study sites now support hundreds of saltmarsh and seaside sparrows but might only provide habitat for 25 by 2060.
LAST WORD
Science Is Everywhere:
An Interview With Terri Kirby Hathaway, North Carolina Sea Grant's Marine Education Specialist
From sinking sodas to seaweed in ice cream, marine education offers plenty to keep K-12 students curious.
The Back Page
Leibach Wins Best Feature for Third Straight Year
bonus
N.C. SEAFOOD AVAILABILITY POSTERS: NORTH AND SOUTH
These two-sided posters are invaluable depictions of which species of fish are available seasonally to northern and southern waters along the North Carolina coast.

read the Winter issue in 2-page spreads
read the Winter issue with single-page scrolling