Letter from the Executive Director
Celebrations and Anticipations
As winter arrives, I hope you, your families, and communities are continuing to stay healthy and meeting COVID-19 challenges with renewed energy, personal commitment, and optimism as we look ahead to the spring. I find inspiration in the continued hard work and sacrifices made by people in health care, education, and the many industries that support our everyday needs.
Indeed, North Carolina Sea Grant's partners in research, extension, and education continue to innovate and adapt strategies to successfully meet needs in our coastal communities. There is great, and growing, strength in the range of collaborative approaches needed to sustain economic growth and enhance environmental outcomes.
This issue of Coastwatch certainly brings hope as well. We hear about life experiences on the coast, learn about new research findings, and get to know future leaders. And, of course, we also find North Carolina seafood recipes to warm up winter days.
I am always inspired and energized by our team — and I especially want to acknowledge Jane Harrison, who is among three leaders who recently received the Sea Grant Association President's Award for work on a national committee. The honor celebrates her commitment to advancing diversity, equity, and inclusion across the Sea Grant network of 34 programs.
Jane also is a leader here, along with a strong group of people from North Carolina Sea Grant and our partners in the Water Resources Research Institute and Space Grant programs.
Together we strive to improve internally in our business practices, as well as externally in our extension, research, and communication programs. Those efforts address a constant need for education, renewals of commitment, and creating resources to achieve long- term impacts.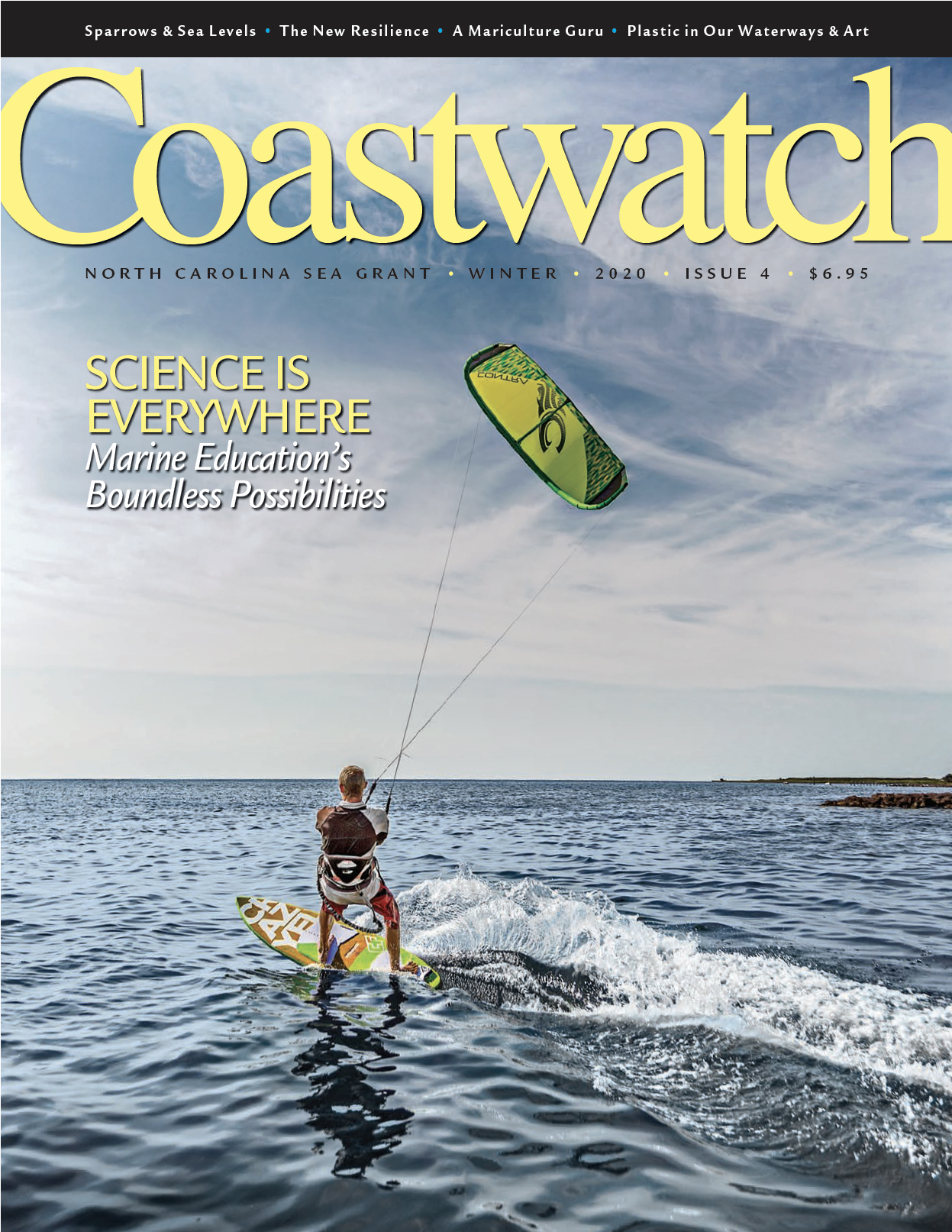 I, too, will be making more connections between the state and national levels in 2021 as I begin a two-year term as president of the Sea Grant Association. In my SGA roles in recent years, I have witnessed the strength of the national network and the resulting collaborations and opportunities for our team, researchers, and partners in North Carolina.
Next year also will bring exciting changes for two team members. Terri Kirby Hathaway, North Carolina Sea Grant's marine education specialist, and Nicole McIntosh, who closely partnered with Sea Grant in her Water Resources Research Institute roles, are both moving on to new opportunities.
With over 30 years of state service and a massive network of partners across the state and nation, Terri has proven to be a leader in educational excellence on many scales. She no doubt will continue to serve and contribute in different ways during her retirement. We wish her all the best and sincerely appreciate the significant impacts she made on North Carolinians from the mountains to the sea, as well as on her colleagues in the national Sea Grant education network and the National Association of Marine Educators. We close this issue of Coastwatch with an interview with Terri.
Nicole also leaves a lasting footprint on the state, as she organized and advanced important research partnerships with local governments to improve water quality, and to address needs related to stormwater and water supplies. Some of these partnerships focused on coastal issues, in coordination with Sea Grant, and Coastwatch has highlighted them in previous issues. After 10 years with us, Nicole is shifting her focus to the full-time jobs of supporting her elementary-aged children and co-managing her family business.
It is an absolute pleasure to work with such high-caliber team members, and we wish them both well in their new adventures.
I see opportunities in the challenges and changes ahead, and I would welcome your feedback on additional ways that North Carolina Sea Grant can continue to engage you to collaborate in support of our wonderful coast.
Also, please consider offering a donation here to advance and expand our program's support for student research and other enhanced educational opportunities.
As always, you can reach me at snwhite3@ncsu.edu. All the best!
— Susan White, Executive Director, North Carolina Sea Grant
lead photo by Jordan Ramos/VisitNC.com