Coastal Culture and History
The rich fabric of North Carolina's coastal culture comprises the histories, narratives, and ways of life of people of all backgrounds and ethnicities, and it stretches across thousands of years.
In the Wake of Storms
in the Spring 2021 issue
Even as our state's capacity for seafood processing declines, wholesalers and distributors have built a network that rapidly deploys initial aid to coastal communities after hurricanes.
Breaking Systemic Barriers
in the Spring 2021 issue
"I can't walk around with a sign on my back that says, 'I'm not a threat. Don't shoot me.' "
Life on a Finger 'Between Two Bays'
in the Winter 2020 issue
As North Carolina's shellfish aquaculture industry booms, new and established growers alike turn to Jimmy Morris for sage advice.

The Winding Path of Research 
in the Winter 2020 issue
When nobody showed up for her study, Olivia Vilá changed course — and her work shed new light on environmental justice.

Blacktip Sharks, Historic Dock Photos, and Hand-Crank Electrofishing
in the Summer 2020 issue
What will historic dock photos reveal about coastal communities and fisheries?
Hatteras Island Students Tackle Coastal Change
in the Summer 2020 issue
Ninety-five percent of Hatteras Island students believe in climate change, and most plan to leave the island.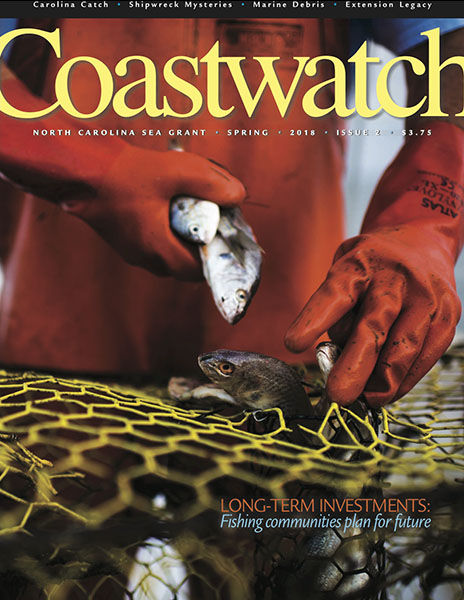 The Story of Ricky Moore:
The 'Best Chef in the Triangle' Talks Carolina Cooking
in the Winter 2019 issue
The Great Deluge: A Chronicle of the Aftermath of Hurricane Floyd
in the Autumn 2019 issue
Wingina, Wanchese and Manteo: A Lumbee Perspective on the Lost Colony
in the Spring 2019 issue
From the Courthouse Steps to Climate Change:
How Lumbee History Can Inform New Social and Environmental Dialogue
in the Spring 2019 issue
Rising Stars: New Fellows Fuel Scientific Discovery
in the Summer 2019 issue
Fisherman's Blues
in the Autumn 2018 issue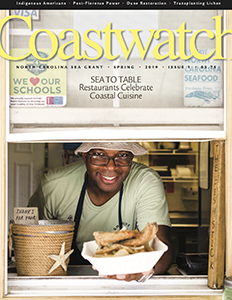 RISING: Perspectives of Change on the North Carolina Coast
in the Summer 2018 issue
Charting the Course
in the Spring 2018 issue
Diving into Darkness
in the Spring 2018 issue
Ocracoke's Brogue: Sounds Past and Present
in the Winter 2018 issue
Q&A WITH BLAND SIMPSON: From Inspiration to Printed Page
in the Winter 2018 issue
with "A Captain's Journey" (excerpt)
Working Together:
Communities Collaborate, Engage with Researchers
in the Holiday 2017 issue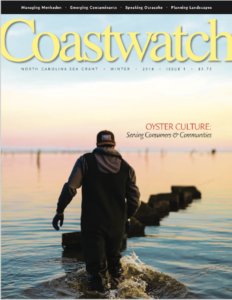 Diving into History:
First N.C. Heritage Dive Site Opens
in the Autumn 2017 issue
It's Born in Us
A Conversation with Barbara Garrity-Blake and Karen Willis Amspacher
in the Autumn 2017 issue
with "Living at the Water's Edge" (excerpt)
Reeling in History: Documenting the 1997 Fisheries Reform Act
in the Summer 2017 issue
Discovering Down East on the Outer Banks National Scenic Byway
in the Summer 2017 issue
Discover Innovative Tourism Access
in the Spring 2017 issue
Watching and Learning about North Carolina Sea Grant
in the Spring 2017 issue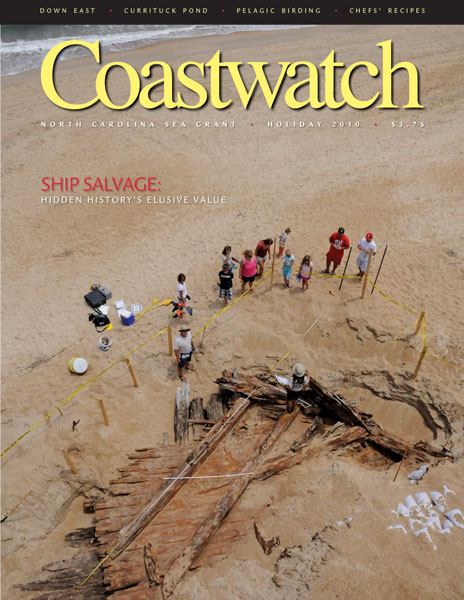 As American as Southern Seafood
in the Winter 2017 issue
Preserving Cultural Treasures
in the Winter 2017 issue
Running with the Blues
in the Holiday 2016 issue
Sharing Water Moments
in the Autumn 2016 issue
Researchers Reach Into Communities
in the Summer 2016 issue
Ride the Currents
in the Summer 2016 issue
Startup Connects Microentrepreneurs With Tourists
in the Spring 2016 issue
Plying Waterways with Words, Images
in the Winter 2016 issue
with "Little Rivers and Waterway Tales: A Carolinian's Eastern Streams" (excerpt)
by Bland and Ann Cary Simpson
Beyond the Beach: African American History in Coastal North Carolina
in the Spring 2015 issue
State Treasures: NC Parks Approach Century Mark
in the Summer 2015 issue
Cut the Corner: Drawing Visitors to Northeastern North Carolina
in the Autumn 2015 issue
The Science of Shipwrecks
in the Winter 2013 issue
Turning an Eye (and Ear) on Core Sound
in the Spring 2013 issue
Trail Mix: Scenic Byway, Maritime Trail Beckons to Visitors
in the Summer 2013 issue
Sea Grant Partnerships
in the Summer 2013 issue
Of Salt and Sand: Sea Grant's History with the Queen Anne's Revenge Project
in the Autumn 2013 issue
Literary Trails: Lost and Found in the Northeastern Corridor
in the Holiday 2013 issue
Ship Ashore! Risk and the Historic U.S. Lifesaving Service
in the Winter 2012 issue
Hidden History: Cashie Reveals Backwater Wharf
in the Summer 2010 issue
Assessing Shipwrecks: The Value of Preservation
in the Holiday 2010 issue
No Haunting, Just History
in the Winter 2009 issue
Revisiting a Relic: Technology Key to Model of CSS Neuse
in the Autumn 2008 issue
Wild Caught: The Life and Struggles of an American Fishing Town
in the Winter 2007 issue
Oral History: Documenting Down East Fishing Traditions
in the High Season 2007 issue
Coastal Legacy: Science Meets History, Culture
in the Holiday 2007 issue
Cruising Into History: Dismal Swamp Canal Scenic, Peaceful
in the Spring 2006 issue
Carotank… Currituck:Land of the Wild Goose
in the High Season 2006 issue
Hatteras' Changing Waterfront:Fishing Traditions, Boatslips Dwindling
in the High Season 2006 issue
North Carolina Sea Grant: 30th Anniversary
in the Autumn 2006 issue
Salter Path: 'Paradise' for Many Natives
in the Holiday 2006 issue
Time Before Tinsel: Quaker Influence in Colonial Carolina
in the Holiday 2006 issue
Learning from the Past: Old Maps Help Build A New Future For The Eastern Oyster
in the Winter 2005 issue
Living History: Plymouth's Civil War Battle
in the Winter 2005 issue
The Odyssey of the Periauger
in the Winter 2005 issue
Rediscovering New Bern
in the Spring 2005 issue
Extreme Makeovers: Not Your Daddy's Aquarium
in the High Season 2005 issue
Fine Furniture: Hobbs' Reproductions Echo 18th Century
in the High Season 2005 issue
Historic Bath Celebrates 300 Years
in the High Season 2005 issue
Strolling Through Beaufort's Seafaring Past: Holiday Walk Features Historic Sites
in the Holiday 2005 issue
The Freedmen of Roanoke Island: The Other Lost Colony
in the Holiday 2005 issue
Explorative Learning in Geologic Time
in the Winter 2004 issue
Cape Lookout Lighthouse Will Get Facelift
in the Spring 2004 issue
Frying Pan Shoals: Light Tower Evokes Bygone Era
in the Early Summer 2004 issue
Smithsonian Festival Celebrates Coastal Communities
in the Early Summer 2004 issue
Catch School Pride with a Ferry Ride
in the Early Summer 2004 issue
Roanoke Island Festival: Every Day is an Event
in the High Season 2004 issue
Alligator Community Rich in Hunting, Fishing Traditions
in the Autumn 2004 issue
Weathering the Storm: Five Years After Floyd
in the Autumn 2004 issue
Holiday Spirits at High Tide Along the Cape Fear Coast
in the Holiday 2004 issue
Celebrating A Century: The Life of Muzel Bryant
in the Holiday 2004 issue
Core Banks Cottages Rich in History, Tradition
in the Winter 2003 issue
Outer Banks' Wind Field Helped Propel First Flight
in the Winter 2003 issue
Cedar Island: Laid-Back Lifestyle Still Prevails
in the Early Summer 2003 issue
The White Oak River: An Overlooked Jewel
in the Early Summer 2003 issue
On the Refuge Road: The National Fish Hatchery
in the Early Summer 2003 issue
America's First Mystery: The Lost Colony
in the High Season 2003 issue
Valuable Fishery with Rich Tradition
in the Autumn 2003 issue
Looking Back at Lukens
in the Holiday 2003 issue
Take a Glimpse into Sound Country Holiday Traditions
in the Holiday 2003 issue
Getting to the Heart of Hyde County
in the Spring 2002 issue
Hope Plantation: Explore Historic Treasure
in the Spring 2002 issue
The Coastal Society: The Whole is Greater Than The Sum Of Its Parts
in the Early Summer 2002 issue
Midgett Brothers: "Wildest Bus Ride" on Hatteras Island
in the Early Summer 2002 issue
Traditions Thrive at Core Banks Camps
in the Autumn 2002 issue
CSS Neuse: An Ill-Fated Ironclad
in the Autumn 2002 issue
Watermark: Crafting a Colorful History
in the Holiday 2002 issue
Menhaden Research: Echoes Of A Fishery
in the Winter 2001 issue
Historic Lodge Closes For Repairs
in the Spring 2001 issue
Taxidermy: Ancient Practice is Now Art Form
in the Early Summer 2001 issue
North Carolina Sea Grant: Making Coastal Science Count for 25 Years
in the High Season 2001 issue
The Changing Face of Wanchese: Boatbuilding Booming as Fishing Declines
in the High Season 2001 issue
Cliffs of History
in the Autumn 2001 issue
Land Trusts: Protecting Coastal Resources and Cultural Values
in the Autumn 2001 issue
Keepers Of The Light: Generations Honor Hatteras Tradition
in the Holiday 2001 issue
Christmas In Edenton: A Revolutionary Holiday
in the Holiday 2001 issue
Treasures of Chicamacomico:
Architectural Gem Yields Rich Historical Bounty
in the Winter 2000 issue
The Sailors' Snug Harbor: Safe Haven for Aging Mariners
in the Winter 2000 issue
A Stitch in Time: Netmaking is Becoming a Lost Art
in the Spring 2000 issue
Take a Walk on the Wild Side
in the Spring 2000 issue
Swansboro, Quaint Village is Former Port
in the Spring 2000 issue
Ocracoke Island: Teachers Explore Unique Culture
in the High Season 2000 issue
Old Baldy Is Beacon Of History
in the Autumn 2000 issue
A Historian's Coast: The Lamb's Army
in the Autumn 2000 issue
Dreaming Of A White Winter
in the Holiday 2000 issue
A Historian's Coast: Goshen's Land
in the Holiday 2000 issue
lead photo by Baxter Miller