Hurricanes
New research suggests that climate change will fuel more supercharged storms, bringing even bigger challenges to coastal and inland North Carolina. For over four decades, Coastwatch has documented the storms that have shaped our state.
Climate Resilience:
NC's State-of-the Art Warning System Strengthens Flood Planning
in the Autumn 2022 issue
NC's new flood-warning system includes 400 river and stream gauges.
Troubled Waters:
Flooding, Contaminants, and Heightened Risks
in the Autumn 2022 issue
Underserved communities disproportionately experience the adverse effects of flooding and poor water quality. Why is this?
From Hurricane Hazel to the Morning Light:
Coastal Carolina Through a Shrimper's Eyes
in the Summer 2022 issue
After using scrap metal to build his own boat, Harry Bryant escaped waterspouts and a lightning strike and earned a living on the open water for 32 years.
Five Years Later, Lessons Learned from Matthew
in the Winter 2021 issue
Torrential inland flooding from the 2016 hurricane was a wakeup call, sparking state investment in coordinated resilience efforts.
Hook, Line, & Science
Hurricane Noise, Live Weigh-Ins, and Wind Farms
in the Winter 2021 issue
People and Places
My Passion for Environmental Engineering
in the Winter 2021 issue
"It's one thing to lose your home. It's another thing to be uprooted and never be able to come back to the place you know, the place you love, the place you live, the place your ancestors lived."
Model Behavior
in the Fall 2021 issue
Drawing on lifeguard expertise and artificial intelligence, researchers are improving rip current forecasting for beachgoers nationwide.

Digging Up a Stormy Past
in the Fall 2021 issue
Sediment samples hundreds of years old reveal how hurricanes and nor'easters affect the landward migration of salt marshes.

In the Wake of Storms
in the Spring 2021 issue
Even as our state's capacity for seafood processing declines, wholesalers and distributors have built a network that rapidly deploys initial aid to coastal communities after hurricanes.
The Winding Path of Research 
in the Winter 2020 issue
When nobody showed up for her study, Olivia Vilá changed course — and her work shed new light on environmental justice.

Plan, Respond, Recover, Adapt 
in the Winter 2020 issue
North Carolina Sea Grant's new coastal resilience specialist tells why resilience means much more than merely "bouncing back."
NC Coastal Landscaping Designs
in the Autumn 2020 issue
Deciding which plants to use in your yard can be a challenging task — especially in harsh coastal environments.
If COVID-19 and a Major Hurricane Collide
in the Autumn 2020 issue
What would it mean for people living in our state's most vulnerable communities?
Hatteras Island Students Tackle Coastal Change
in the Summer 2020 issue
Ninety-five percent of Hatteras Island students believe in climate change, and most plan to leave the island.
Inside the Greenhouse: North Carolina's Hottest Year on Record
in the Summer 2020 issue
Will 2020 surpass last year's unprecedented heat with even higher temperatures in North Carolina?
The Road to Resilience
in the Summer 2020 issue
A large transportation study on flooding in eastern North Carolina suggests that thoughtful planning and targeted route improvements are key.
The Great Deluge:
A Chronicle of the Aftermath of Hurricane Floyd
in the Autumn 2019 issue
Life and Death for Dolphinfish, Roaming Red Drum, Triggering Triggerfish, and Summer Vacation for Striped Bass
in the Autumn 2019 issue
When Science Intersects with Local Expertise
in the Autumn 2019 issue
XBeach Model Predicts Storm Impacts on Beaches and Dunes
in the Autumn 2019 issue
Testing the Waters
in the Summer 2019 issue
Don't Cut Down That Tree!
Preserving a Protective Buffer Against High-Speed Winds
in the Summer 2019 issue
Rising Stars:
New Fellows Fuel Scientific Discovery
in the Summer 2019 issue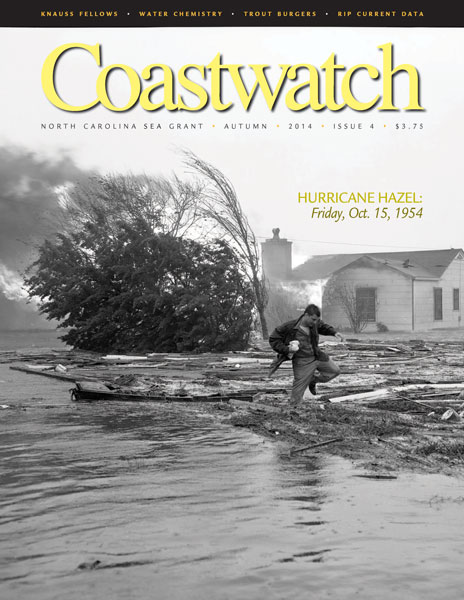 From the Courthouse Steps to Climate Change:
How Lumbee History Can Inform New Social and Environmental Dialogue
in the Spring 2019 issue
In the Face of Florence
in the Spring 2019 issue
Return of the Dunes: The Science of Post-Florence Recovery
in the Spring 2019 issue
Tropical Systems Disrupt Neuse River Oxygen Levels
in the Spring 2019 issue
The Money, the Catch, and the Cape Fear
in the Winter 2019 issue
A Slow-Motion Emergency
in the Autumn 2018 issue
New NC Shellfish Initiative Aids in Florence Damage Assessments
in the Autumn 2018 issue
Skyfall
in the Autumn 2018 issue
Wind Damage? Check Insurance Incentives When Making Repairs
in the Autumn 2018 issue
Research Responds to Key Challenges
in the Summer 2018 issue
Going with the Flow:
Evaluating Flood Mitigation of the Cashie River
in the Holiday 2017 issue
Building Stronger Coastal Communities
in the Spring 2017 issue
Linking Water, Floods and Public Health
in the Spring 2017 issue
Muddy Waters: Defining the 100 Year Flood
in the Spring 2017 issue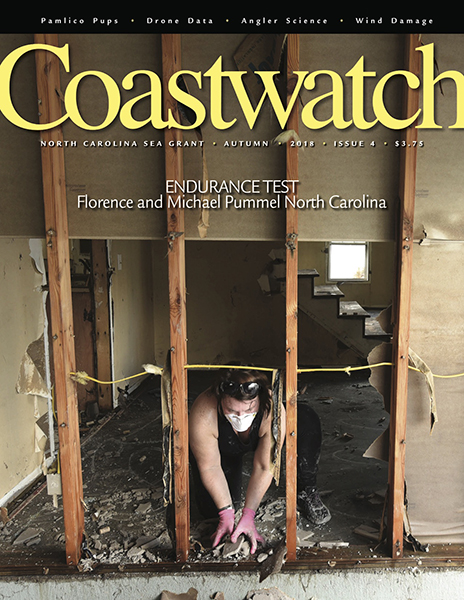 Identifying Innovative Recovery Strategies
in the Winter 2017 issue
Preserving Cultural Treasures
in the Winter 2017 issue
Matthew's Legacy: Water Falling and Rising
in the Holiday 2016 issue
Hurricane Fran Revisited:
Lessons from a Benchmark Storm
in the Autumn 2016 issue
Sharing Perspectives on Community Adaptations:
Whitehead Joins Panel for Sustained National Climate Assessment
in the Autumn 2016 issue
Matthew's Legacy:
Water Falling and Rising
in the Holiday 2016 issue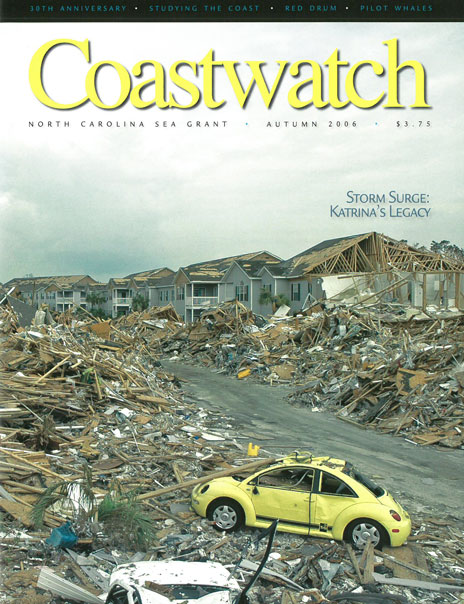 Hurricane Hazel:
Fast and Furious
in the Autumn 2014 issue
Hazel: A Benchmark Hurricane Event
in the Autumn 2014 issue
Storm Practices:
Lessons Learned from Hurricane Irene
in the Autumn 2012 issue
Hurricanes Past
in the Holiday 2012 issue
Trying to Reason with Hurricane Season
in the Holiday 2011 issue
Inner Banks Take a Beating: Storm Surge Surprised Many
in the Holiday 2011 issue
N.C. 12: Back in Business
in the Holiday 2011 issue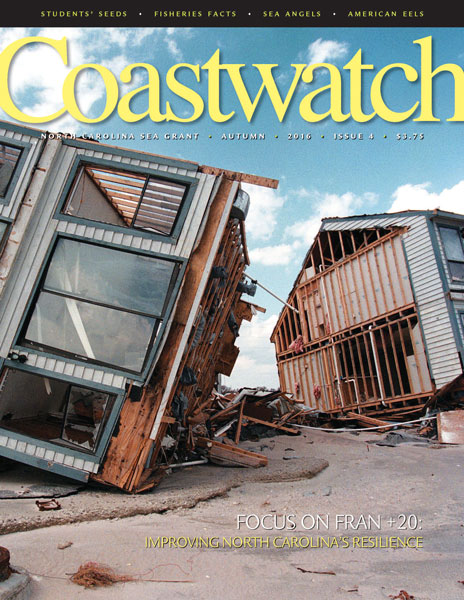 And the Rain Came Down
in the Holiday 2011 issue
In Irene's Wake
in the Holiday 2011 issue
Rain and Floods Wreak Havoc
in the Holiday 2010 issue
Hurricane Awareness:
Hurricane Research, Events Focus on Past, Future Storms
in the Spring 2009 issue
Their Eyes Were Watching Floyd
in the Autumn 2009 issue
Communicating Hurricanes:
Accurate Information, Timely Delivery
in the Autumn 2009 issue
Floyd's Devastation Invokes Changes for Pets
in the Autumn 2009 issue
Reflecting on the Flood: One Family's Story
in the Autumn 2009 issue
From NC to DC: NOAA Official Remembers Floyd
in the Autumn 2009 issue
Emergency Managers Prepare For The Worst; Hope For The Best
in the Autumn 2009 issue
Storm Surge: Lessons from Katrina
in the Autumn 2006 issue
Sea Grant Programs Help Storm Victims
in the Autumn 2006 issue
Weathering the Storm: Five Years After Floyd
in the Autumn 2004 issue
Hurricane Fran: Memories and Lessons
in the Early Summer 2006 issue
Isabel Makes History in North Carolina
in the Winter 2004 issue
Hurricane Resistance: Retrofitting, Storm Shutters Increase Safety
in the Early Summer 2002 issue
Repair and Rebuild: After the Storms
in the Early Summer 2002 issue
Floyd Follow-up: The Lingering Effects
in the Early Summer 2002 issue
lead photo courtesy of NOAA