Note: The launch of the new Ocracoke Express Passenger Ferry has reportedly been delayed. Visit the North Carolina Department of Transportation page and the state's Ferry Division Twitter page for updates. 
By MARISA INCREMONA
For 10 generations, Chester Lynn's family has lived on Ocracoke Island, a small sliver of land along North Carolina's Outer Banks. When he talks, a bit of that history streams out.
Lynn speaks with the Ocracoke brogue, an English dialect particular to the island. "I know when people try to get me talking," he says. But he enjoys chatting about his background with curious visitors, and offers a go-to refrain: "I've been here long enough to catch fish in the front yard with a garden rake."
The brogue spoken on Ocracoke has similarities to the dialect spoken elsewhere in the Outer Banks region. But certain features of pronunciation, grammar and vocabulary are singular to its namesake island.
"Ocracoke's brogue may sound like other traditional dialects found on the Outer Banks to outsiders, but it is really unique,"explains sociolinguist Walt Wolfram, director of the Language and Life Project at North Carolina State University.
"For example, only on Ocracoke do they play 'meehonkey' [hide and seek] at night with a 'buck' [a good (male) friend], and go 'up the beach' [off the island] to shop, among many other sayings."
Twenty years ago, Wolfram and Natalie Shilling-Estes published Hoi Toide on the Outer Banks: The Story of the Ocracoke Brogue. Still popular, the book features numerous interviews with native islanders who share stories of their childhood and relationship to their dialect, as well as accessible breakdowns of the more technical components of the dialect.
More recently, the brogue was among dialects highlighted in Talkin' Tar Heel: How Our Voices Tell the Story of North Carolina, by Wolfram and Jeffrey Reaser.
Wolfram's initial interest in Ocracoke's brogue was academic, but his research drew wider public attention from people enthralled by its sounds. Rumors even swirled that the Ocracoke brogue was a derivative of Shakespearean English.
"That's romantic, but not quite right," Wolfram says.
Rather, this dialect has roots in numerous early modern English dialects from Ireland, eastern England and southwestern England — reflecting the origins of the island's 18th-century settlers. The legacy of these first families remains on the island, in surnames such as Bragg, Gaskins, Howard, Jackson, Stiron (modernly spelled Styron), Williams, O'Neal and Scarborough.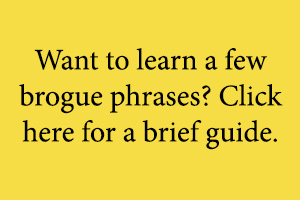 There are no bridges to Ocracoke. To reach the island, a ferry from from Hatteras Island in Dare County takes about an hour. The ferries from mainland Hyde and Carteret counties take more than two hours. The remote location is one reason the dialect has persisted for so long. But with each generation, it becomes less distinctive, such that Wolfram considers Ocracoke English a "dying dialect."
The island's shift from a fisheries focus to a tourist-based economy has hastened the dialect's demise. Some visitors have become residents. Those growing up on the island more recently may not have interacted regularly with relatives, mentors and other native islanders who speak the brogue.
"Unfortunately, the children of today's generation will no longer speak the brogue, and it is now largely confined to people over 50 years old," Wolfram says.
Yet, even as the dialect has been fading, people's interest has grown. Many recognize that Ocracoke's brogue embodies the island's history, offering a cultural touchstone valuable to heritage tourism.
When Wolfram first started studying the brogue in the 1990s, Chester Lynn was dubious of his intentions. But islanders now appreciate the professor's archival efforts.
"We tell him: We made him famous," Lynn says with a laugh. "But in the process of it, it helped us to see that we have a unique place and our heritage is unique. Now we're proud to share it."
WINDS OF CHANGE
Ocracoke's isolation may have appealed to European settlers. The island's pioneers developed a fishing economy that lasted through World War II.
More than an economic foundation, fishing was woven into the island's culture. "We ate fish three times a day. It was fried for breakfast, stewed for dinner, and baked for supper. Next day we turned it round the other way," shares Roy Parsons in the oral history, "Ocracoke Still Speaks." [Click on the audio file below to hear Parsons share this story, part of the oral history compilation "Ocracoke Still Speaks."]
An economic shift began in 1937, when Cape Hatteras National Seashore was authorized. When the seashore was established in 1953, most of Ocracoke was designated as national parkland. This new status brought more visitors to enjoy the island's beautiful beaches, wildlife and history.
By the 1970s, Ocracoke's economy had converted from a maritime economy to one focused on tourism. The island still has a tight community of watermen, which includes those working in commercial and recreational fisheries. But many of them or their families also receive significant income from visitors who stay in inns, motels and vacation rentals, and who frequent restaurants, shops and tours.
The influx of non-natives, or "dingbatters" in coastal brogue, exposed islanders to other American English dialects. Younger generations started using fewer features of the brogue, in favor of mainland phrasing and accents.
In the last 15 years, the Latinx population — describing the overall Latin American community — also has changed the demographics of the island. For instance, more than 35 percent of students in Ocracoke's only school identify as Latinx. Overall, about 20 percent of the island population is Spanish-speaking.
"The brogue isn't as strong as it used to be," notes Vince O'Neal, owner of The Pony Island Restaurant on Ocracoke, and whose family has been on the island for seven generations. "The generation older than me has a stronger dialect than I do, but my generation has a stronger dialect than the next generation."
While O'Neal considers the brogue "watered down," his daughter, Katie, has a different perspective.
Younger generations are preserving the brogue, she says, but in a different way than perhaps expected. "When I'm with friends from Ocracoke, we use the terms that we grew up with, but without the strong brogue accent," she explains.
CURRENTS AND SOUNDS
This summer, a new passenger ferry is expected to launch from Hatteras Island to Ocracoke. [Editor's note: The ferry has reportedly been delayed.] The traditional ferry fleet carries vehicles, but the new boat will bring more visitors, without their cars, to the village at the island's southern tip. These day-trippers can then walk or rent bikes or golf carts to wander the island and its beaches.
But growing tourism opportunities bring new challenges: how to meet renewed interest in a dying dialect. Finding a native islander who speaks the brogue is becoming difficult. And some younger residents have never encountered the dialect.
But there are chances to learn. In the 1990s, Wolfram helped design a linguistic curriculum called Voices of North Carolina to teach eighth graders about North Carolina dialects. The lessons include one on Ocracoke's brogue.
Katie O'Neal attended school on the island and recalls these lessons. "I remember already knowing some of the things they were teaching, but at the time, it was eye-opening to learn that it wasn't just Ocracoke that had a dialect. It helped us realize our place in the world," she reflects.
Her experience with the brogue came full circle in spring 2017. Now an education major at NC State, Katie went back to teach the lesson about Ocracoke's brogue to the current students on the island. "It was strange at first, teaching about my own heritage and history," she laughs.
Some students were already familiar with the dialect. But for others, learning about the brogue was a revelation.
"It was an interesting experience to be a part of, as we were introducing this knowledge about the brogue to some students, and reinforcing it for those who already had some knowledge," Katie says.
Like Katie, Morty Gaskill is familiar with the brogue. His late father, James Barrie Gaskill, had been a brogue ambassador, appearing in Wolfram's research, videos and national news stories.
"James Barrie was the quintessential brogue speaker, even though he was one of the first college graduates from the island and once principal of the school. He was a fisherman at heart and the brogue was the language of the water," Wolfram notes. [Listen to Barrie explain how pound nets are used in this interview from"Ocracoke Still Speaks."]
A commercial fisherman like his father, Morty Gaskill has had his fishing license since he was nine years old. He wouldn't say that he speaks the brogue — but, like Katie, he borrows from its vocabulary, with slick cam, for calm water, being a choice phrase.
"Losing the accent is a natural consequence of language," Morty says. "But I assume some of the phrasing will probably be what lingers on," he continues.
While the future of Ocracoke's brogue may be uncertain, one thing is clear: Its evolution reflects Ocracoke's unique history.
"Dialect is something that you can take for granted," Vince O'Neal says. "Now I appreciate it more, because dialect is a direct relationship of where you grew up. And growing up on an island is pretty unique."
SUPPORTING THE OCRACOKE WORKFORCE
Changes on Ocracoke include shifts in the resident workforce. In a collaborative project funded by North Carolina Sea Grant, Whitney Knollenberg of North Carolina State University and David Tweedie of the arts organization Ocracoke Alive! are exploring how to best support the workforce serving the island's tourism industry. "We're looking into what community resources need greater investment to bring and keep people here to live and work," explains Knollenberg of NC State's tourism extension program. Their project has funding from the N.C. Community Collaborative Research Grant program. Several factors affect the workforce, including housing, seasonal work schedules, and the isolation of the island itself. The community is up to the challenge, according to Jane Harrison, Sea Grant's coastal economics specialist. As a member of the project team, she has participated in meetings on the island. "The Ocracoke community is unified with a unique collaborative culture. I'm impressed by the resilience of the islanders, and how smoothly new and old residents interact," she explains. Read more about this project in our Holiday 2017 issue.
Visit the North Carolina Language and Life Project to sign up for the newsletter, or to purchase books and CDs related to dialects along the coast and across the state. You can also follow the team on Facebook, Twitter and YouTube. For middle-school lesson plans developed byNC State faculty members Jeffrey Reaser and Walt Wolfram, visit Voices of North Carolina Dialect Awareness Curriculum.