Asian Crab Cakes with Wasabi Sauce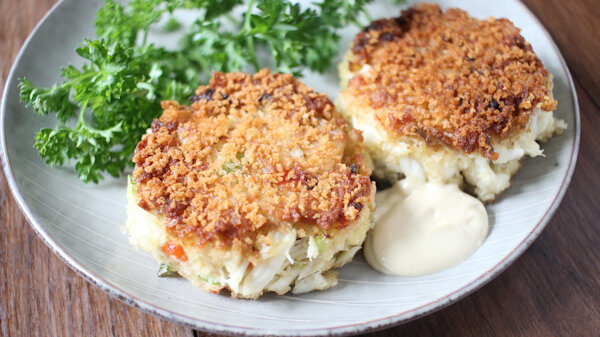 Recipe
1 pound lump crabmeat
3 tablespoons butter
¼ cup green onion, chopped, including tops
¼ cup red bell pepper, chopped
¼ cup celery, chopped
½ cup mayonnaise
1 egg, beaten
½ teaspoon dry mustard
½ teaspoon fresh ginger root, grated
½ teaspoon salt
1 cup panko bread crumbs
1 cup panko bread crumbs for coating
3 tablespoons canola oil for frying
Prepare wasabi sauce and refrigerate.
Melt butter in a medium saucepan. Sauté green onion, bell pepper and celery until tender. Remove from heat. Stir in mayonnaise, egg, mustard, ginger and salt. Blend in 1 cup crumbs.
Mix in crabmeat, being careful not to break the meat apart.
Shape into 6 to 8 crab cakes. Coat lightly with 1 cup crumbs.
Fry in hot oil until brown, about 4 to 5 minutes. Gentle turn the cakes over and cook for about 4 to 5 minutes, or until done. Drain on paper towels. Serve with Wasabi Sauce.
Wasabi Sauce
½ cup mayonnaise
1 tablespoon soy sauce
2 ½ teaspoons wasabi sauce
In a small bowl, combine mayonnaise, soy sauce and wasabi sauce. Set aside in the refrigerator.
Contributed by Joyce Taylor MM2