Baked Spotted Trout with Crab Stuffing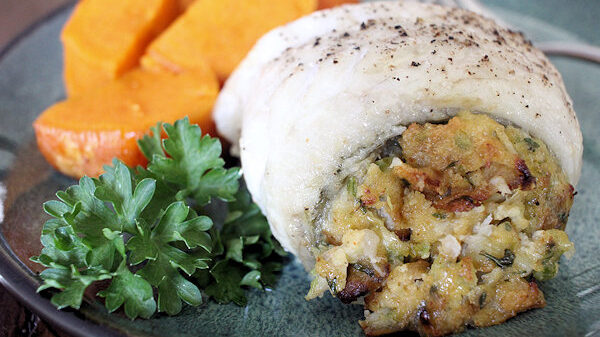 Recipe
6 spotted trout fillets
½ pound fresh backfin crabmeat
4 tablespoons butter
½ cup celery, minced
½ cup onion, minced
¼ cup green pepper, minced
1 cup fresh, fine bread crumbs
1 egg, beaten
1 tablespoon fresh lemon juice
1 tablespoon fresh parsley, minced
½ teaspoon salt
¼ teaspoon black pepper, freshly ground
½ teaspoon paprika
1 ½ tablespoons butter, melted
salt
black pepper, freshly ground
Preheat the oven to 375° F.
Melt 4 tablespoons butter in a medium saucepan. Lightly sauté celery, onion and green pepper. Be careful not to brown. Stir in crumbs, eggs, lemon juice, parsley, ½ teaspoon salt, ¼ teaspoon black pepper and paprika.
Remove from heat. Gently fold in crab meat.
Layout fillets on a work surface, skin sides up. Spoon stuffing onto fillets. Roll up each fillet and place seam side down on a parchment-lined baking sheet. Brush with 1 ½ tablespoons melted butter. Lightly salt and pepper. Bake for about 10 to 12 minutes or until done. Cooking time will vary depending on the thickness of the fillets.
Contributed by Joyce Taylor MM2