Classic Oyster Dressing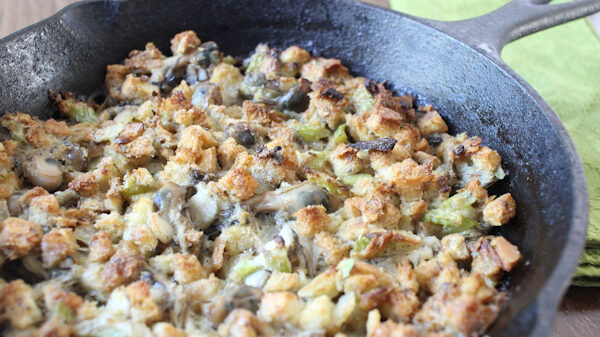 Recipe
2 cups oysters, drained, liquid reserved
6 cups French bread, cut into small cubes
4 tablespoons butter
1 cup celery, chopped
1 cup onion, chopped
1 teaspoon poultry seasoning
1 teaspoon dried thyme leaves
½ teaspoon salt
½ teaspoon black pepper, freshly ground
1 egg, beaten
Preheat the oven to 375° F.
Toast bread until golden brown. Meanwhile, melt butter in a small saucepan. Lightly sauté celery and onion. Add poultry seasoning, thyme, salt and pepper.
Place 4 cups of bread in a large bowl. Crumble the remaining 2 cups of bread and place in a bowl. Combine with the vegetable-seasoning mix.
Add oysters and egg and toss lightly.
Add reserved oyster liquid until stuffing is moist, but not packed.
Place in greased baking pan and bake, uncovered, at 375° F until done and crusty outside, about 30-40 minutes.
Contributed by Joyce Taylor MM2