Coquilles St. Jacques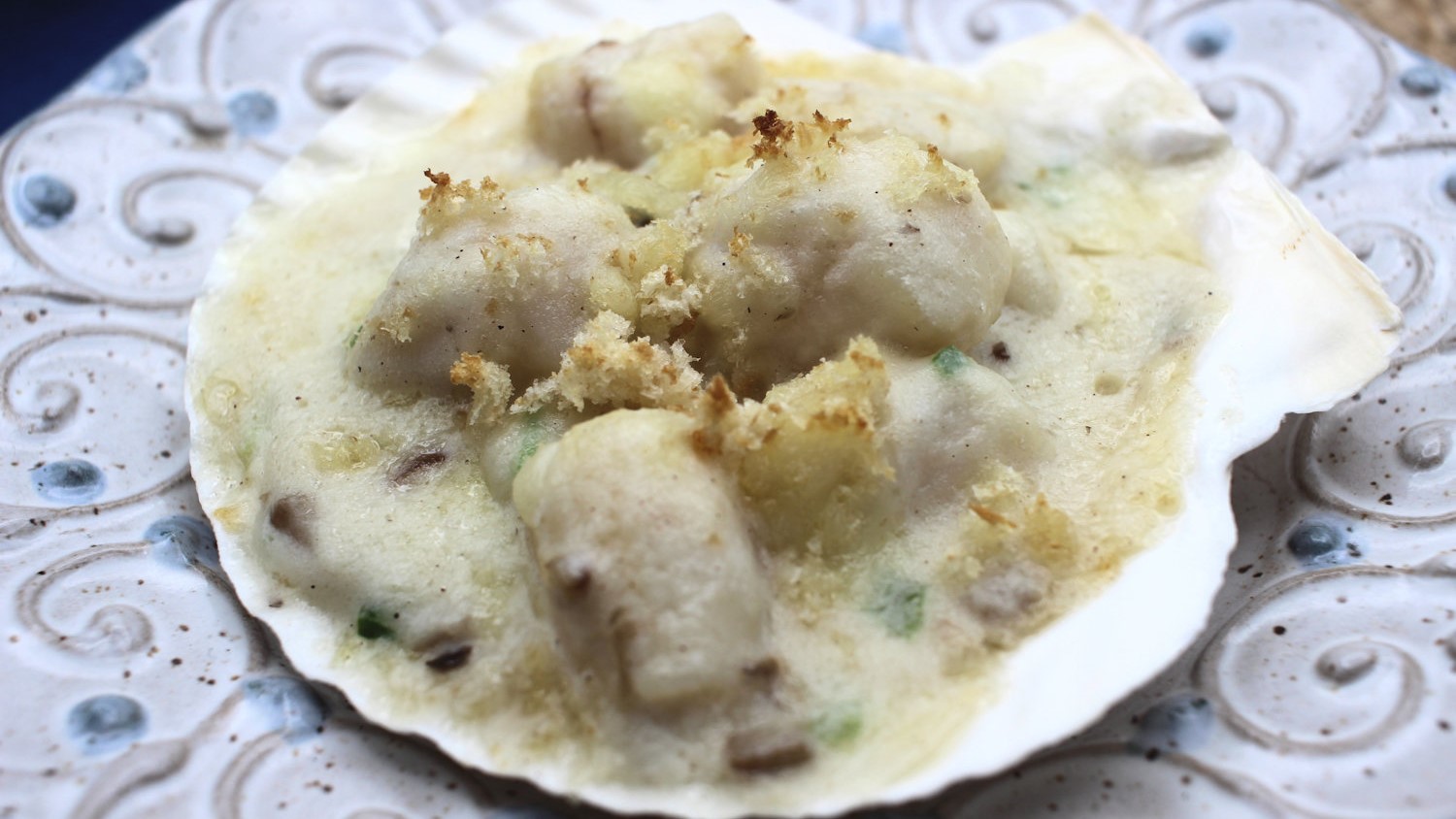 Recipe
1 pound bay scallops (or sea scallops, quartered)
½ cup dry white wine
½ cup water
4 tablespoons green onion, minced
1 bay leaf
1 sprig parsley
1 teaspoon salt
2 tablespoons butter
½ cup mushrooms, chopped
3 tablespoons flour
⅔ cup heavy cream
2 teaspoons fresh lemon juice
¼ teaspoon white pepper, freshly ground
⅓ cup Swiss cheese, freshly grated
¼ cup soft bread crumbs
Place the rack in the top third of the oven and preheat the broiler.
Place wine, water, onion, bay leaf, parsley and salt in a large saucepan. Bring to a boil, lower heat and simmer for 5 minutes. Add scallops. Return to a simmer and cook until scallops are done about 5 or 6 minutes. Remove scallops with a slotted spoon and set them aside. Remove bay leaf and parsley and reserve cooking liquid.
In a small bowl, combine cheese and bread crumbs. Set aside.
In a small saucepan, melt butter over medium heat. Sauté mushrooms until tender, about 5 minutes. Blend in flour. Add cream slowly, stirring constantly. Add cooking liquid and continue to cook until thickened and smooth. Stir in lemon juice and pepper. Thin with more cream, if needed.
Add scallops in the cream sauce. Place scallop cream sauce in 4 individual shells or ramekins. Sprinkle with the bread crumb mixture. Broil about 4 inches from heat until bubbly and lightly browned, about 5 minutes.
Contributed by Joyce Taylor  From: Mariner's Menu: 30 Years of Fresh Seafood Ideas