Creole Sautéed Mahi-Mahi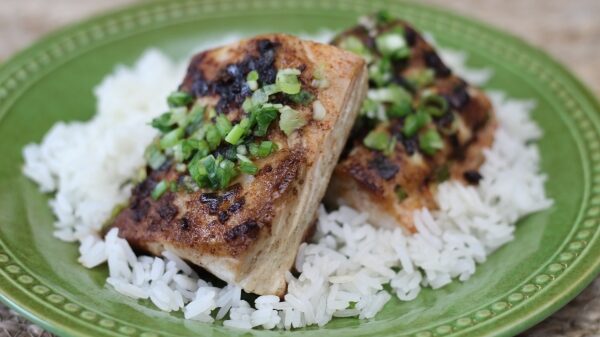 Recipe
Centuries ago, early French and Spanish flavors blended. Later the English brought their style. And African-Americans came to infuse the flavors of Africa as well. Legendary Cajun and Creole cooking associated with Louisiana was inspired and enhanced by Native Americans and African-Americans.
2 medium mahi-mahi fillets (about 1 ½ pounds total)
2 ½ tablespoons minced green onion
4 tablespoons vegetable oil
4 tablespoons margarine or butter
Prepare Creole Seasoning. Cut fillets into serving-size pieces. Sprinkle green onion and Creole Seasoning over them.
Heat oil in large skillet over medium heat. Add margarine and heat. Place fish in pan, seasoning side up, and sauté until golden brown, about 6 minutes, longer if pieces are thick. Turn and repeat on other side. Cook until golden brown and fish flakes easily with a fork, about 6 minutes more. Serve seasoning side up.
Creole Seasoning
1 teaspoon pressed garlic
1/2 teaspoon salt
1/4 teaspoon cayenne pepper
1/2 teaspoon freshly ground black pepper
1/2 teaspoon dried thyme
1/2 teaspoon dried oregano
1/2 teaspoon dried basil
In small bowl combine garlic, salt, cayenne, pepper, thyme, oregano and basil.
Contributed by Joyce Taylor From: Mariner's Menu: 30 Years of Fresh Seafood Ideas