Fish Flakes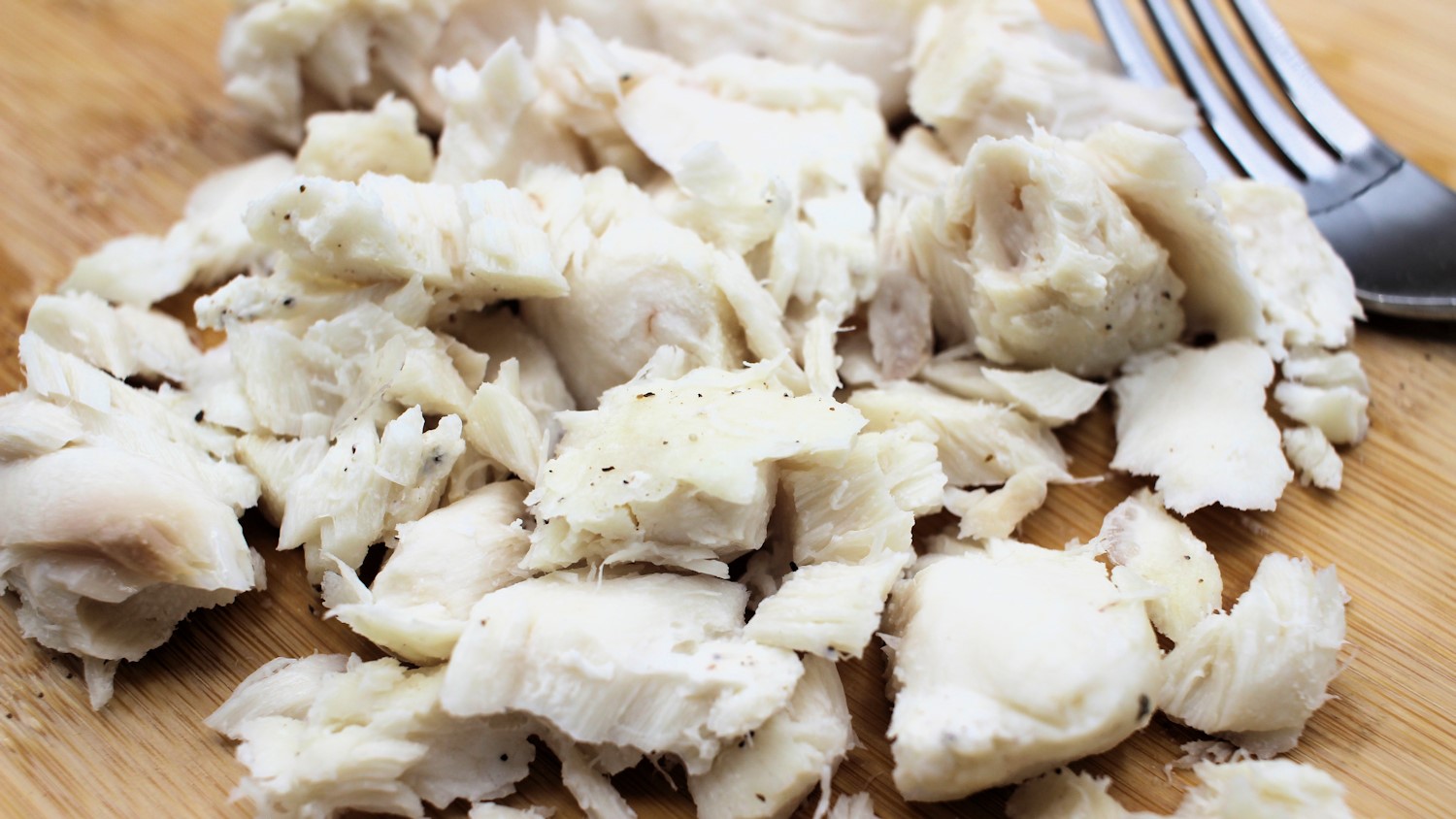 Recipe
Homemade flaked fish using fresh fillets provides a versatile alternative to the popular canned fish we buy. Delicious appetizers, salads, sandwiches, fish cakes and casseroles can be easily prepared with fresh fish flakes.
For flaking fish, fish is usually poached or steamed. Then the meat is flaked away from the bone with a fork. A one-pound, dressed fish yields about 1 ¾ cups of flakes. To avoid the problem of removing small bones, use fish that weigh at least 1 ½ to 2 pounds.
Flaked fish can be frozen for up to three months. Just measure the amount you will need for recipes and freeze in airtight pouches. Enhance the flavor and improve the quality by adding a small amount of the cooking broth (about ½ cup per 1 ½ cups flakes) to each package.
Any fish can be flaked, but moderately flavored ones, such as porgies, flounder, snapper, spotted sea trout are usually preferred. You can flake fresh or frozen fish. Dressed whole fish, with the heads left on, give maximum flavor and yield but be sure the body cavity and head are free of membranes and blood. You can also use fillets and steaks.
For delicately flavored fish flakes and broth, follow this recipe.
1 to 2 pounds fish
¼ cup butter
1 onion, cut in rings
carrots, chopped
celery, chopped
½ teaspoon garlic powder
¼ teaspoon black pepper
1 bay leaf
Melt ¼ cup of butter in an electric skillet or pan on stove. Lightly sauté a bed of cut onions, carrots and celery in the butter for 3 to 5 minutes. Mix in gently garlic powder, black pepper and a bay leaf. Place fish on vegetable bed. Add water to half submerge the fish. Cover and bring to a simmer. Cook with just enough heat to produce steam, on simmer or lower. Do not boil. Cook until fish flakes easily with a fork and is done. Cooking time will be determined by the size of the fish.
Remove fish and let it cool enough to handle. Remove and discard skin, dark meat and rib portion. Gently flake fish with a fork.
Contributed by Joyce Taylor From: Mariner's Menu: 30 Years of Fresh Seafood Ideas