Flounder with Fresh Mushrooms in Parchment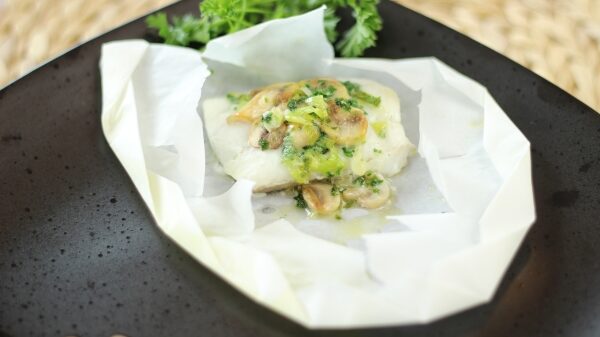 Recipe
Parchment can be cut into rectangular or oval shapes. But the classic pattern is a heart shape.
Cut a piece of parchment 12 x 18 inches or slightly more than twice as wide as the fillet to be cooked. (The extra room allows for sealing.) Fold in half (12 x 9 inches). Starting at the fold, draw half a heart shape and cut it. Unfold.
Lightly oil all but a 2-inch border of the parchment. Center food on one side of the heart, near the fold. Leave a 2-inch border at the edge.
Fold the parchment over the food so the cut edges meet. Starting at one end, fold a small section of parchment together, then fold again. Hold this section down and fold the next section. Continue until edges are completely sealed.
Place on a baking sheet and place in a preheated oven. Cook for the designated time.
The pouch will puff up with steam and brown during cooking.
1 1/2 pounds flounder fillets
vegetable oil
6 tablespoons margarine or butter
2 cups sliced fresh mushrooms
1 tablespoon finely chopped green onion, including tops
1/4 cup dry vermouth
1 1/2 teaspoons finely chopped fresh parsley
salt
freshly ground white pepper
Cut fillets into serving sizes. Prepare 4 to 6 pieces of parchment. Lightly oil each piece.
In medium skillet, melt margarine over medium heat. Lightly sauté mushrooms and green onion. Add vermouth and simmer until liquid is almost gone. Add parsley.
Place fish on parchment and sprinkle lightly with salt and pepper. Place equal amount of mushroom mixture over each. Close parchment. Place on baking sheet. Bake at 400° F until puffed and lightly browned, about 12 to 15 minutes. Place on serving plates.
Contributed by Joyce Taylor From: Mariner's Menu: 30 Years of Fresh Seafood Ideas