Fresh Mahi-Mahi Bisque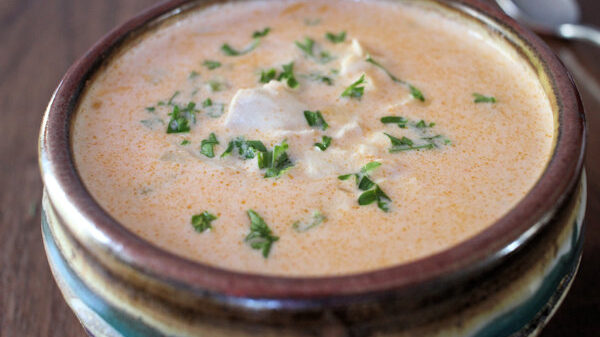 Recipe
1 pound flaked mahi-mahi (begin with 1½ pounds raw)
3 tablespoons butter
2 tablespoons onion, finely chopped
2 tablespoons celery, finely chopped
3 tablespoons flour
1 teaspoon salt
½ teaspoon white pepper, freshly ground
1 tablespoon tomato paste
2 ½ cups whole milk
1 cup heavy whipping cream
2 tablespoons sherry wine
3 tablespoons fresh parsley, finely chopped
Poach fish in lightly salted water. Flake and set aside.
In a medium saucepan, melt butter. Add onion and celery and sauté lightly. Blend in flour, salt, pepper and tomato paste and cook for 2 minutes.
Gradually whisk in milk and cook, stirring constantly, until it thickens.
Add heavy cream, sherry wine and flaked fish and heat thoroughly. Do not boil and do not overcook fish. Garnish with fresh parsley.
Contributed by Joyce Taylor MM2