Pan-Fried Lemon Bluefish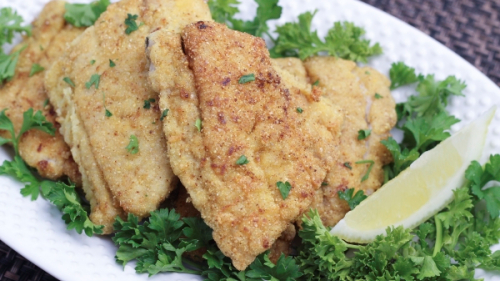 Recipe
1 pound bluefish fillets, cut into serving-size pieces
1 egg, beaten
1 tablespoon milk
1 tablespoon fresh lemon juice
1/2 cup yellow cornmeal
1/4 teaspoon salt
1/4 teaspoon cayenne pepper
1 tablespoon lemon zest
2 tablespoons vegetable oil
2 tablespoons butter
1 tablespoon fresh parsley, minced
halved lemon slices (optional)
Cut all dark meat from fillets.
In a shallow dish, combine egg, milk and lemon juice. In another shallow dish, combine cornmeal, salt, cayenne and lemon zest.
Dip fillets in egg mixture, then dredge in cornmeal mix.
Heat oil in a skillet and add butter. Cook fillets until golden brown about 5 to 6 minutes. Turn over and repeat, cooking until done. Drain on paper towels. Sprinkle with parsley. Garnish with lemon slices.
Contributed by: Joyce Taylor