Sautéed Black Sea Bass with Lime Dressing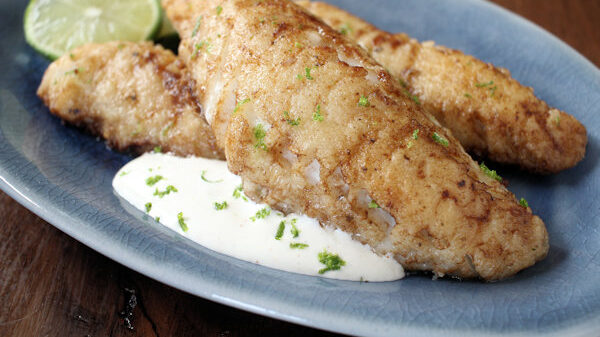 Recipe
1 ½ pounds black sea bass fillets
3 tablespoons butter
salt
black pepper, freshly ground
flour
Prepare Lime Dressing and refrigerate.
In a medium pan, melt butter and heat.
Lightly salt and pepper fish. Dredge lightly in flour.
Place in pan, flesh sides down, and sauté until golden brown, about 4 to 5 minutes. Turn and repeat. Transfer to a platter and serve with lime dressing.
Lime Dressing
½ cup mayonnaise
½ cup sour cream
¼ teaspoon lime zest
2 tablespoons of fresh lime juice
1 teaspoon onion, grated
⅛ teaspoon cayenne pepper
¼ teaspoon salt
¼ teaspoon white pepper, freshly grated
In a small bowl, combine mayonnaise, sour cream, lime zest, lime juice, onion, cayenne, salt and pepper.
Contributed by Joyce Taylor MM2