Spotted Trout with Shrimp Stuffing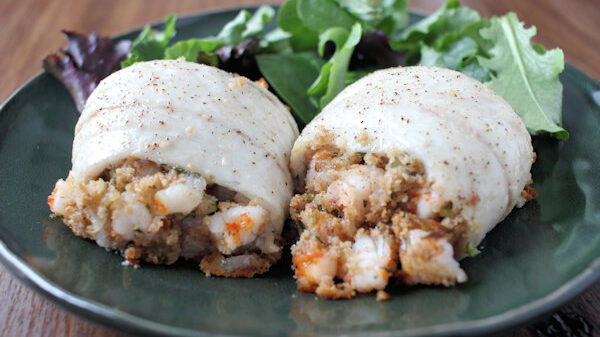 Recipe
4 spotted trout fillets
½ pound cooked shrimp
5 tablespoons butter
½ cup celery, chopped
½ cup onion, chopped
1 ½ teaspoons dried parsley leaves
¼ teaspoon salt
¼ teaspoon black pepper, freshly ground
2 cups soft bread cubes
1 ½ tablespoons butter
salt
black pepper, freshly ground
Preheat the oven to 375° F.
Cook shrimp in salted water. Drain and pat dry with a paper towel. Chop coarsely. Place in a medium bowl.
In a medium skillet, melt 3 tablespoons of butter. Sauté celery and onions until just tender. Add to shrimp.
In the same skillet, melt 2 tablespoons of butter. Add parsley, salt, pepper and bread. Combine with shrimp mixture.
Layout fillets on a work surface, skin sides up. Spoon stuffing onto fillets. Roll up each fillet and place seam side down on a parchment-lined baking sheet. Brush with 1 ½ tablespoons melted butter. Lightly salt and pepper. Bake at 375° F for about 10-12 minutes or until done. Cooking time will vary depending on the thickness of the fillets.
Contributed by Joyce Taylor MM2