Letter from the Executive Director
A Special Note to Our Readers about COVID-19

 
We prepared this issue of Coastwatch before responses to COVID-19 quickly escalated. Many of the stories here will be much more relevant and meaningful when our lives return to "normal," and some of the events we mention, such as statewide Star Parties, have been postponed indefinitely. We also know how much you appreciate our coast, which is why we decided to publish this issue. 
We hope our valued readers, along with your family, neighbors and colleagues, will continue to take precautions to stay healthy and to limit transmission of the Coronavirus. Monitor updates from trusted state and federal sources, such as ncdhhs.gov and cdc.gov. 
At North Carolina Sea Grant, this is a season for fellowships. Every year, I am impressed with the thoughtful applications that detail interests and accomplishments of a new generation of our coastal researchers, planners, decisionmakers, advocates, industry leaders, and ecosystem enthusiasts. They truly offer us encouragement and inspiration as we see the impacts of their leadership and innovation, often stemming from ever-expanding opportunities for interdisciplinary training that they seek out — or create — within our strong public and private institutions. 
In this issue, you will read about four new Knauss Marine Policy Fellows from four North Carolina universities, taking on exciting new roles in Washington, D.C. Recently, we also had two full days interviewing applicants for the 2021 term. This national program celebrates 40 years, while other fellowships, such as NOAA Coastal Management/Digital Coast Fellowship and a National Sea Grant/National Marine Fisheries Service partnership also draw top-notch candidates. 
Here in North Carolina, we have been thrilled with the response to our new North Carolina STEM Policy Fellowship that will place current or recent graduate students in state agencies to focus on topics related to science, technology, engineering, and/or mathematics. The program is a partnership with the Burroughs Wellcome Fund, with host offices in the N.C. Department of Commerce and the N.C. Department of Environmental Quality, and a professional development program being developed with Sigma Xi. 
We also recently began hosting the first high school intern during my tenure. She already has learned to telecommute as she works on Oceans and Human Health priorities and other projects. I also enjoy that she adds splashes to layouts for some of our N.C. seafood recipes — and to my virtual presentations.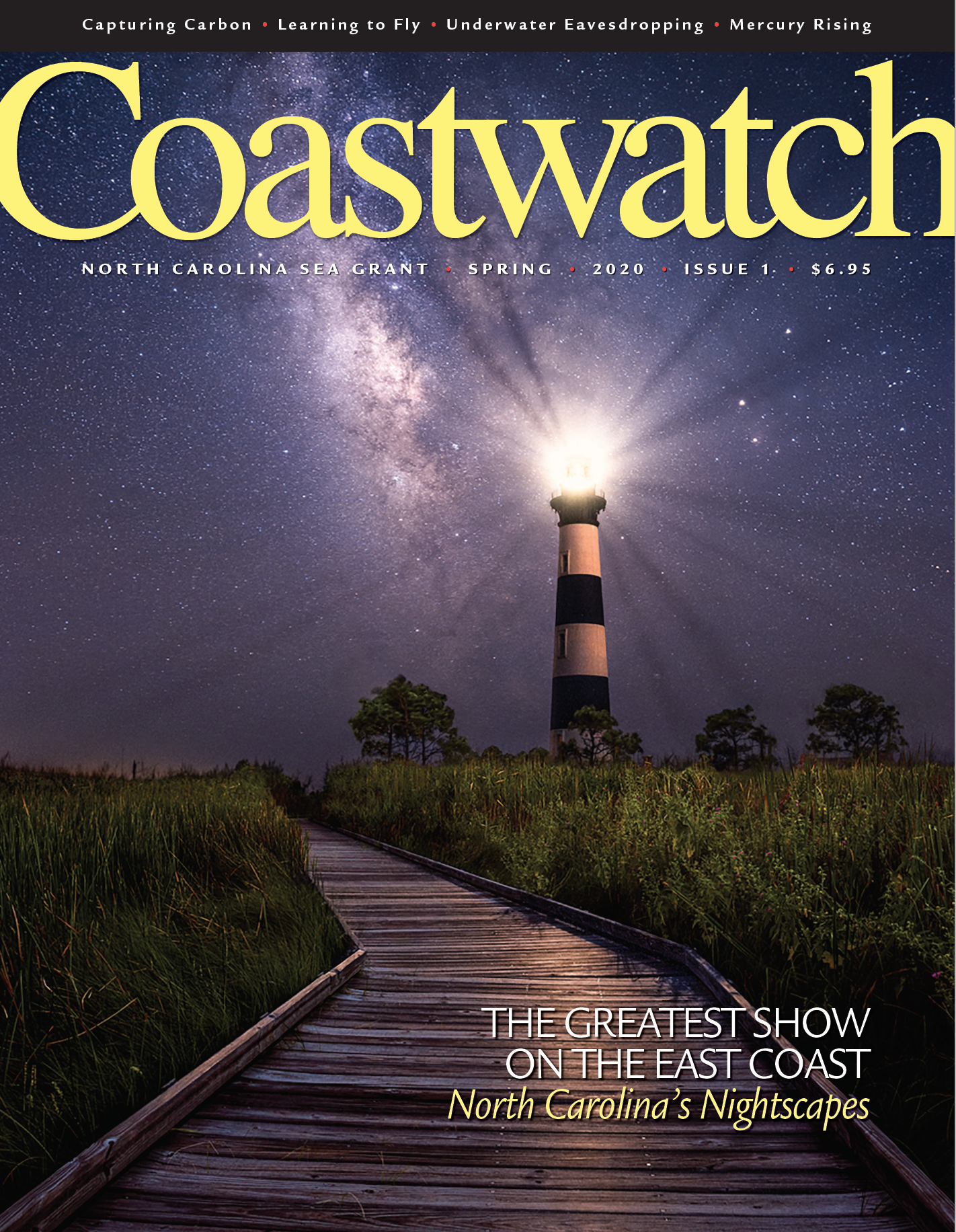 The cover story of this issue focuses on lifelong learning — via potential educational and tourism opportunities in the night skies in our coastal region. With funding from our N.C. Community Collaborative Research Grants, a team that includes the N.C. Land of Water and A Time for Science documented locations that can be research sites or future fieldtrip destinations. As he has done for the past 50+ years since he arrived at East Carolina University, Stan Riggs speaks eloquently about our ecosystems that include water, land, and sky. 
I know that you will take time to enjoy the variety of topics in this issue of Coastwatch, including pieces written by our interns, funded graduate students, and multi-talented team members. Also, please take time to check our back cover and add your thanks to individuals who have donated to our North Carolina Sea Grant Program Enhancement Fund that supports our ongoing research, education, and outreach. 
As always, if you have a topic of interest, send me an email via snwhite3@ncsu.edu. 
— Susan White, Executive Director, North Carolina Sea Grant