StriperHub Expands Striped Bass Aquaculture Program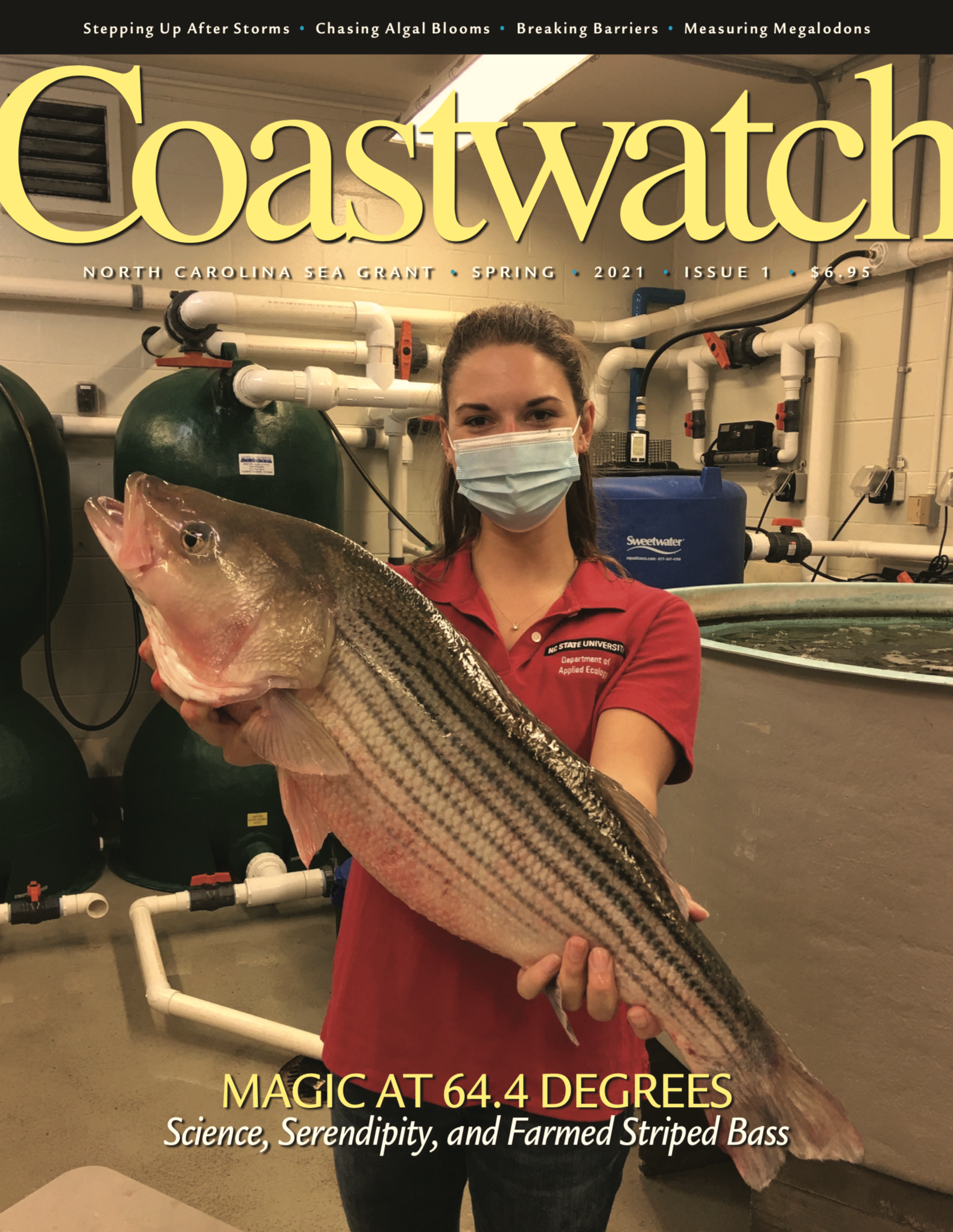 NOAA Sea Grant recently announced over $14 million in federal funding across four strategic areas for improving U.S. aquaculture – with roughly $1.4 million awarded to StriperHub. Led by North Carolina Sea Grant and NC State University, StriperHub is a multi-partner and multi-regional collaborative project to support the development of a sustainable striped bass aquaculture industry in the United States.
"We're extremely excited," says Eric Herbst, North Carolina Sea Grant's Coastal Aquaculture Specialist. "I think it speaks to the real potential for commercialization of the striped bass aquaculture industry in the U.S."
NC State's Russell Borski, StriperHub's southeast regional coordinator, says taste is part of what makes striped bass a prized species for aquaculture — and a rarity.
"A candidate species has a premium price, high consumer demand, and adapts well to localized production," Borski says. "Among white-fleshed marine fishes in the U.S., there aren't many of these. But striped bass meets all the criteria."
Scientist Stan Riggs Receives the State's Highest Honor
Longtime Sea Grant researcher Stan Riggs was among six distinguished North Carolinians to receive the North Carolina Award, the state's highest honor, from Governor Roy Cooper during a November 15 ceremony at the North Carolina Museum of Art. The award recognizes significant lifetime achievements in the areas of fine arts, literature, public service, and science.
Riggs began his work as a marine geologist in the 1960s during a time when few people recognized the importance of climate change research. Riggs started working at East Carolina University in 1967 and spent 33 years teaching geology and tracking change within North Carolina's coastal system. He was one of five scientists ECU recruited for its geology department to kickstart the university's new geology and marine science program.
Riggs has published several books on coastal dynamics and climate change, including Drowning the North Carolina Coast and The Battle for North Carolina's Coast. He also penned the most popular article in Coastwatch magazine of the last five years: "A Brief History of Sea Level Rise in North Carolina." Coastwatch later covered his work highlighting the untapped potential for eco-tourism of the night skies over the Outer Albemarle Peninsula in "The Greatest Show on the East Coast."
The other 2022 honorees include the Honorable Eva Clayton for Public Service, Honorable Mickey Michaux for Public Service, Eric Church for Fine Arts, David Zucchino for Literature, and Priya Kishnani for Science.
Applications Open for the 2024 Knauss Marine Policy Fellowships
North Carolina Sea Grant is accepting applications from North Carolina graduate students for the 2024 Dean John A. Knauss Marine Policy Fellowship. The deadline is February 16, 2023 at 5 p.m. Eastern Time.
NOAA offers the prestigious fellowship through the National Sea Grant Office in honor of John A. Knauss, who was a Sea Grant founder, NOAA administrator, and dean of the University of Rhode Island's Graduate School of Oceanography. The program places graduate students in Washington, D.C. to work on federal policies and processes that affect ocean, coastal, and Great Lakes issues.
"We are seeking a wide pool of applicants, with experience in a range of disciplines and interdisciplinary studies," says Susan White, executive director of North Carolina Sea Grant. "Through the Sea Grant Knauss Marine Policy Fellowship, we strive to provide an educational and employment opportunity for current and recent graduate students of all backgrounds, abilities, and perspectives."
The 2024 Knauss fellows will serve from February 1, 2024 to February 28, 2025. Fellows may work in host offices in the U.S. Senate and House, as well as in departments in the executive branch, including many NOAA programs.
More than 90 graduate students from North Carolina have served as Knauss fellows throughout the program's 40-year history, including three current fellows serving in 2022 and six finalists for 2023.
Report: Climate Change Impacts Wastewater Treatment
Researchers from North Carolina Sea Grant, East Carolina University, NC State University, and the University of Georgia completed a three-year interdisciplinary study on the growing concern of climate-related impacts on wastewater treatment systems in coastal North and South Carolina. Their report provides recommendations to address the Carolinas' significant infrastructure challenges and help municipalities and decision-makers improve coastal resilience.
"While urban areas often rely on large centralized sewage treatment plants to dispose of wastewater, many coastal communities depend on onsite systems," says NC Sea Grant coastal economics specialist Jane Harrison, who led the project.
The research team of onsite wastewater treatment experts, climate scientists, legal analysts, and economists, examined how onsite wastewater treatment systems, or OWTS, function under current climate conditions. They also identified vulnerability hotspots based on climate prediction models for Nags Head and Folly Beach, S.C.
Some of their key recommendations include incorporating weather and climate risk in OWTS site approval and system selection, creating digital long-term inventories of OWTS, and upgrading cesspools and straight discharge systems first to reduce the most pollution at the lowest cost.
Harrison led the project after involvement with a climate vulnerability assessment for the Town of Nags Head on the Outer Banks.
"Nags Head is a leader in pursuing climate adaptation, and town staff, as well as the larger community, identified septic systems as an area of vulnerability," she says.
The research team presented their findings at the Outer Banks Leadership Forum on September 23rd, bringing together elected officials, planners, and engineers from communities like Nags Head, Duck, and Currituck County. The Town of Nags Head convened the group with the help of the Coastal Studies Institute.
Marine Fisheries Celebrates of 200 Years of Conservation
On December 1, the North Carolina Division of Marine Fisheries kicked off its celebration of the 200th anniversary of the first statewide law governing marine fisheries, which, with subsequent laws, led to the establishment of the North Carolina Division of Marine Fisheries and the North Carolina Marine Fisheries Commission.
At a staff gathering at the Carteret County Civic Center, David Bennett, curator of maritime history at the N.C. Maritime Museum, shared the history of fisheries management in North Carolina, and two retired Marine Patrol officers who worked in the 1960s shared anecdotes.
"Fisheries management has come a long way since 1822, and we are excited to celebrate this milestone," said division director Kathy Rawls. "Throughout the year, we will be sharing some of our history through school programs, social media, and videos of interviews with retired staff about what fisheries management was like in the 'old days.'"
Partners from Carteret Community College, North Carolina Sea Grant, and the N.C. Maritime Museum, as well as members of the N.C. Marine Fisheries Commission, joined Division staff.
North Carolina Aquariums and Sea Grant Bring Marine Aquaculture to the Public
The North Carolina Aquariums will receive funding over the next three years to build capacity to sustainably breed saltwater fish species and to raise awareness of aquaculture through public engagement. The funding is part of a $750,000 grant awarded to a group of seven facilities by the National Oceanic and Atmospheric Administration (NOAA). With this support, the Aquariums at Fort Fisher, Pine Knoll Shores, and on Roanoke Island will increase staffing on their animal care teams and expand breeding programs.
In partnership with North Carolina Sea Grant, the Aquariums also will engage aquarium visitors and their local communities about these important initiatives.
"Our Aquarium team is committed to sustainably breeding species that are of value to public aquariums and commercial fisheries," says Hap Fatzinger, director of the North Carolina Aquarium at Fort Fisher. "This opportunity to put more resources into the aquaculture programs at the North Carolina Aquariums, especially in raising public awareness, is important to our mission to inspire appreciation and conservation of our aquatic environments."
"The North Carolina Aquariums, in their coastal locations, have a wonderful opportunity to share this information with not only visitors, but to engage the local fishing community," says Maylon White, North Carolina Aquarium division director. "This type of project allows us to contribute to a developing sustainability program that reaches beyond our walls."
Environmental Grant Supports Walnut Creek Watershed
N.C. Attorney General Josh Stein has announced Environmental Enhancement Grant awards to preserve natural resources and ensure clean air and drinking water in central North Carolina.
Grant recipients include the North Carolina Water Resources Research Institute, which will receive $205,440 to install green infrastructure and implement wetland restoration practices to reduce and treat stormwater runoff in the Walnut Creek Watershed.
"We're excited that the Environmental Enhancement grant will support our connected Walnut Creek Wetlands Community Partnership projects," says Christy Perrin, sustainable waters and communities Coordinator at the Water Resources Research Institute. "It will allow us to reduce stormwater runoff from Biltmore Hills Park that contributes to flooding in the historic Rochester Heights neighborhood — and to enhance the aquatic ecology and engage community members at the new Bailey Drive Gateway to the Walnut Creek Wetland Park just downstream."
Perrin says the state's support both builds upon an EPA grant that helped support work at Biltmore Hills Park and, going forward, will help implement plans developed with community members that address environmental injustices.