Coastal Landscapes and Plant Life
Thanks in large part to North Carolina Sea Grant's Coastal Landscapes Initiative, there's a new trend towards landscaping that enhances the coastal environment. Below, we've collected our stories on coastal landscaping and, more generally, on our state's amazing seacoast plant life.
"Stop the Spread" and "Don't Plant a Pest"
from Plant This Instead!
Eco-friendly Alternatives to Harmful Ornamental Plants
in the Spring 2023 issue
Here's what not to plant — and what to plant instead.
Our Coast, Our Future:
The 2022 North Carolina Coastal Conference
videos, photos, resources
in the Winter 2022 issue
They came to Raleigh from across North Carolina, discussed urgent and emerging issues affecting our coast, forged new ties, and literally devoured new research for lunch — and you can watch it here.
Coastal Landscapes
North Carolina Native Plant Picks
in the Winter 2022 issue
The Coastal Landscapes Initiative has released 12 award-winning videos about environmentally beneficial, cost efficient, and beautiful plants for home gardeners and professional landscapers.
Coastal Landscapes
Native Plant Picks
in the Winter 2021 issue
A new video series highlights beautiful — and ecofriendly — North Carolina plants.
Five Years Later, Lessons Learned from Matthew
in the Winter 2021 issue
Torrential inland flooding from the 2016 hurricane was a wakeup call, sparking state investment in coordinated resilience efforts.
NC Coastal Landscaping Designs
in the Autumn 2020 issue
Deciding which plants to use in your yard can be a challenging task — especially in harsh coastal environments.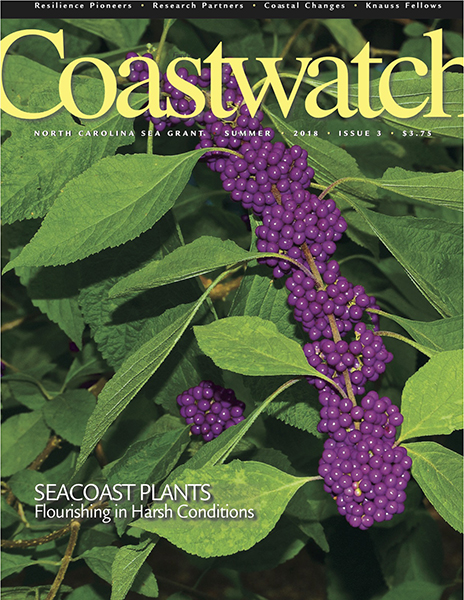 Coastal Landscaping: The Next Blue Economy Sector?
in the Spring 2020 issue
River of Time
in the Autumn 2019 issue
Working with Nature
in the Autumn 2019 issue
Don't Cut Down That Tree!
Preserving a Protective Buffer Against High-Speed Winds
in the Summer 2019 issue
Rising Stars:
New Fellow Fuel Scientific Discovery
in the Summer 2019 issue
Hiding in Plain Sight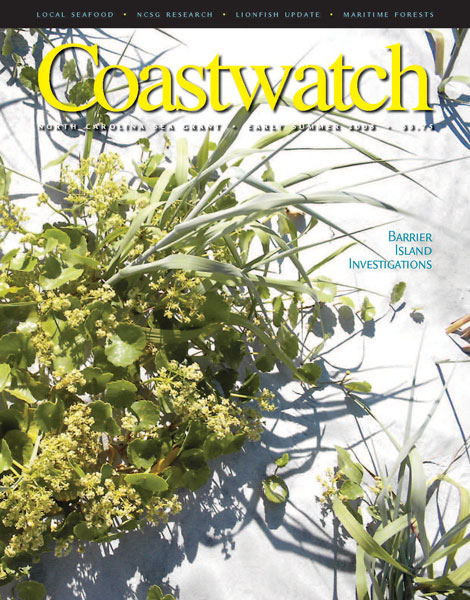 in the Spring 2019 issue
Coastal Landscapes:
Initiative Highlights Planning & Planting Strategies
in the Winter 2018 issue
Waterfront Design Discussions:
Residents Along Tidal Creeks Consider Options for Landscaping
in the Spring 2018 issue
Thriving in Sun, Salt and Sand
in the Summer 2018 issue
Seasonal Dreams and Delights
in the Winter 2017 issue
From Seeds to Shoreline:
Expanding Minds and Restoring Marshes

in the Autumn 2016 issue
Focus On Hydrilla
in the Spring 2016 issue
Flora of the Coastal Plain
in the Summer 2016 issue
Researchers Reach Into Communities
in the Summer 2016 issue
Amazing Coast: Hear the Call of a Maritime Forest
in the Summer 2015 issue
Evicting An Invader: Reducing the Spread of Hydrilla
in the Spring 2015 issue
Algae Patrol: Documenting a Changing Community
in the Holiday 2015 issue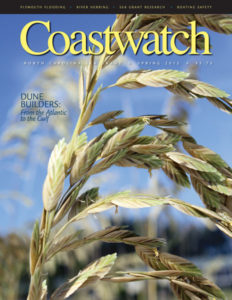 Traversing Untrodden Ground
in the Spring 2013 issue
Sea Grass Sustains Fisheries
in the Autumn 2013 issue
Advancing Sea Oat Biology:
Advancing Dunes
in the Spring 2012 issue
Albermarle Invader:
Hydrilla Identified in Sound
in the Winter 2011 issue
Trees and Plants Benefits to the Community
in the Spring 2011 issue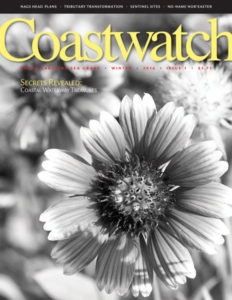 Plants May Lure Crystal Skipper
in the Spring 2011 issue
Invasive Plant Species:
The Spoilers
in the Autumn 2010 issue
Native Plant Species:
The Solution
in the Autumn 2010 issue
Back To The Future: Revisiting Cisterns And Rain Gardens
in the Spring 2008 issue
Barrier Island Buffers: Bald Head Forest Anchors the Island
in the Early Summer 2008 issue
 Network Connects Students to Algae Research
in the Early Summer 2007 issue
Beach Vitex: Kudzu of the Coast?
in the Spring 2006 issue
Saving Places: Springer's Point is a Natural Wonder
in the Early Summer 2006 issue
Native Plants: Mother Nature's Handiwork
in the Autumn 2005 issue
At War in the Wetlands
in the Holiday 2004 issue
Researchers Survey Bird Island Flora
in the Holiday 2003 issue
Researchers Find New Use For Ozone
in the Early Summer 2002 issue
Land-Use Planning: Coastal Counties Prepare for the Future
in the High Season 2002 issue
Eelgrass: Binge Eaters in the Estuary
in the Holiday 2002 issue
Making It Right With Nature
in the Spring 2001 issue
Insect-Eating Plants Thrive in Green Swamp
in the Spring 2001 issue
Estuaries: Uniquely Complex Ecosystems
in the High Season 2001 issue
Giant on the Loose
in the Holiday 2001 issue
photo by Gary Allen