Critters (Other than Sharks)
From sea turtles to tree frogs to naked sea butterflies, we've published material on all kinds of critters. And there's much more in our Sharks section, too.
Above and Below
in the Summer 2021 issue
Two projects explore very different effects of weather on surface water and groundwater in coastal NC.
The Butterfly Effect
in the Summer 2021 issue
A native Crystal Coast species inspires backyard stewardship. 
Skedaddling Sea Turtles
in the Summer 2021 issue
Not only do the turtles dive longer and change locations, but their new behaviors linger after the storms have passed. 
Sea Science 
in the Spring 2021 issue
Blue crabs go through drastic changes in body shape and location as they age.

Sparrows and Rising Seas
in the Winter 2020 issue
Two coastal study sites now support hundreds of saltmarsh and seaside sparrows but might only provide habitat for 25 by 2060.

More Than Sand Dollars
in the Autumn 2020 issue
Beachcombers prize the iconic skeletons, but these creatures were masters of their environment when they were alive.
Is Climate Change Affecting Sea Turtle Hatchlings?
in the Autumn 2020 issue
Research shows that warming temperatures cause loggerheads to give birth mostly to female offspring.
Blood Draw at the Horseshoe Corral
in the Autumn 2020 issue
An essential medical safety test used around the world depends on horseshoe crab blood, and scientists may have discovered the key to a sustainable supply.
In Search of Ancient Oysters
in the Summer 2020 issue
Can the fossil record suggest how to protect a modern-day species?

An Underwater Soundscape Is Worth a Thousand Words
in the Spring 2020 issue
What can we learn by eavesdropping on the underwater conversations of fish?
The Greatest Show on the East Coast
in the Spring 2020 issue
The Outer Albemarle Peninsula offers some of the darkest skies on the U.S. Atlantic seaboard and a nightscape full of wildlife.

You Say Starfish, I Say Sea Star
in the Winter 2019 issue
Returning to Shore
in the Summer 2018 issue
Everything You Always Wanted to Know about Sex in the Sea
in the Summer 2017 issue
Restoring Our Oysters: Dealing with the Sponge Problem
in the Summer 2017 issue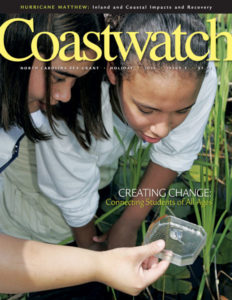 Leave It To Beaver (Dams)
in the Autumn 2017 issue
Green Tree Frogs Show Adaptation, Offer Inspiration
in the Spring 2016 issue
How Sea Turtles Respond to Interactions with Fishermen
in the Summer 2016 issue
An Invasion of Naked Sea Butterflies
in the Autumn 2016 issue
The Quiet Decline of the Humble Eel
in the Autumn 2016 issue
NC Alligator Population Growing, Still Vulnerable
in the Summer 2015 issue
Jellyfish in Bloom:
Are Humans Contributing to Local Populations?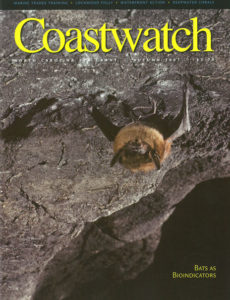 in the Holiday 2015 issue
How North Carolina Marine Habitats Influence Black Sea Bass Growth and Maturity
in the Holiday 2015 issue
The Secret World of Red Wolves:
The Fight to Save North America's Other Wolf
in the Winter 2014 issue
Gene Groups Key to Embryo Development
in the Summer 2014 issue
Protecting Beaches and Sea Turtles
in the Holiday 2014 issue
Mummichog Tagging: 384.36F2B3418C is in the Creek
in the Winter 2013 issue
Dinosaurs in the Rivers?
in the Spring 2013 issue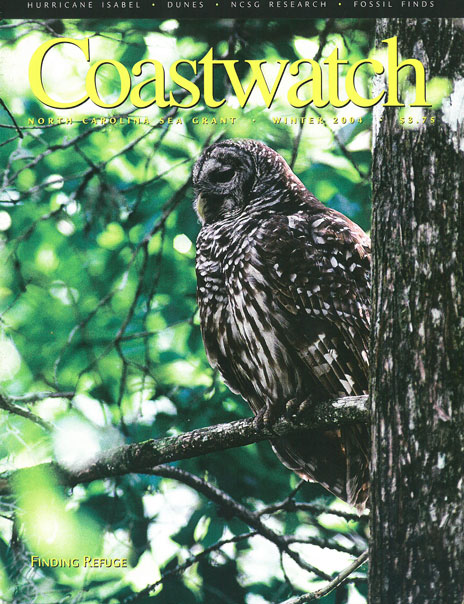 North Carolina's Amazing Coast:
Natural Wonders from Alligators to Zoeas Debuts
in the Spring 2013 issue
Students Boost Bogue Butterfly
in the Summer 2013 issue
Hunting Lions
in the Autumn 2013 issue
Fish Stomachs Help Identify Atlantic Pelagic Food Web
in the Holiday 2013 issue
Riding the Waves:
Identifying and Protecting Marine Mammals
in the Holiday 2013 issue
Silver Spawners:
Restoring Shad to the Cape Fear
in the Holiday 2013 issue
Hoping for a Comeback:
Researchers Eye River Herring
in the Spring 2012 issue
The Multitalented Oyster
in the Autumn 2012 issue
Reworking Turtle Excluder Devices on Summer Flounder Trawls
in the Holiday 2012 issue
Dreams of Black Pearls
in the Spring 2010 issue
Return of the Red Wolf
in the Summer 2010 issue
Birding on the High Seas
in the Holiday 2010 issue
The Rise of the Jellies
in the Holiday 2010 issue
More than Sport: Research Targets Speckled Trout
in the Spring 2009 issue
Right Whale Population — Up by One
in the Spring 2009 issue
Terrapins & Crab Pots in the Lower Cape Fear Region
in the Summer 2009 issue
Pilot Whale Studies Help Fishermen, Species
in the Summer 2009 issue
Return of the Bay Scallops
in the Holiday 2009 issue
Coastal Invasion: The Argentine Ant
in the Holiday 2009 issue
Oyster Metrics: Reef Research Identifies Habitat
in the Winter 2008 issue
Secrets of the Shallows: Nuisance Moss Animal Invades North Carolina Coast
in the Winter 2008 issue
Lionfish: Where Are They Now?
in the Early Summer 2008 issue
Tracking Oyster Disease: New Parasite Found in Native Species
in the High Season 2008 issue
Investigating the Mysteries of Blue Crab Migration
in the Holiday 2008 issue
Audubon Christmas Bird Count
in the Holiday 2008 issue
Ancient Mariners: Sea Turtles in North Carolina
in the Spring 2007 issue
Bogue's New Butterfly
in the Spring 2007 issue
The Bat Barometer
in the Autumn 2007 issue
Gastropod Grandeur
in the Holiday 2007 issue
Blue Crab Blues
in the Holiday 2007 issue
Studying Southern Flounder
in the Spring 2006 issue
Healthy as a Horse
in the Early Summer 2006 issue
Blue Crabs, Pink Tags: Tracking Female Crabs in the Ocean
in the Holiday 2006 issue
Learning from the Past: Old Maps Help Build A New Future For The Eastern Oyster
in the Winter 2005 issue
Birds of a Feather
in the Spring 2005 issue
Seahorse Round-Up
in the Holiday 2005 issue
N.C. Turtle Data Adding to Global Census
in the Early Summer 2004 issue
The Osprey: A Conservation Success Story
in the Early Summer 2004 issue
Alligator Community Rich in Hunting, Fishing Traditions
in the Autumn 2004 issue
Exploring the Mysteries of Molting
in the Autumn 2004 issue
Diving for Lionfish
in the Holiday 2004 issue
Sea Turtles by Satellite
in the Winter 2003 issue
A Tale of a Whale
in the Winter 2003 issue
The Horseshoe Crab: Coastal Tank? Or Gentle Life-Bearer?
in the Autumn 2003 issue
North Carolina: Pelican Paradise
in the Spring 2002 issue
Homeward Bound: Neuse Spawning Grounds Reopened
in the High Season 2002 issue
Jellyfish: A Stinging Sensation
in the Autumn 2002 issue
Corals and Sea Urchins: Two Parts of the Same Story
in the Early Summer 2001 issue
The Enigmatic Eel: A Long Way From Home
in the Early Summer 2001 issue
Counting Dolphins
in the Early Summer 2001 issue
Coyote Influx Threatens Red Wolf Survival
in the Winter 2000 issue
Black Bears, Shy Giants of the Pocosin
in the Winter 2000 issue
Dolphin Watching: Tourists' Trips Can Provide Research Data
in the High Season 2000 issue
A Fading Tune: Piping Plover Count Drops
in the Holiday 2000 issue
Hope for Migratory Sea Birds
in the Holiday 2000 issue
lead photo courtesy of the Belcher Lab