Photographs and introduction by BAXTER MILLER
Oral histories collected by RYAN STANCIL and BARBARA GARRITY-BLAKE
With scientific perspectives from JESSICA WHITEHEAD
"They're just stories," he says.
Or are they?
My dad and I have a Buxton ritual. Oil lamp in hand, he meets me on the screened porch at dark, where we settle into whitewashed rockers. He'll crank the lamp's knob to lengthen the wick and strike a match. As reflections of the Cape Hatteras Lighthouse's beam wash across his face, those stories mingle with the scent of burning oil.
His Hatteras is a different place than the Hatteras I've grown to know. His Hatteras is a vivid memory of a place in the past — 25, 50 and 75 years ago. He describes thick, sandy roads and his family's two-wheel drive Model A Ford that seemingly could handle any terrain.
He mentions the cattle that roamed free and the bull that forced him up a tree for the night. He waxes poetic about the lives claimed by the Graveyard of the Atlantic, and about those rescued by my great- grandfather's Lifesaving Service heroics.
He also remembers pulling the floor plugs in his grandmother's house to let in hurricane flood waters so the house wouldn't float away, and he recalls sweeping out the sand and fish in the aftermath.
He talks about undeveloped land, unadulterated marshes, and abundant fish and wildlife.
He'll mention that he was one of the first lifeguards hired by the National Park Service at Cape Hatteras. He'll talk about how far the shorebreak was from the lighthouse then — 1,000 yards, at least — and we'll marvel at how quickly the beach has retreated westward over his lifetime and at various unsuccessful attempts to slow that process.
We'll get to the part where, as a summer lifeguard in the '50s, he spent the night in the top of the lighthouse during Hurricane Donna…or was it Hazel?
"It must've been Donna," he'll conclude.
He'll tell me about the ocean overwash lapping up at the base of the lighthouse, how it swayed back and forth with the wind all night long, and how he clutched his pocketknife as if it could protect him.
For the most part, his stories are about the way things used to be. And while they're just anecdotes to him, they are a living record of time, place and change.
Change is constant across the sounds and along the banks of coastal North Carolina. Perpetually shifting sands, the tides and unpredictable weather patterns have battered and blessed these resilient communities at the water's edge. For generations, natural forces have shaped where people live, how they build homes, what foods they eat, and how they earn an income.
Advances in technology, engineering and construction, along with evolving economic demands, have shaped how people adapt to environmental change. We make bigger dunes and more jetties. We dredge inlets and renourish eroded beaches.
We build our houses higher but closer to the water. We pave land and depend on dikes to protect agricultural fields from saltwater. We face decisions about fisheries as waters warm and populations potentially shift.
We brace for storms and hope that infrastructure survives. As each new hurricane season unfolds, we cope with uncertainty.
What are the experiences and adaptation strategies of people living on the front lines of coastal change? How might the stories of residents, business owners, commercial fishermen, farmers and community leaders offer insight into the manifold threats facing coastal communities? Can they transcend political discourse and offer a new perspective — one that captures the natural, cultural and economic consequences of change? How do their experiences affect perceptions of the future?
These are the questions that RISING — an ongoing multidisciplinary research project combining oral history, photography and science — explores.
---
On the Brink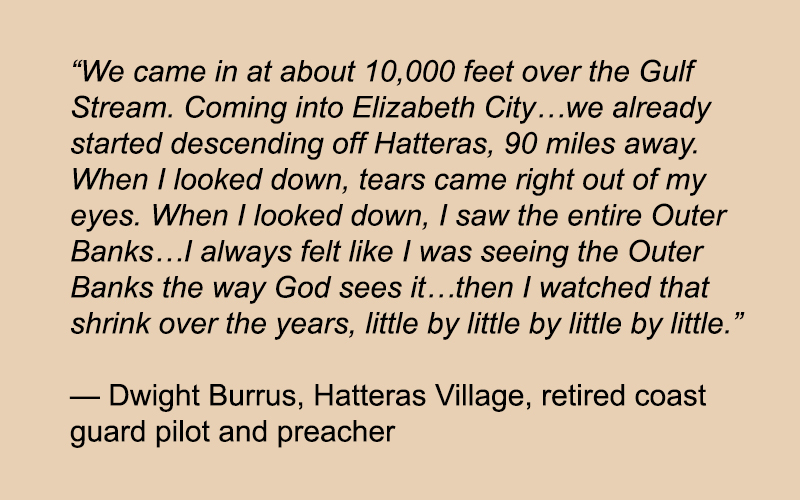 Change is a constant along North Carolina's coast. Natural processes, like erosion, wind, weather events and tide shape our shoreline's appearance as sand moves from one place to another — sometimes opening and filling inlets, widening or narrowing beachfront, and altering the tideline of soundside creeks and marshes.
Change also comes from people, whether through land management or coastal development, ranging from building living shorelines to installing bulkheads to dredging. While the shoreline moves and changes, it is more difficult for people and the structures we build to do the same.
---
Fragment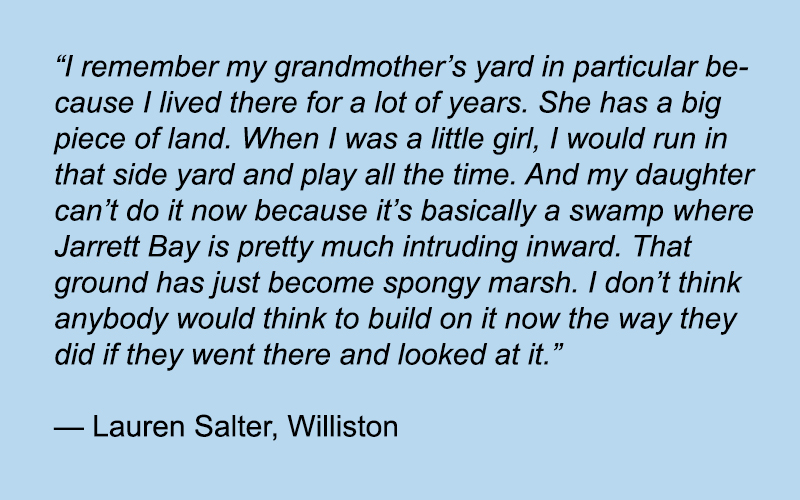 Marshes are important habitat for juvenile fish species. They also filter water from land, ensuring clean water in our sounds. But will our marshes survive accelerated rising water?
The answer depends on how fast marshes can trap and build up sediment. If a marsh can do this faster than the land sinks and the water rises, then the marsh may survive, albeit changed. Where water rises faster than marshes can build up, erosion will fragment the marsh, transforming once continuous expanses of habitat into smaller segments.
---
Road Work Ahead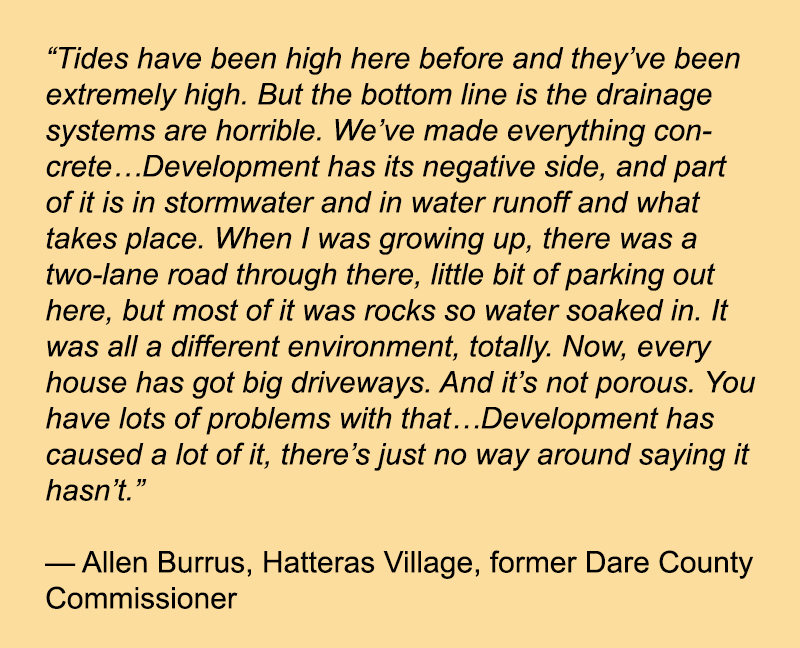 You may be able to raise a home higher above floodwaters — but what about the road leading to it?
As water levels rise, roads that did not previously flood regularly may flood more often — first during storms, then during higher than normal tides. More frequent flood events also can increase wear and tear on roadway ditch drainage systems.
In fact, roads can be raised. Across the United States, many communities, including those in neighboring states such as Norfolk, Virginia, and Charleston, South Carolina, are beginning to plan to raise roads.
---
Restoration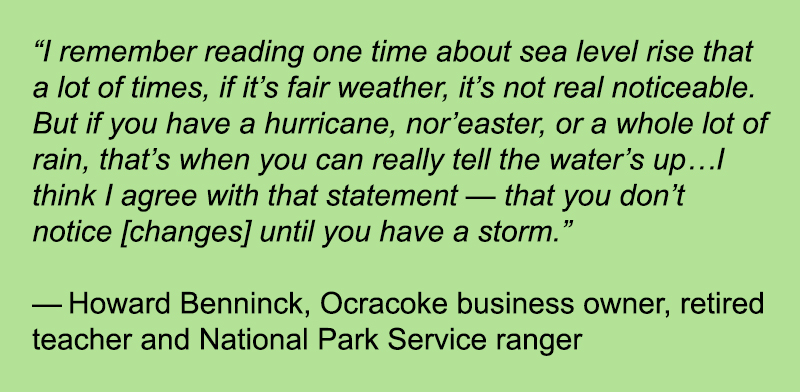 Erosion is a natural process that can happen over long periods of time — what's known as chronic erosion — or it can be episodic, occurring quickly during storms like hurricanes and nor'easters.
People also can hasten this natural process. For example, boat wakes contribute to erosion, as do hard structures like sea walls, which deflect energy from waves to surrounding areas.
As land sinks and sea levels rise, erosion will happen faster where marshes cannot trap sediment fast enough to keep up. Research suggests that in certain areas a living shoreline may be a more effective solution to erosion than bulkheads or retaining walls.
Living shorelines use natural materials like oyster shells, rocks and native marsh grasses to protect estuarine shorelines, and come with smaller repair and maintenance costs than their manmade counterparts.
---
Inundated
Long before rising seas inundate land, habitats at the edges of our sounds will change. Ghost forests — carcasses of trees that once filled maritime forests — are becoming more common as saltwater penetrates farther inland and remains longer.
Trees sequester more carbon than other types of vegetation, so carbon storage is a good indicator of vegetation type. New research has measured increasing losses in carbon storage between 2001 and 2014 along the edges of the Albemarle and Pamlico sounds.
The results indicate that forests are changing to marshes or being lost altogether. Sea level rise and wind tides may be factors, but fires, which dry out peat and wick salt water from the sounds into land, may also play a part.
---
The Dike System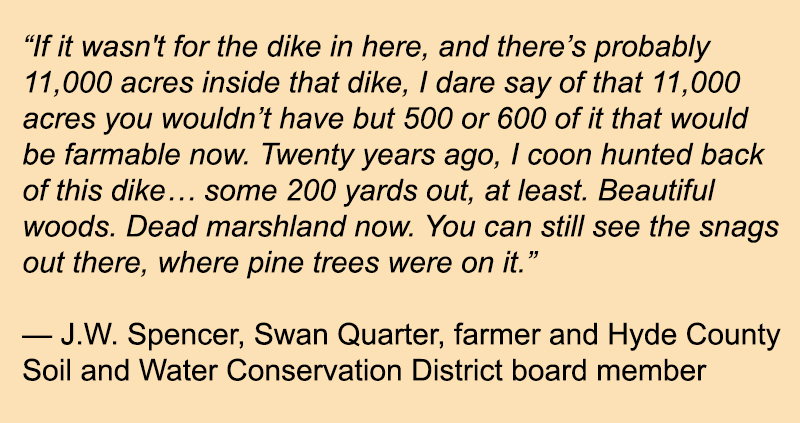 A dike is a long wall, made of earth or materials like steel or concrete, built to keep out water. A system of canals, pumps and tide gates ensures that water inside a dike can still get out, and that creeks can
still flow in during normal conditions.
The 17.7-mile dike surrounding Swan Quarter took 46 years to complete. The $13-million dike was first proposed to protect valuable farmland from wind- driven saltwater intrusion.
When Hurricane Irene struck in 2011, the dike protected the village of Swan Quarter from soundside tidal surge. During tropical storm events in 2015 and 2016, however, farmers had to pump the village because winds kept the Pamlico Sound levels high for days. High sound levels also kept tide gates closed, trapping floodwaters from heavy rain inside the dike.
In 2009, the Natural Resources Conservation Service estimated the dike provides over $700,000 in annual economic benefit by reducing damages to homes, cropland, roads and bridges.
---
CHRONICLING CHANGE
The RISING project is made possible by the Community Collaborative Research Grant, a program of North Carolina Sea Grant in partnership with the William R. Kenan Jr. Institute for Engineering, Technology and Science at NC State.
Additional support comes from the Center for the Study of the American South at the University of North Carolina at Chapel Hill and Southern Cultures journal, along with Food for All, the UNC-CH Department of American Studies, and the Coastal Resilience Center.
The project team includes Karen Willis Amspacher, executive director of the Core Sound Waterfowl Museum & Heritage Center; author Alton Ballance; Ben Cahoon, mayor of the Town of Nags Head; photojournalist Margaret Cheatham Williams; Barbara Garrity-Blake, a cultural anthropologist at Duke University; documentary photographer Baxter Miller; Stanley Riggs, a coastal and marine geologist at East Carolina University; content creator and communications strategist Ryan Stancil; journalist Susan West; and Jessica Whitehead, Sea Grant's coastal communities hazards adaptation specialist.
For more information on the Community Collaborative Research Grant, click here.
ON DISPLAY
RISING is on view at the Core Sound Waterfowl Museum & Heritage Center now through September, and will travel next to the Outer Banks. For updates, go to risingnc.com/updates. Those interested in hosting the exhibit can fill out a contact form here, or email project manager Ryan Stancil at adamryanstancil@gmail.com.
On Aug. 14, the Core Sound Waterfowl Museum & Heritage Center will host a conversation, open to the public, about how communities in Carteret County and other coastal areas are experiencing change. Featured guests will include Tom Horton, author of Island Out of Time, who will lead a discussion about flux in the Chesapeake Bay. To register, click here.
This article was published in the Summer 2018 issue of Coastwatch. For reprint requests, click here.