Mariner's Menu
Crispy Flounder Fillets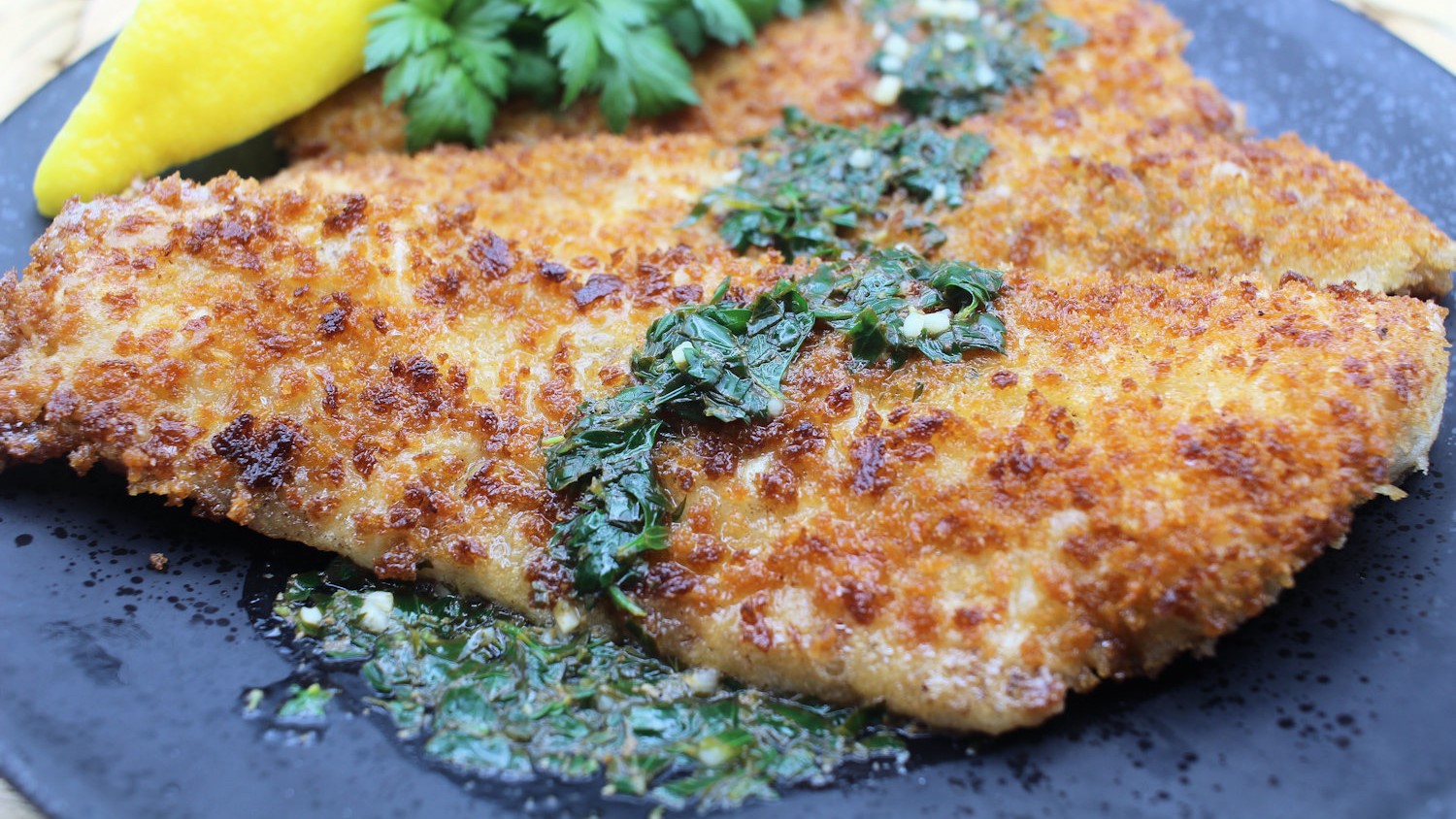 Oil or a combination of oil and butter or margarine can be used. We generally use canola oil and butter.
The keys to successful frying are proper temperature and fast cooking. The ideal temperature for frying fish is 375° F.
Fried seafood is done when it is golden brown. Remove from the oil immediately and drain the fish or shellfish on paper towels. Be careful not to overcook seafood or it will be dry. Just a minute can make a difference.
Lean, firm fish such as flounder are more suitable for frying than fatty species.
Recipe
2 pounds medium flounder fillets, cut in serving-size pieces
2 tablespoons dry vermouth
1 bay leaf
9 tablespoons canola oil
salt
black pepper, freshly ground
1 cup flour
2 eggs, beaten
2 cups dry breadcrumbs
5 tablespoons butter
1 teaspoon pressed garlic
2 tablespoons fresh parsley, chopped
2 teaspoons fresh thyme, chopped
2 tablespoons fresh lemon juice
Combine vermouth, bay leaf and 6 tablespoons oil. Marinate fillets 20 to 30 minutes.
Remove fish from marinade and discard marinade. Salt and pepper fillets, then dredge in flour. Brush with egg. Dip into breadcrumbs, pressing crumbs on gently.
In a large skillet, heat remaining 3 tablespoons oil to 375° F. Add 3 tablespoons butter and melt. Place fillets in skillet, flesh side down. Cook until golden brown, about 4 to 5 minutes. Turn and repeat. Drain on paper towels, then remove to serving dish.
Wipe skillet with paper towels. Add remaining 3 tablespoons butter and cook until foamy and brown. Add garlic and cook lightly but do not brown. Stir in lemon juice, parsley and thyme. Drizzle over fish.
Contributed by Joyce Taylor From: Mariner's Menu: 30 Years of Fresh Seafood Ideas