Grouper and Vegetable Stir-Fry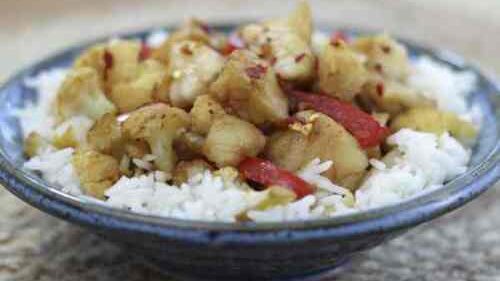 Recipe
Seafood is ideal for stir-frying. Use firm seafood that will hold together. Shrimp and scallops are just the right size. Cut fish into small chunks or bite-size pieces. Catfish, tuna, salmon and other firm fish cook quickly and remain tender.
1 pound grouper, cut into 1-inch chunks
6 tablespoons vegetable oil
salt
freshly ground black pepper
1 medium head cauliflower, cut into bite-size pieces
1 medium green or red bell pepper, cut into strips
2 teaspoons minced fresh ginger
2 teaspoons minced garlic
1/2 teaspoon dried hot red pepper flakes
4 tablespoons water
6 tablespoons soy sauce
cooked rice (optional)
Heat 2 tablespoons oil in large skillet over high heat. Lightly salt and pepper fish and cook until golden and almost done, about 3 to 4 minutes. Remove with slotted spoon. Heat remaining oil. Add cauliflower to skillet. Stir in ginger, garlic and pepper flakes. Add water and cook, stirring occasionally, until vegetables are crisp-tender, about 3 to 4 minutes. Stir in soy sauce and mix well. Add fish and cook until done, about 2 to 3 minutes. Serve over rice, if desired.
Contributed by Joyce Taylor From: Mariner's Menu: 30 Years of Fresh Seafood Ideas