Oyster Dressing with Thyme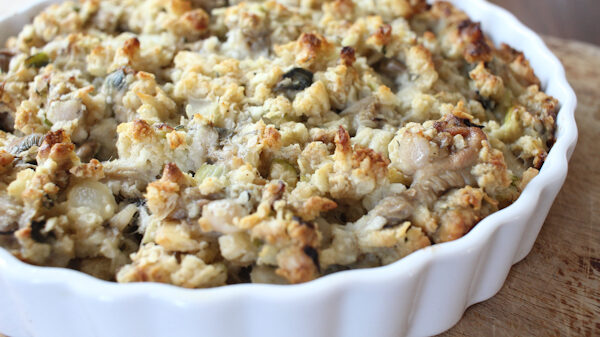 Recipe
2 cups oysters, drained, coarsely chopped, liquid reserved
2 sleeves saltine crackers, crushed
½ cup butter
½ cup onion, chopped
½ cup green onions, including tops, chopped
½ cup celery, chopped
½ cup heavy cream
1 teaspoon dried thyme
¼ teaspoon salt
½ teaspoon black pepper, freshly ground
Preheat the oven to 400° F.
Melt butter, add onion, green onions, celery and lightly sauté. Remove from heat.
Add cream, thyme, salt and pepper.
In a large bowl, combine crushed crackers and vegetable mix.
Add oysters and toss lightly. Add reserved oyster liquid until stuffing is moist, about ¼ cup.
Place in shallow greased baking pan. Bake, uncovered, at 400° F until done through and crusty on top, about 30 to 40 minutes.
Contributed by Joyce Taylor MM2