Education
Teachers use far more Coastwatch content in their classrooms than we've gathered here. These stories highlight educational outreach, or they provide special resources for teachers and students.
We've also just launched a new educational feature for teachers and students in grades 6 to 12 that expands on select Coastwatch articles. Visit Coastwatch Classroom. 
POSTER
Rip Currents: Know Your Options
in the Spring 2022 Issue 
Podcasting a Wide Net
in the Winter 2021 issue
Student Journalists Offer Coastal Voices on Climate Change to a Worldwide Audience
"Our imaginations are broader than we think."
Coastwatch Classroom 
The Watershed Wisdom Lesson Plan
in the Fall 2021 issue
As the pandemic continues to affect K-12 learning models, several thousand North Carolina teachers, students, and others already have accessed the free Watershed Wisdom online lesson plan.
From Sea to Space
in the Summer 2021 issue
This marine scientist turned astronaut now serves in a NASA program designed to land the first woman on the moon— and she is eligible for missions to mars.
Breaking Systemic Barriers
in the Spring 2021 issue
"I can't walk around with a sign on my back that says, 'I'm not a threat. Don't shoot me.' "
Science is Everywhere
in the Winter 2020 issue
From sinking sodas to seaweed in ice cream, marine education offers plenty to keep K-12 students curious.

Science Needs You: Monitoring and Assessing Water Quality Across the Neuse River Estuary-Pamlico Sound Continuum
in the Autumn 2020 issue
For decades, researchers have tracked the health of the second largest estuarine complex in the U.S. — and they want your help. Supplemental content for grade 6-12 educators and students accompanies this article.
Blood Draw at the Horseshoe Corral
in the Autumn 2020 issue
An essential medical safety test used around the world depends on horseshoe crab blood, and scientists may have discovered the key to a sustainable supply. Supplemental content for grade 6-12 educators and students accompanies this article.
Your Free Rip Currents Safety Poster
in the Summer 2020 issue

Hatteras Island Students Tackle Coastal Change
in the Summer 2020 issue
Ninety-five percent of Hatteras Island students believe in climate change, and most plan to leave the island.

What's in Your Water
in the Summer 2020 issue
Predicting Contaminated Drinking Supplies: A new model predicts the characteristics of households and locations with a higher chance of lead contamination.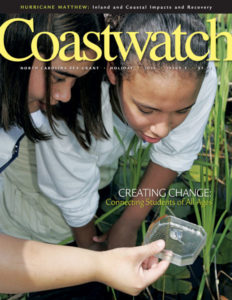 Zoom In on Aquaculture
in the Spring 2020 issue
A blue crab starts life as a microscopic larva that drifts through the water eating zooplankton and plant materials.

Young Minds Enjoy New Green Infrastructure:
Stewardship Begins Early and Upstream
in the Summer 2018 issue
Discover Innovative Tourism Access
in the Spring 2017 issue
Expanding Marine Education from Sea to Mountains
in the Spring 2017 issue
Science Via Varied Senses
in the Spring 2017 issue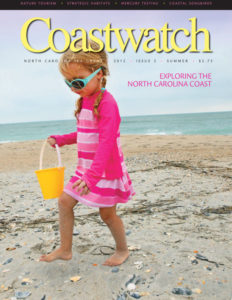 Developing Recipes, Nourishing the Community
in the Winter 2017 issue
Collaborative Research on the Outer Banks
in the Winter 2017 issue
From Seeds to Shoreline:
Expanding Minds and Restoring Marshes
in the Autumn 2016 issue
Researchers Reach Into Communities
in the Summer 2016 issue
Ride the Currents
in the Summer 2016 issue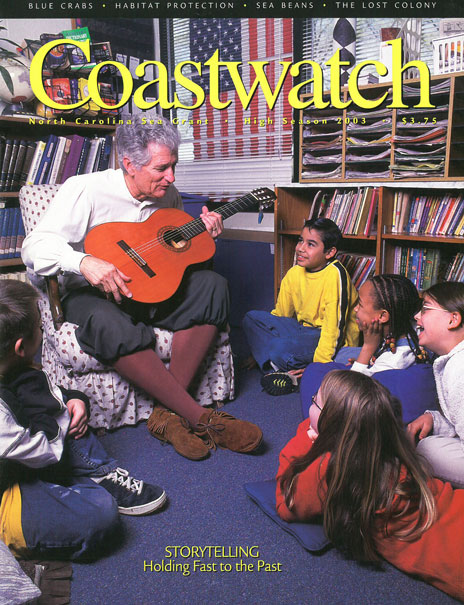 SciREN and the Evolution of Science Outreach
in the Holiday 2016 issue
Climate Change Communication Challenges:
Including Kids in Solutions
in the Holiday 2016 issue
Education to Action
in the Holiday 2016 issue
lead photo by Christy Perrin